It's time to get that real boost of energy and focus you've been looking for. THE Pre-Workout formula provides you with everything you needed for a full-throttle workout. As part of our Myprotein Pro Range, it will take you to the healthy sixth gear you didn't know was in you.
What is a pre-workout supplement and is it for you?
Pre-workout blends are designed to combine the essence of all natural dietary sources that can benefit your exercise regimen. While you may be familiar with what the likes of a caffeine or creatine supplement can do to improve your performance, a pre-workout blend combines a list of complementary ingredients which will help to activate a healthy, safe boost to your focus and energy levels.
Providing an array of popular, tested and proven training ingredients, our new pre-workout blend offers an explosive cocktail of creatine, caffeine, BCAAs, essential vitamins and minerals, along with other hard-hitting ingredients for the ultimate pre-workout.
Benefits of THE Pre-Workout
THE Pre-Workout delivers a host of the most popular and researched ingredients to help improve performance, reduce fatigue and provide continual focus throughout your training so you should have no problem squeezing out that last rep or running that extra mile.
What is THE Pre-Workout made of?
Vitamin B6 contributes to normal protein and glycogen metabolism, as well as?reducing tiredness and fatigue.
Vitamin B12 contributes to the reduction of tiredness and fatigue.
?Niacin contributes to normal psychological function while reducing tiredness and fatigue.
Thiamine contributes to your normal, healthy energy-yielding metabolism.
Vitamin C reduces tiredness and fatigue and contributes to your immune system
especially during and after intense physical exercise.
35mg of TeaCrine per serving, a compound structurally similar to caffeine,
to provide an extra kick.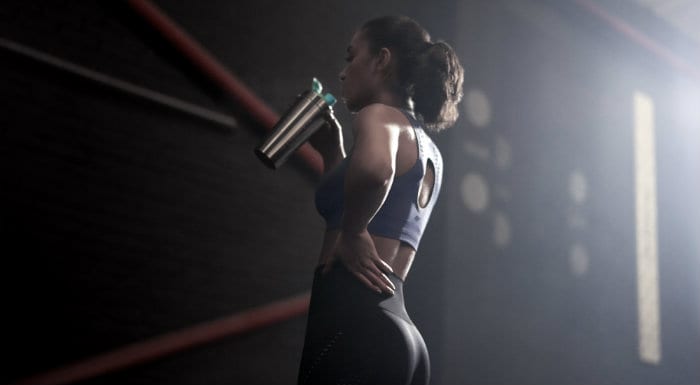 The Energy Boost
Caffeine: 175mg of caffeine per serving, which is proven to increase alertness and improve concentration.
Creatine: Our hard-hitting blend of creatine monohydrate is scientifically proven to increase physical performance in successive bursts of short-term, high-intensity exercise.
Astragine: Astragin is proven to increase the absorption of amino acids, vitamins and glucose while increasing your body's insulin sensitivity and ATP production.
Bioperine: A black pepper extract, Bioperine increases your blood's vitamin B6 concentration. It increases the bioavailability of the nutrients you digest, meaning that you get the most out of the vitamins you put in your body.
Capsimax: Capsimax supports your body's energy production by helping to improve and maintain your metabolism. It is a natural ingredient that derives from red hot chilli peppers, giving you all the benefits of capsaicinoids without the burn.
Teacrine: Teacrine is designed to improve your energy, motivation and concentration giving you more focus in the gym.
Take Home Message
Whatever your fitness goals, it's important to make sure you're always fired up and ready to progress, and our unique pre-workout formula packs a punch every time.