From protein shakes and supplements, to gym memberships and clothing, the amount people spend of their health and fitness can quickly add up! In a survey conducted by Myprotein, 2,800 respondents from the UK and Ireland aged 18 to 65, shared how much they are prepared to spend when it comes to a healthy lifestyle.
Top stats:
The average person spends £124 per month on health and fitness (£94,658 in an average lifetime).
People spend the most on supplementation (e.g. protein shakes) at ~£39.63 a month.
Highest spending cities include Aberdeen, Dublin and Cambridge whilst Derby prove to be the cheapest.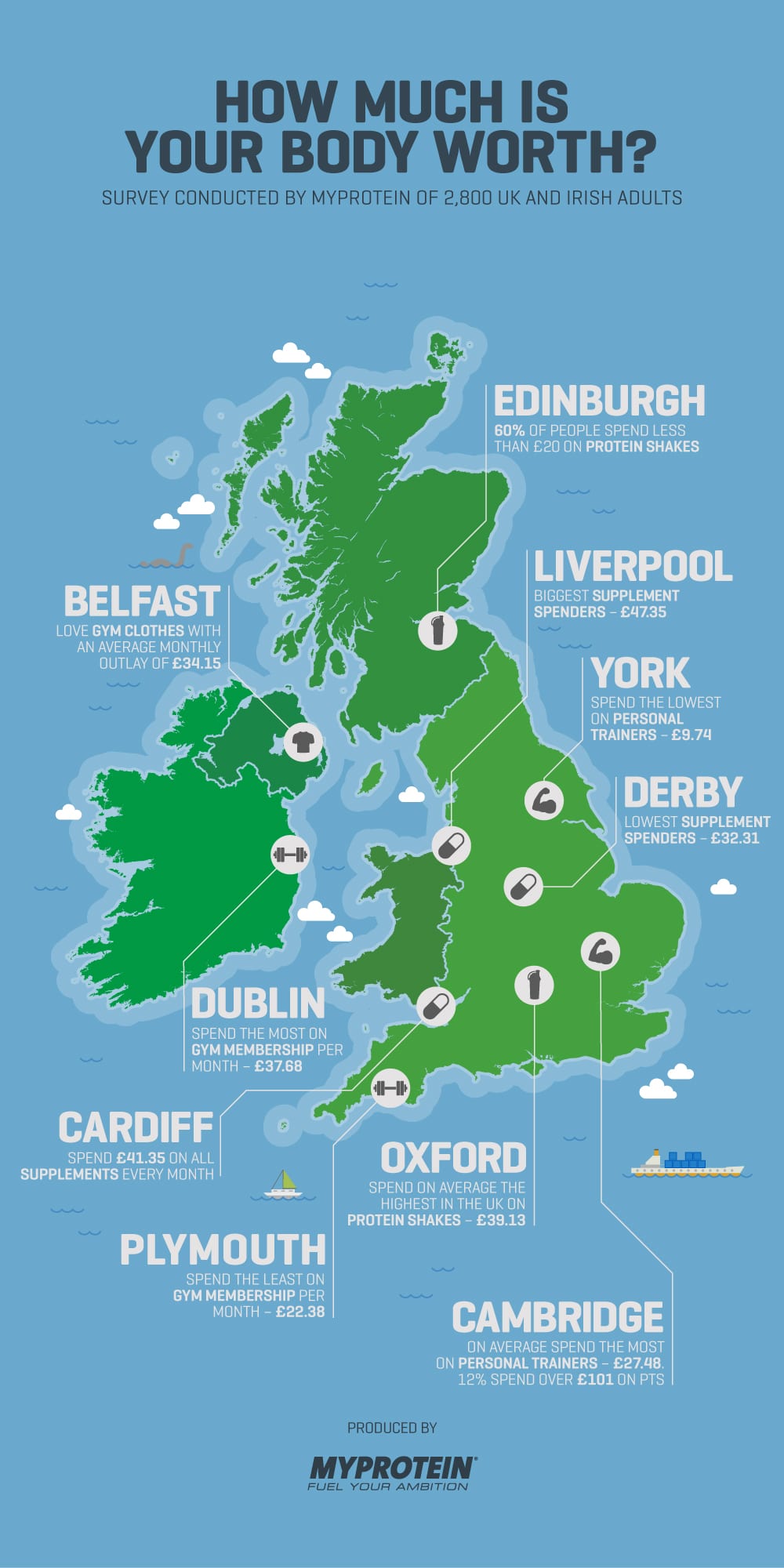 WHAT DO PEOPLE SPEND THE MOST ON?
The graph below shows how Brits spend their money across the different categories of health & fitness we surveyed.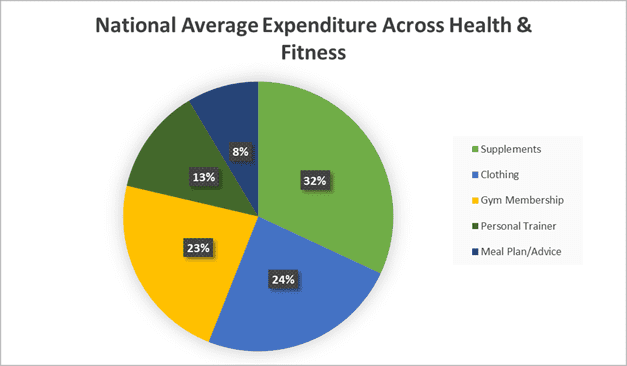 Out of 5 categories surveyed (supplements, fitness clothing, gym memberships, meal plans/nutritional advice and personal trainers), the area people spend the most is supplementation (e.g. protein shakes and vitamins). On average, people spend just under £40 per month yet Liverpudlians spend £47 a month making them the highest spender of supplements whilst Derby spend the least (£32 per month).
In concordance with the popularity of supplements, 68.84% of people said they spent between £10 and £35 per month on protein shakes.
Across the UK and Ireland, most people spend an average of £29.81 on gym clothing.
Almost 40% of people (38.95%) find that the ideal gym membership cost is between £21 and £35.
People spend the least in the category of meal plans and nutritional advice. Over half (58.85%) said they didn't spend anything in this category but for those that did, it tended to be less than £20.
Similarly, a whopping 61.26% of people said they spent nothing on personal trainers, supporting the idea that people prefer to take their health into their own hands and may be more educated in their own fitness routine and nutrition.
Myprotein nutritionist, Jenny Blow, added;
"Supplements have become a cupboard staple in many households as more and more people discover how convenient they are in maintaining a healthier diet. Protein powder, for example, is so versatile in how you can incorporate it into your favourite high-protein recipes, and many companies offer vegan or "free-from" alternatives to supplements so really anyone can eat healthily these days."
HOW MUCH DOES YOUR CITY SPEND?
The graph below shows the average amount of money Brits spend across each category of health & fitness. It also shows which UK cities spend the highest or lowest in each category.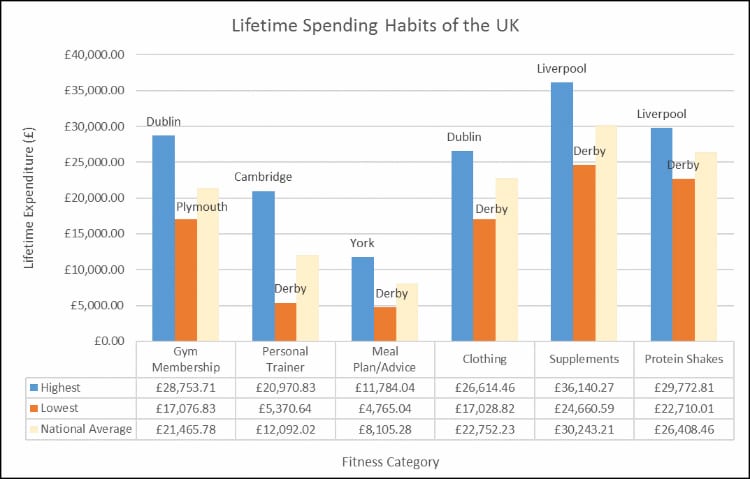 When broken down by city, the highest expenditure on health and fitness across an average lifetime goes to Aberdeen (£113,672.17) whilst the cheapest fitness spenders are found in Derby (£71,111.39). As a nation, people spend an average of £94,658.52 if all categories are included. The breakdown of highest and lowest spenders per category can be seen in the above graph.
Scotland are the biggest spenders on health and fitness with Aberdeen having the highest lifetime expenditure and Glasgow having the lowest percentage of people who didn't own a gym membership. Glasgow and Aberdeen are above average for those willing to spend over £75 per month on personal trainers. Scotland are also the most popular 'naturals' region with Aberdeen being the highest spender of vegan supplements and organic products. Almost 2% of people from Edinburgh spend over £100 per month on vegan products compared to the national average (0.17%).
Liverpool are the 'supplement capital' of the UK. Over 99% of Liverpudlians buy supplements each month and spend £47.35 per month compared to an average of £39.63. They are also the highest spenders of protein shakes (£39/month).
York like to fork out on food and have the highest lifetime expenditure in nutritional advice/meal plans. They are more likely to spend in the higher price ranges for this category as well as on protein shakes for which 11.76%, compared to an average of 3.64%, spend over £50 per month.
Cambridge dwarf Oxford as the fitter city in terms of spending. Oxford pay below national average for nutritional advice and personal trainers whilst Cambridge is the highest spender for personal trainers and will spend £27.48 per month, over £10 more than the national average.
The table below shows the average amount of money people spend on health & fitness in their lifetime, ranked according to the top 10 most and least expensive cities in the UK. 
Cardiff is perhaps the fairest city cost-wise for an active lifestyle and were close to the national average across all categories. It is the median ranking city for total lifetime expenditure at £95,072
Dublin spend the most on gym memberships (£37.68/month) and gym clothing (£35/month). They also have more people willing to spend in the higher price ranges for meal plans and protein shakes. It is not surprising that Dublin is the second costliest city for health and fitness after Aberdeen.
Derby wins 'cheapest city' and spends the least across all categories other than gym membership. People here are the least likely to spend anything on meal plans/nutritional advice and ultimately, Derby has the lowest average lifetime expenditure at £71,111.39.
A total 84% of people from Plymouth won't spend more than £35 on gym membership, hence Plymouth has the lowest lifetime expenditure on gym memberships that the rest of the nation at £17,076.83. Only 2% of people from Plymouth said they'd spend more than £50 on meal plans/nutritional advice compared to the national average of 6% of people. Plymouth are the least tempted to grow their workout wardrobe with 13% choosing to opt out of buying clothing each month. All of this may explain why Plymouth is the second cheapest for total lifetime expenditure after Derby.
Coventry are in the top 5 highest spending cities, likely due to the higher percentage of people spending in the top price ranges for supplements and personal trainers. Norwich and Leicester are both in the top 5 cheapest cities and spend in the lower price ranges than the majority of other UK cities.
TAKE HOME MESSAGE
Ultimately, if you want to pay the minimum for your health and fitness then Derby and Plymouth are your best bets. If you fancy more of the luxury and lavish fitness lifestyle, then head to Dublin. As active lifestyles become more popular, the industry market value will continue to increase from its estimated value of £4.7 billion in the UK, and in turn the average lifetime expenditure for health and fitness can also be expected to go up. The growing trend in health and fitness is a combination of the fashionable image associated with an active lifestyle, and the genuine desire people have to be more in control of their health as they become more educated in fitness and nutrition.
For related press enquiries, please contact press.myprotein@thehutgroup.com