Protein powder isn't just for pre-workout fuel and post-workout muscle recovery! The supplement can be used to create a wide range of delicious desserts, mostly containing lower sugar, fat and carbs – and of course higher protein in comparison to your normal treat.
It doesn't have to be tough to stay on plan when you try these delicious and nutritious protein-packed treats!
---
Peanut Butter Protein Bars

Ingredients
1 Scoop Impact Whey Protein – Peanut cookie flavour
60g Peanut Butter – smooth
160g Rolled oats
30ml Honey
20 ml skimmed milk
Method
Heat the peanut butter in the microwave for about thirty seconds so that it will be easier to mix into the other ingredients.
Place all the ingredients in a bowl and combine well so that dough is formed. Line a tray with greaseproof paper and press the dough into this.
Refrigerate for a few hours then cut into 8 slices and enjoy.
Macros for one bar
Calories: 136
Carbs: 18g
Protein: 7g
Fat: 4g
---
Cinnamon swirl Protein pancakes

Ingredients
1 Scoop Impact Whey Protein – Cinnamon swirl flavour
100g Banana
Pinch of baking powder
2 eggs
Method
Place a non stick pan greased with coconut oil over a medium heat.
Mash the banana with a fork until it is a paste. Add in the eggs, baking powder and protein powder and whisk together as well as possible to minimise any lumps.
Drop some batter on the pan and cook for about thirty seconds before flipping then remove from the pan and do the same with the remaining batter.
When all the pancakes are cooked serve with any toppings you like!
Macros
Calories: 230
Carbs: 27g
Protein: 35g
Fat: 12g
---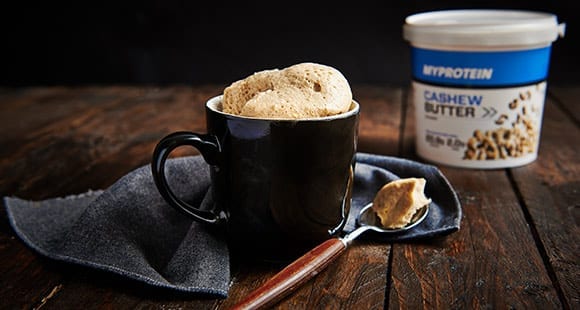 Ingredients
1 scoop Impact Whey Protein – Sticky Toffee Pudding Flavour
1 Egg white
¼ Tsp Baking powder
1 Tsp Sweetener
2 Tbsp Skimmed Milk or Almond milk
Myprotein MYSYRUP (Butterscotch)
5 Drops of Toffee flavdrops
Heaped tea spoon of Cashew butter for the centre (optional)
Macros
Calories: 126
Protein: 24g
Fat: 2g
Carbs: 2g
Sugar: 2g
---
Chocolate Blueberry Protein Shake

Ingredients
1 Scoop Impact Whey Protein – Chocolate flavour
100g Frozen blueberries
30g Baby spinach leaves washed
300ml Skimmed milk
Ice
Method
Blend all the ingredients together in a blender. Serve with extra ice.
Macros
Calories: 265
Carbs: 31g
Protein: 33g
Fat: 1g
---
Chocolate Protein Cake Bars

Ingredients
1 Scoop Impact Whey Protein – Chocolate flavour
30g Organic Cacao Powder
130g Oat flour
4 Egg whites
15g Stevia
Half a teaspoon baking soda
Pinch of salt
230g raspberries
100ml water
Method
Preheat the oven to 180. Mix all the dry ingredients together in a large mixing bowl.
Mix the wet ingredients together in another bowl, then add the wet ingredients to the dry ingredients and mix them together being careful not to over mix them.
Line a cooking tray with greaseproof paper and add the mix to the tray. Bake for half an hour until a toothpick comes out clean from the centre. Cut into eight squares.
Macros (per serving of 8)
Calories: 101
Carbs: 13g
Protein: 10g
Fat: 1g
---
Ingredients
1 scoop Impact Whey Protein – white chocolate flavour
3g Xanthan Gum
100g Milk or water
20g Strawberries
Handful of ice
Macros
Calories: 106
Protein: 20g
Carbs: 5g
Fat: 2g
Sugar: 2g
---
4-Ingredient Peanut Butter Protein Truffles

Ingredients
1 Scoop Impact Whey Protein – Sticky Toffee flavour
90g Smooth peanut butter
10ml FlavDrops – Toffee flavour
100g Almond flour
Method
Soften the peanut butter in a microwave for thirty seconds. Combine all the ingredients in a bowl until they are well combined.
Using approx 1 tablespoon worth of the mixture form a small ball and place in a mini muffin case. Do this step with the rest of the mixture. When you have used it all, place the balls in a small lunchbox and refrigerate for a few hours before serving.
If you do not have mini muffin cases, simply line a lunch box with grease proof paper and that will work as well. Makes 20 truffles.
Macros per truffle
Calories: 51
Carbs: 7g
Protein: 2g
Fat: 5g
---
Strawberry and Orange Ice-pops

Ingredients
2 Scoop Impact Whey Protein – Strawberry Cream flavour
250ml Orange juice
150g Mandarin segments
60g Chopped strawberries
60g Raspberries
Method
Mix the protein powder with the orange juice and pour into the ice pop mould.
Drop in the fruit pieces in even amounts to each mould.
Freeze overnight so that the ice pops become solid then serve! Makes 4.
Macros for one ice pop
Calories: 76
Carbs: 12g
Protein: 6.5g
Fat: 0.25
---
Take Home Message

Try some of these macro-friendly treats to help you stay on the straight and narrow with your nutrition plan!
Our articles should be used for informational and educational purposes only and are not intended to be taken as medical advice. If you're concerned, consult a health professional before taking dietary supplements or introducing any major changes to your diet.