If you're looking for something that'll kill your cravings – minus the guilt – then this high-protein ice cream recipe's for you.
Niall Kirkland has kindly knocked up his ultimate, healthy, high-protein peanut butter ice cream for us – using only six ingredients. With Whey Protein Peanut Butter for a crunchy, sweet, high-protein hit, and chocolately Nutella swirls, this ice cream is guaranteed to hit the spot after your workout (or on the sofa while you're watching Corrie, if that's what you're all about).
If you're not familiar with Niall already, he's making waves on Instagram with his super-healthy recipes that look just like your favourite junk food. With his meal-prep hacks, delicious high-protein desserts and junk-food classics (like his KFC-style chicken – that's actually good for you), this guy knows his way around the kitchen. Take a look for yourself if you don't believe us… @niallkirkland
Niall's high-protein ice cream makes the perfect sweet fix for any time of the day – and all you'll need is a blender.
Click to jump straight to the nutritionals.
Makes: 8 servings
Ingredients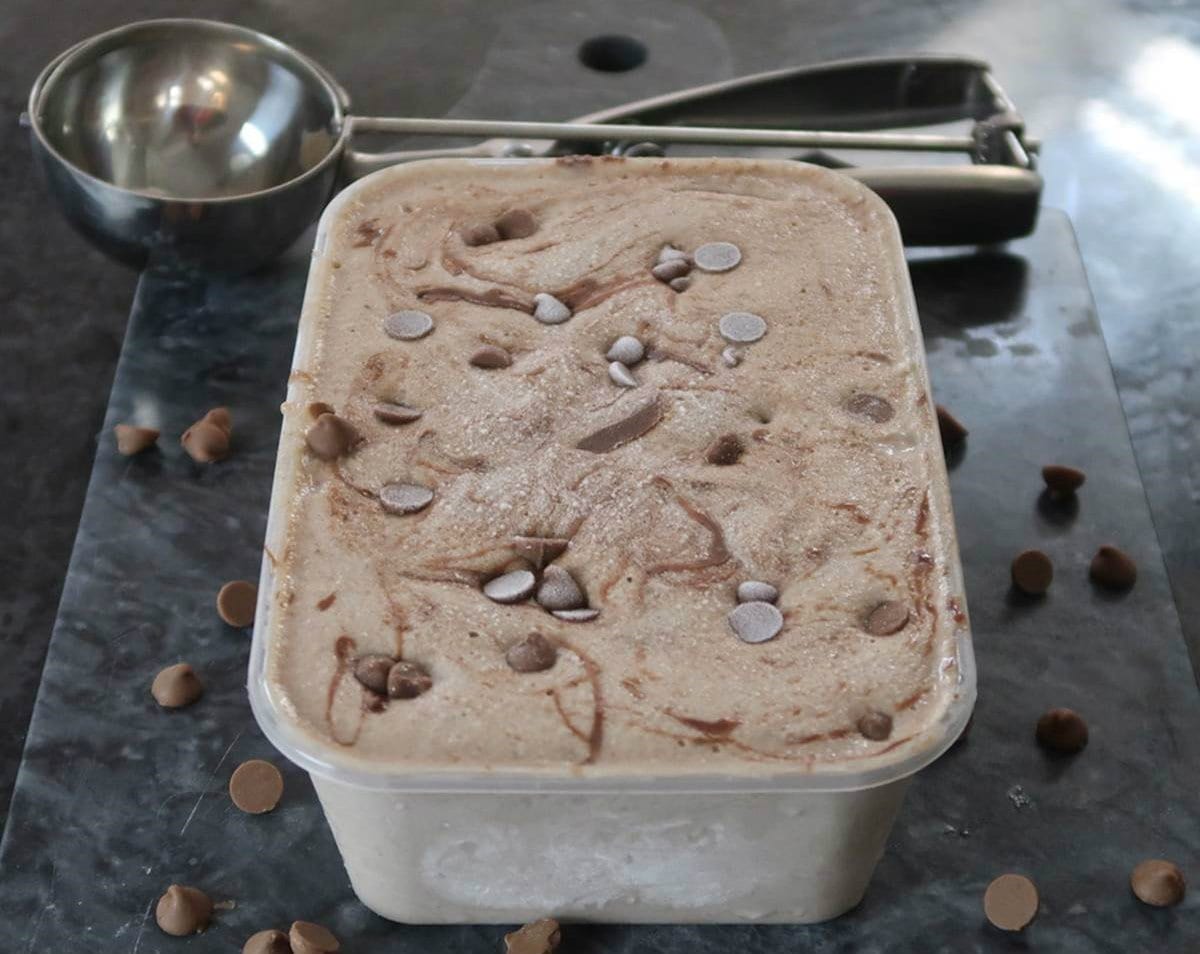 Method
1. First, begin by peeling and slicing the bananas, before freezing for 1 hour.
2. Next, blend together your now frozen bananas, yoghurt, Impact Whey Protein & Whey Protein Peanut Butter.
3. Pour the blended mixture into a small plastic container and spread evenly. Place a few chunks of peanut butter in the ice cream and push to the middle of the mixture (this is so the ice cream freezes with crunchy peanut butter in the middle!).
4. Now melt a teaspoon of Nutella in a small bowl and drizzle it over ice cream, before swirling with a spatula. Don't over swirl!
5. Sprinkle your chocolate chips over the top of the ice cream and then, similarly to the peanut butter, hide some in the middle of the mixture.
6. Place the ice cream in the freezer and leave for 2+ hours before eating.