In need of inspiration? Try these 39 easy meal prep recipes for muscle-building and fat loss.
Whether you're just starting out in the world of fitness, or you're a seasoned pro looking for something other than plain chicken breast and broccoli, you need to try these tasty, and most importantly, easy meal prep recipes for muscle-building and fat-loss.
Click to Pin it. 

Why you need to meal prep:
1. Make healthy eating effortless
Meal prep makes healthy eating easy. With a little forward planning, you won't even have to think about cooking for days. 
2. Pre-portioned food
If you want to build muscle and lose fat, it's crucial to fuel your body with the right amount of calories and nutrients – and that means weighing your food. But getting the scales out at every single meal is awkward, tiresome and confusing (and not to mention a little antisocial). 
Meal prep in advance for pre-packed, pre-portioned meals to support your fitness goals. 
3. Nutrient timing is everything
Research shows that to get the best out of your training regime, it's vital to consume enough protein and carbohydrates at the right time, in order to expedite muscle recovery and growth and prevent muscle catabolism (i.e. breakdown)1. 
Preparing your food in advance makes it so much easier for you to consume the food your body requires, at the correct time. 
4. Your time is precious
Why spend every single day planning what to cook, buying ingredients and making your meals, when you could be doing something more productive with your time? 
Get ahead of the game and meal prep in advance, so you can spend your time doing what matters the most to you. 
You can keep your new meals perfectly packed and portioned throughout the week with these slim-design, multiple-compartment meal prep containers. 
We've made it even easier for you to find the perfect meal prep recipes:

Meal prep recipes with poultry

This super-tasty macro-balanced meal is perfect for nailing that meal prep. Bursting with flavour, it's a simple way to liven up your routine from plain old chicken and rice.
Servings

4
Ingredients
1 tbsp curry paste
1 tbsp mango chutney
1/2 tsp turmeric
1 serving salt (to taste)
50 ml olive oil
4 chicken breasts
300 g couscous
350 ml vegetable stock
Optional extras:
Pomegranate seeds
Coriander
Method
To make a marinade for your chicken, add the curry paste, chutney, turmeric, salt and olive oil to a bowl and mix it well.

Cut each chicken breast in half before adding to the marinade. Stir well until all of the chicken is covered.

Leave the chicken aside for at least 20 minutes — ideally in the fridge overnight.

Heat a grill pan over medium heat and lay out your chicken pieces. Grill the chicken pieces for 5-6 minutes on each side, or until golden and slightly charred.

Meanwhile, place the couscous in a big bowl and carefully pour in the boiling vegetable stock. Cover the bowl with a lid and leave to the couscous to soak for around 5 minutes.

Fluff your couscous with a fork and add any extras you want. Pomegranate seeds are great for a colour and flavour.

Divide your couscous into 4 containers before topping with two pieces of marinated chicken. Finish the dish with a sprinkle of coriander.
Nutritional Facts
Amount per serving
| | |
| --- | --- |
| Calories | 284 |
| Total Fat | 3.7g |
| Total Carbohydrates | 22.2g |
| Protein | 50g |
Liven up your chicken meal prep with this quick harissa chicken and tabbouleh – packed with protein and healthy carbohydrates.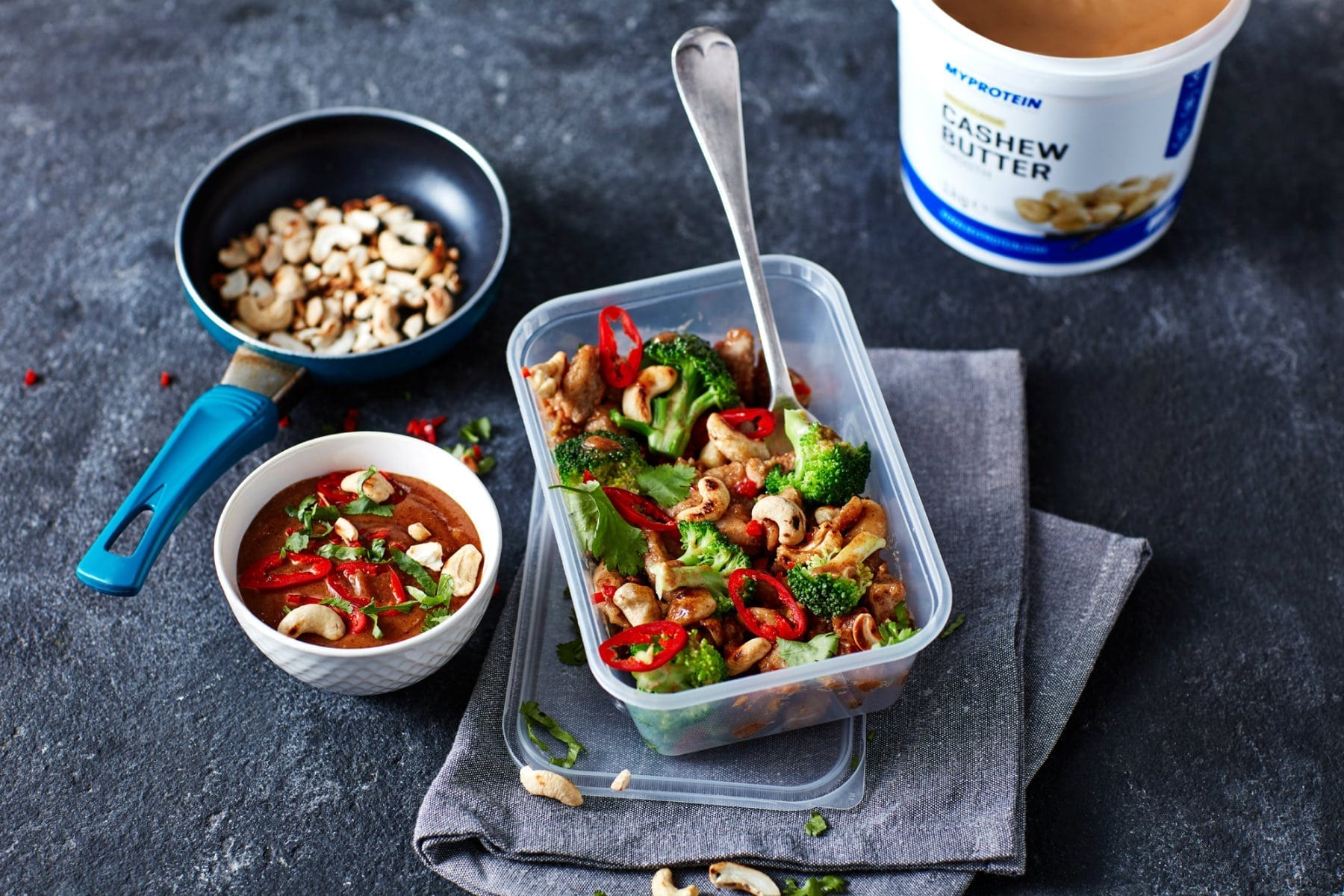 Meal prepping couldn't be easier when you only need one baking tray to make it. Try this delicious one-tray cashew chicken meal prep recipe for 4 days' worth of tasty lunches.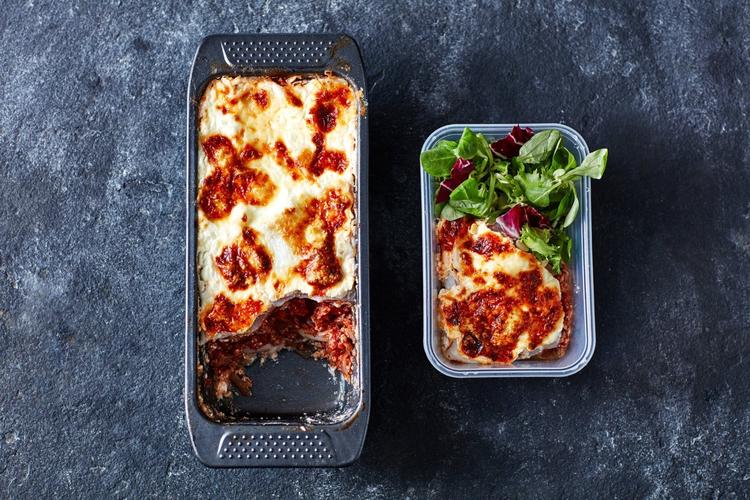 Craving lasagne, but don't want to make a whole tray of the stuff? Try loaf tin lasagne. You'll get 3 easy portions for 3 days' worth of low-carb, high-protein meal prep.
Fire up your tastebuds with this spicy, succulent harissa chicken. Paired with aromatic Moroccan-style couscous, it's a super-satisfying classic to enjoy all year round.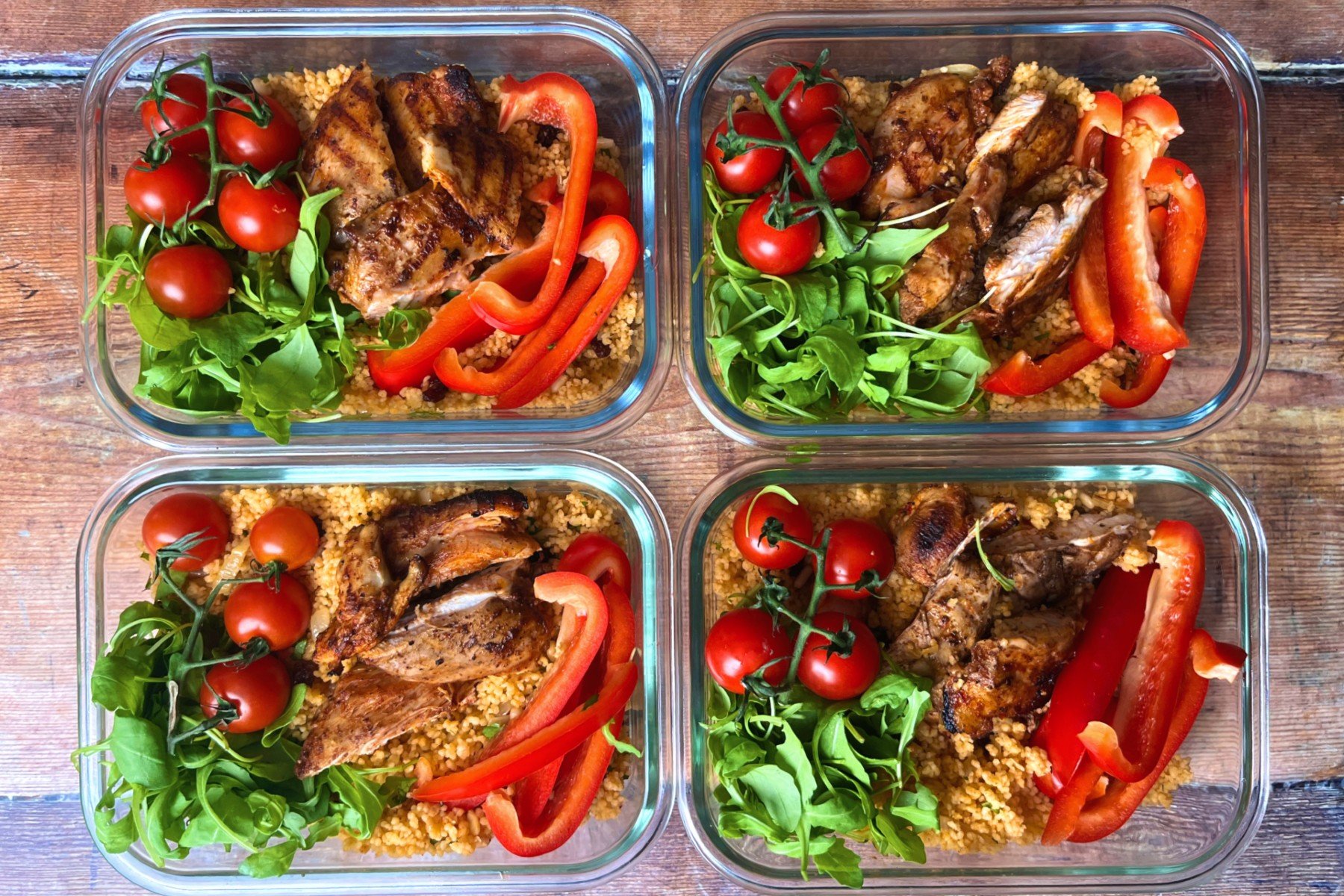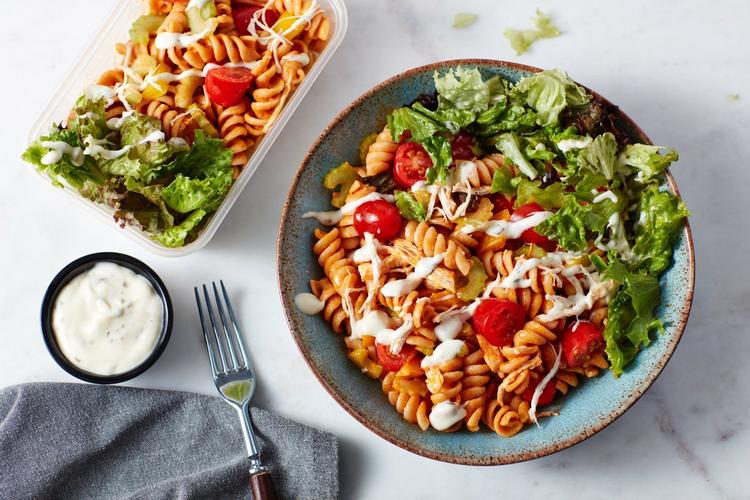 This high-protein buffalo chicken pasta salad will change your chicken meal prep game forever. Trust us – buffalo sauce makes everything better.
This chicken meal prep recipe keeps things interesting by adding different spices to each chicken breast.
Check out the video below.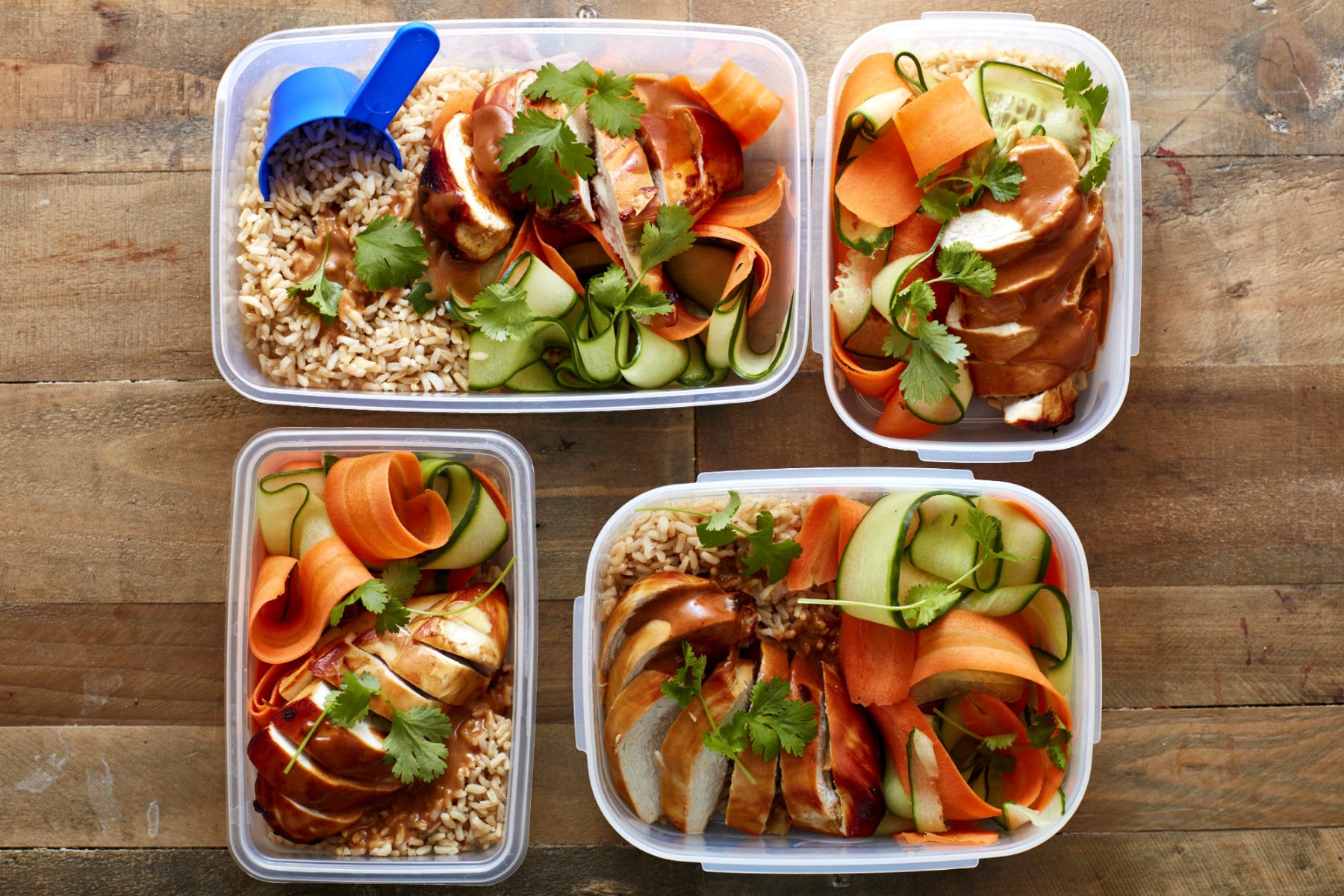 Try switching up your chicken meal prep for our Asian-inspired peanut butter chicken, at only 498kcal and a huge 40g protein per meal.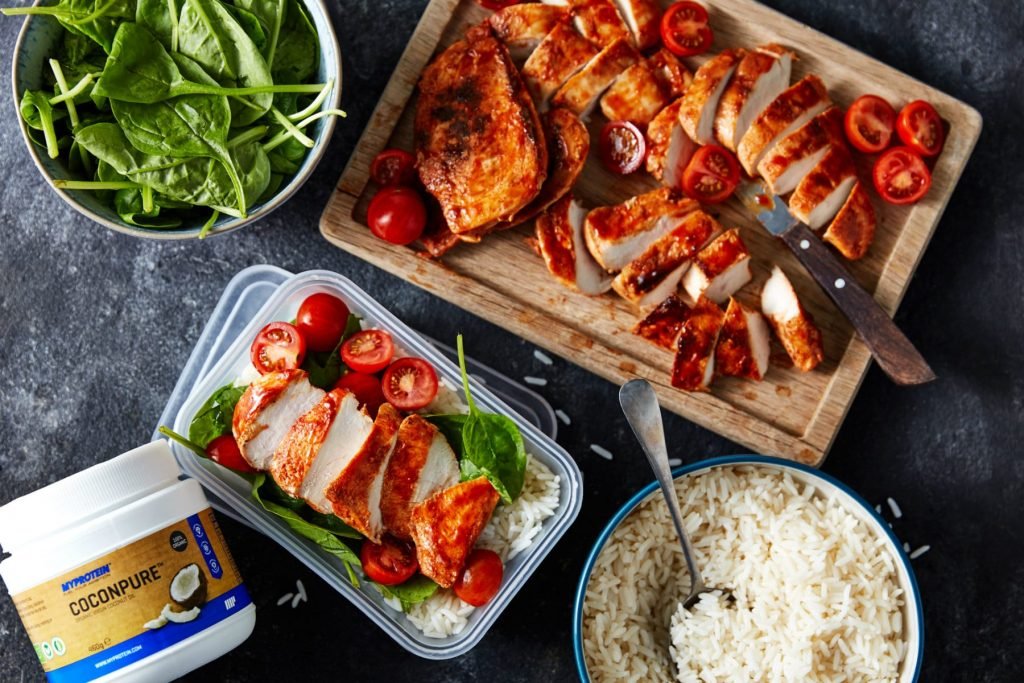 This bangin' barbecue chicken and rice meal prep recipe takes under 15 minutes to make and will keep you full for hours, with a huge 41g protein per meal.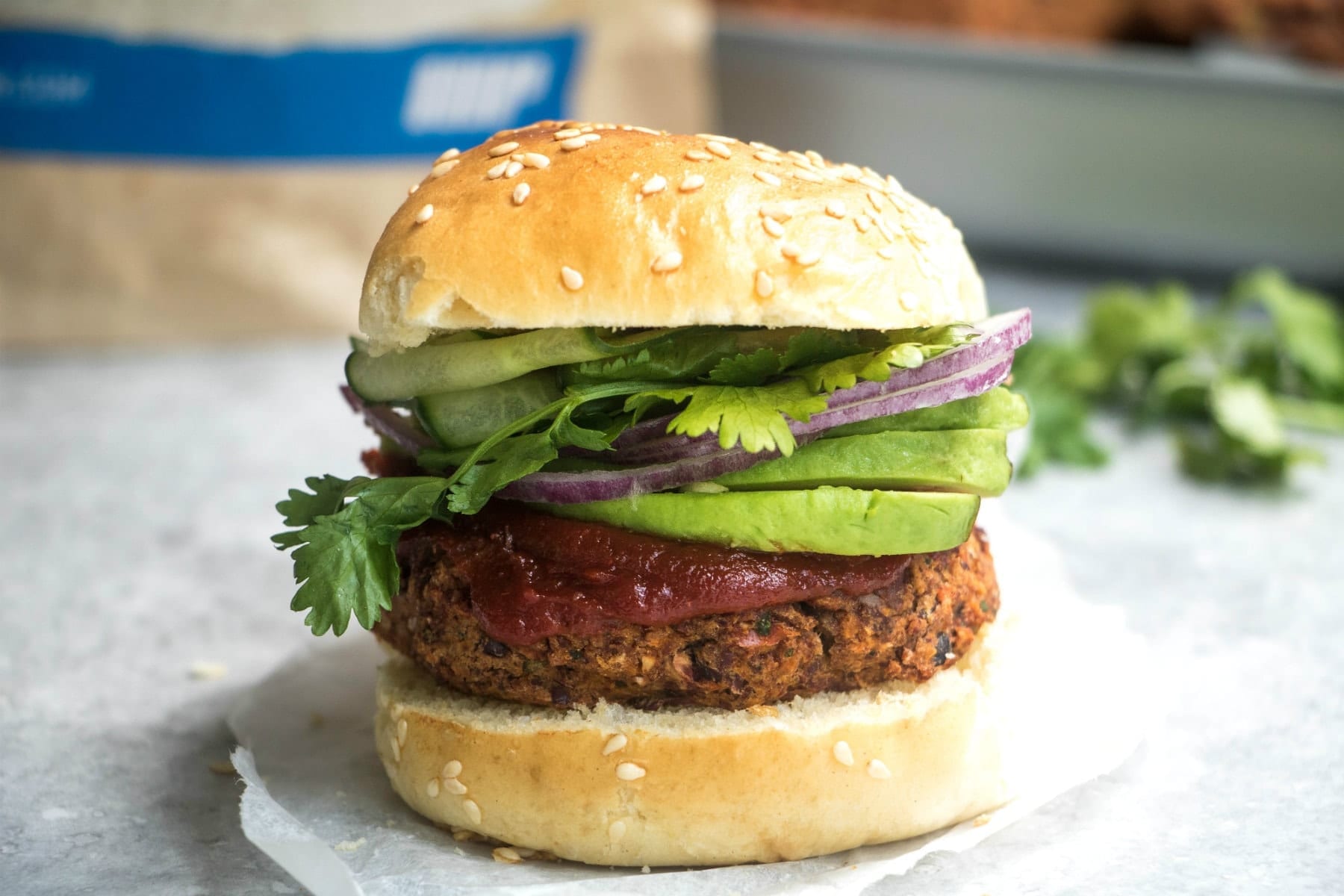 These low-cal homemade lime and chilli turkey burgers will spice up your meal prep game and then some, at only 147kcal per burger.
Watching your macros? This recipe subs in Powdered Peanut Butter for 70% less fat than regular peanut butter.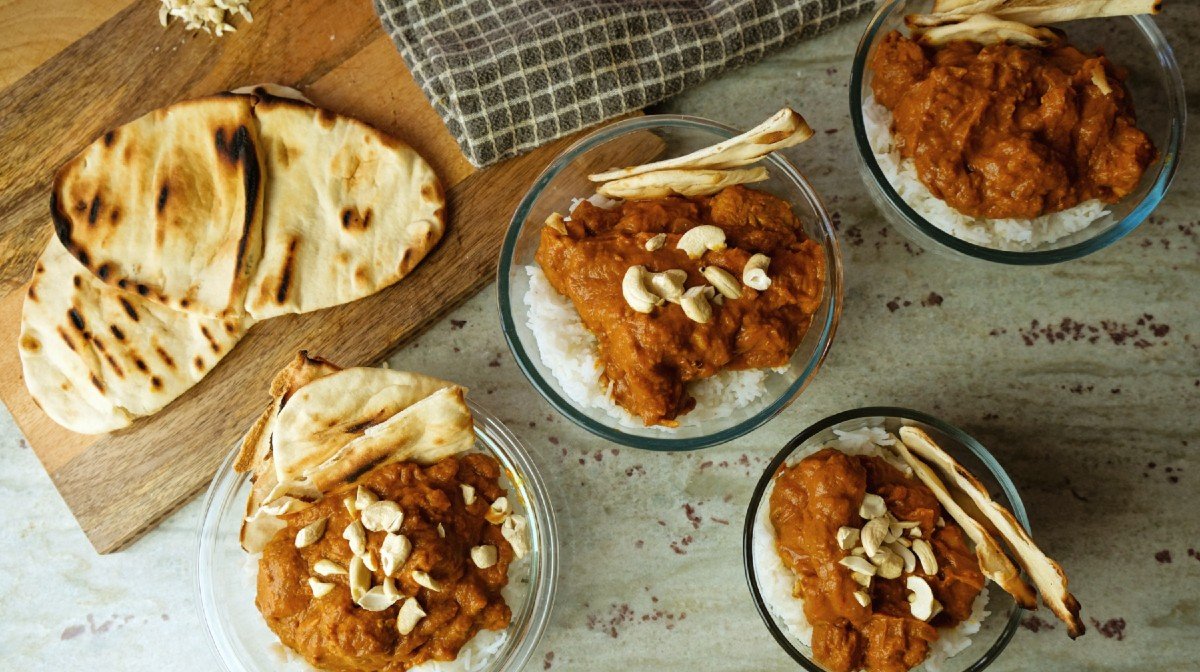 Sometimes you just need something quick and easy to rely on, right? This incredible chicken tikka masala is rich, creamy, and delicious – the ideal lunch to look forward to.
Keep scrolling for more tasty meal prep recipes.