Heard a few mentions of the Metabolism Reset Diet on your social media lately? We've seen a few mentions of it flying about too, so let's figure out exactly what it is, how it started and whether it has some real benefits, or if it's just another diet culture fad.
Jump to: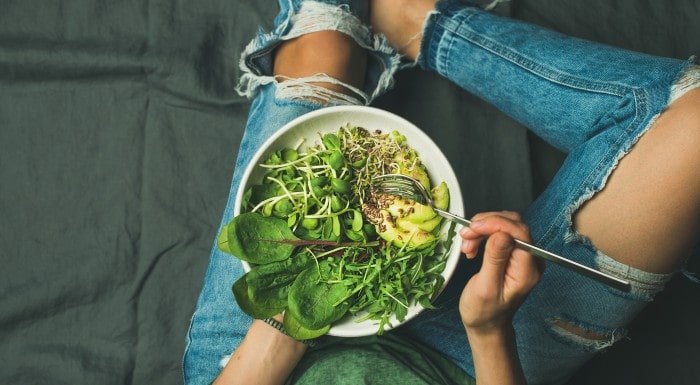 What is the Metabolism Reset Diet?
This diet was popularised by former NFL player Steve Weatherford, who later became a fitness coach. The goal of the diet is to trick your body into speeding up your metabolism by focusing on certain foods, eliminating others to achieve a calorie deficit. 
Like many other popular diets, the goal is weight loss (and fat loss), which is achieved by following a meal plan that reduces carbs and then reintroduces them – making it essentially a form of carb cycling.
 
How does the Metabolism Reset Diet work?
Our metabolism depends on so many factors, but the major ways we impact it are from what we eat and how much we exercise. Some of us are born with body types and genetics that give us a faster metabolism (meaning we burn more calories without doing anything at all, and can consume more calories without gaining weight) and others with a slower metabolism (meaning we burn fewer calories and have to work harder to lose weight).1 
Because our metabolism is a function of many factors, some of which we cannot change (our genetics), there's not actually a "reset" button we can push – but we can try to manipulate our metabolism (whether we want to speed it up or slow it down through our diet and exercise habits. 
How to Follow the Metabolism Reset Diet
The Metabolic Reset Diet is said to be personalised, but includes a diet regimen, supplement regimen, and specific workouts. 
The diet portion recommends low carbs, moderate protein, and lots of veggies – including homemade juices. You'll be given guidelines for the foods to focus on and those that are off limits. It encourages drinking a lot of water and no alcohol. 
The workouts are intense and focus on fasted cardio and weight training.
 
Will the Metabolism Reset Diet Help Me Lose Weight?
Because the Metabolism Reset Diet is designed for 4 weeks, most people can commit to a change for this period of time. However, it's very specific in both the food plan and the exercise routines that you have to follow (think 2 workouts a day). It makes it difficult to stick to, but promises results. 
The overall results are likely due to a caloric deficit – two workouts and a low carb meal plan will have you burning more calories than you are consuming, and doing this for 4 weeks will likely lead to some weight loss. While you're not actually flipping a switch to "reset" your metabolism, your hard work can make you lose weight by eating less than you're burning. 
This low carb diet approach is nothing new – think Atkins or Keto – and a specific meal plan is a common feature of many weight-loss diets. While the Metabolism Reset Diet is likely just a fancy form of carb cycling, it absolutely can help you lose weight if you have the determination to stay on track. 
While you might learn some new workout strategies or make long-term tweaks to your diet, it's not a sustainable pattern to follow forever – and you'll feel frustrated if you fall off the plan (especially when you're paying for it). 
Research shows that while many fad diets can be successful, the common thread among them is achieving a calorie deficit.2 Consistency with healthy eating and exercising is the real key to successful weight loss.
Take Home Message
The Metabolism Reset Diet is based on some obvious strategies – eating less calories, working hard at the gym, and avoiding indulgences. However, it can be difficult to follow such a strict plan for 30 days, much less forever. While it doesn't actually "reset" you metabolism, it can help you lose weight. Finding a diet and exercise plan that you can follow consistently is more important and beneficial than the latest fad diet.