If we were entering Bake Off, this would be our showstopper.
---
This incredibly indulgent recipe from Niall Kirkland honestly had our mouths watering from the name alone. He's combined a layer of thick, sticky cookie dough with rich, gooey brownie and stuffed Oreo biscuits in the centre just for good measure. We told you it was a showstopper.
Next time you're in the mood to treat yourself with something sweet and delicious, this bake is definitely one to try out. It's actually surprisingly easy and Niall's made a few smart swaps in the ingredients to keep it a little more macro-friendly — you won't see any butter or sugar around here. They provide a nice boost of protein too, which is always great for helping you to reach your daily targets in a (seriously) tasty way.
Makes 20
Ingredients
For the brownie mixture:
75g oat flour
115g dates
60ml milk
125g Greek yoghurt
100g maple syrup
2 scoops Impact Whey Protein (Vanilla)
2 eggs
6 tbsp. cocoa powder
1 tsp. vanilla
½ tsp. baking powder
For the cookie dough mixture:
150g maple syrup
1 tsp. vanilla
100g plain flour
2 eggs
1 tsp. cinnamon
½ tsp. baking powder
6 Oreo biscuits (chilled in fridge)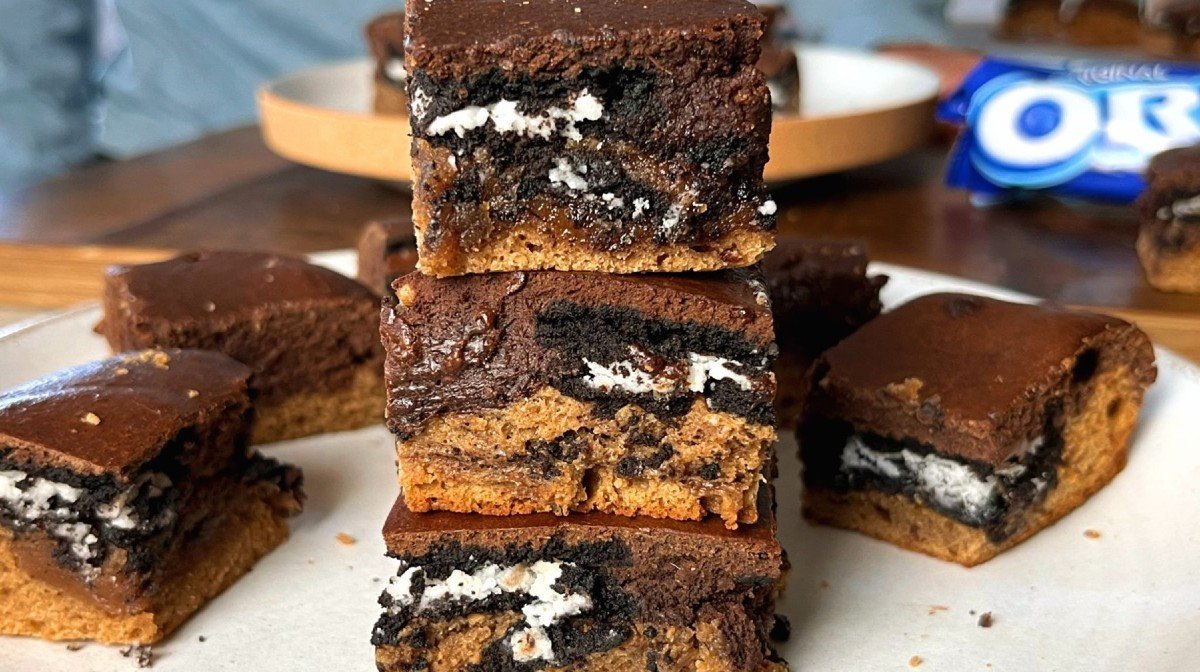 Method
Preheat oven to 175°C/ 350°F.
For the cookie dough mixture, add peanut butter, eggs, maple syrup and vanilla to a bowl and whisk until combined (feel free to use an electric whisk). Then, add the plain flour, cinnamon, salt and baking powder and whisk until combined.
Transfer cookie dough mixture to a lined 8×8" or 9×9" baking tray and flatten until you have an even surface, then chill in fridge whilst you make brownie mixture.
For the brownie mixture, add dates, oat flour and milk to a food processor and blitz until combined. Then, add Greek yoghurt, vanilla Impact Whey Protein, maple syrup, cocoa powder, eggs, baking powder, salt, and vanilla essence and blitz again until smooth.
Remove cookie dough base from fridge and place the six Oreo biscuits evenly across. Then, pour in the brownie mixture and spread it across the surface evenly.
Bake for 20-25 minutes, until a toothpick comes out clean when testing. Once baked, remove from oven and leave to cool for at least 10 minutes before slicing into 20 pieces. These will be more fudgy once they have properly set after being stored in the fridge for at least a few hours.