The only healthy peanut butter cups recipe you'll ever need.
For this states-inspired healthy peanut butter cups recipe, all you'll need are 5 ingredients and a spare 20 minutes and you'll be on the road to pure peanut butter bliss. We used Powdered Peanut Butter to make these uber-healthy peanut butter cups (70% less fat that regular peanut butter), but you can use regular peanut butter, too!
Click to jump straight to the nutritionals.
Makes: 12
Ingredients
Method
1. Melt chocolate over a bain-marie or in the microwave at full power for 1-2 minutes, checking occasionally to prevent burning.
2. Line a muffin tray with cupcake cases and pour half of the melted chocolate in each case approximately 0.5cm high. Pop into the freezer to set for 5-10 minutes until solid.
3. While you're waiting, make up your peanut butter but combining 6 tbsp. powdered peanut butter with 6 tbsp. water in a bowl until no lumps remain.
4. Once the chocolate bases have set, remove from the freezer and add a small spoonful of peanut butter to each, leaving a little space around the edge of each.
5. Place a small spoonful of mashed raspberries on half of the cups, and a slice of banana on the other half (or combine if you like!).
6. Use the remaining melted chocolate to cover the fruit and peanut butter centres. Pop back into the freezer and allow to set for 10-15 minutes. Remove and store in an airtight container in a cool dark place.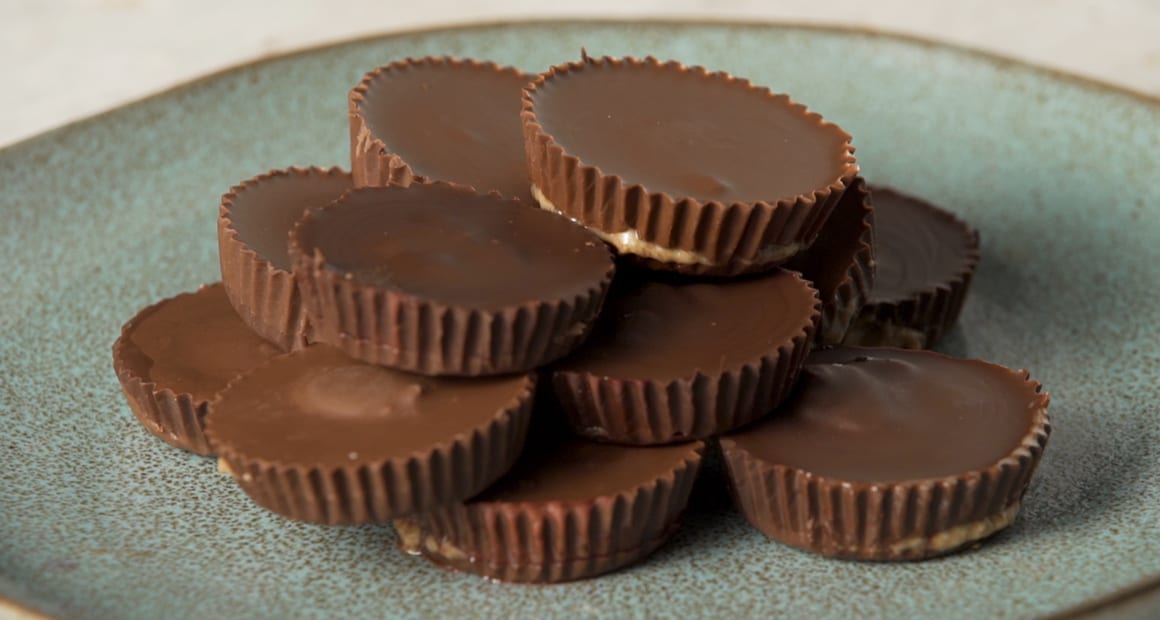 ---
Enjoy this healthy peanut butter cups recipe? Check out more awesome health and fitness recipes.
---