These indulgent cheesecake pots are completely plant-based and take less than 10 minutes to make!
---
Whether you're vegan or not, by now you really should be familiar with our Vegan Carb Crusher bars — and if you're not, you definitely owe it to yourself to change that immediately.
These incredible low-sugar snacks are covered in a rich dark chocolate flavour coating and layered with gooey caramel, perfect for crushing those sweet-tooth cravings with less than 2g of sugar in every bar.
Each Vegan Carb Crusher is also packed with an impressive 15g of plant-based protein, making them a delicious way to top up on your daily intake and hit your macros.
With this sweet & simple cheesecake recipe, you can take your vegan snacking game to the next level. These treat pots are ideal for evenings when you just fancy a dessert to finish off a meal, but don't want the effort of putting together anything complicated or waiting for a full-on bake. You just need a couple of ingredients and you'll have something magical within minutes, trust us.
Makes 3
Ingredients
Optional toppings: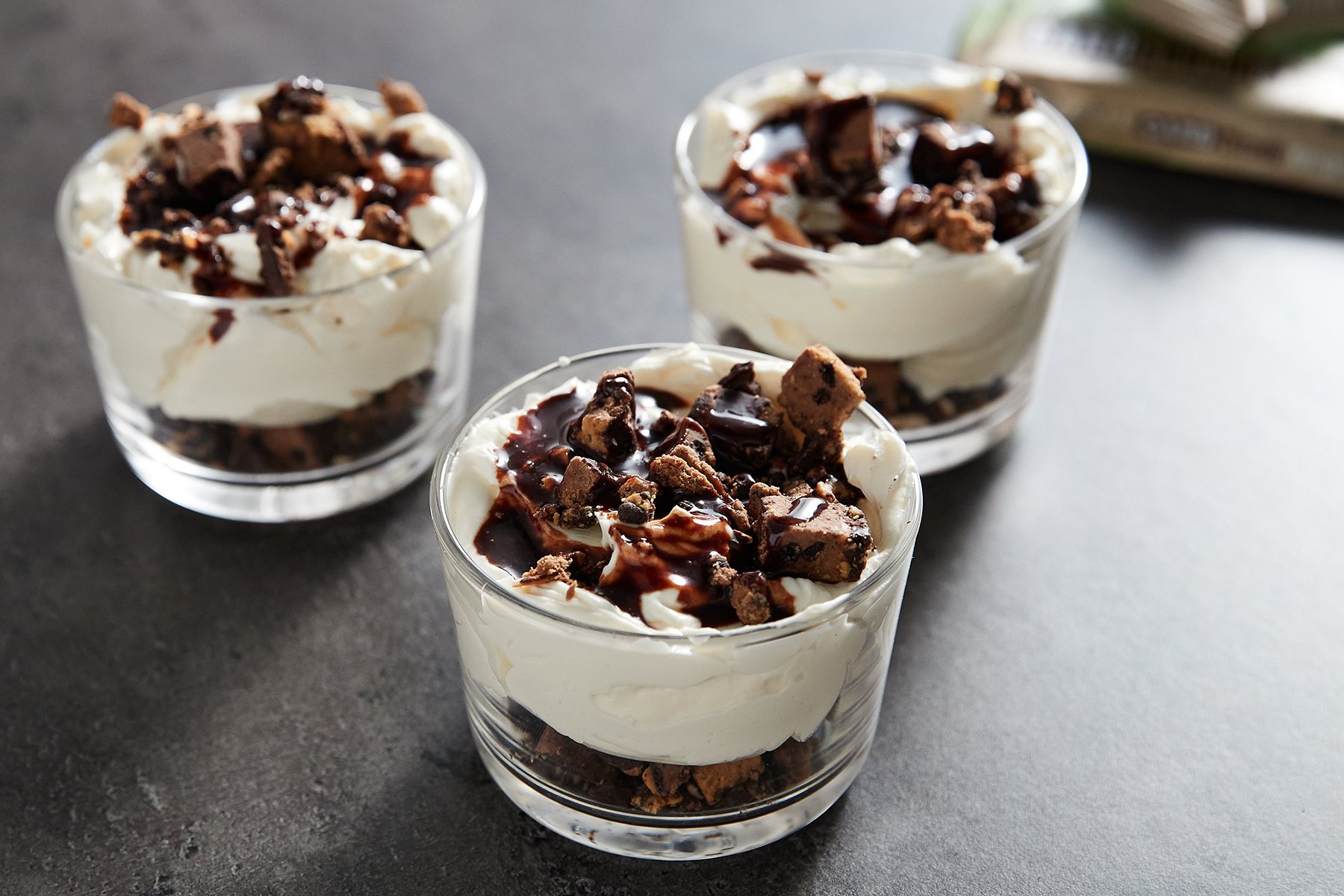 Method
1) In a bowl, mix together the vegan cream cheese and the vanilla Flavdrops. Check the taste after around 6 drops and add more if you feel like it needs it. Set aside.
2) Next, chop up your Vegan Carb Crushers — we went for classic Peanut Butter, but any of our irresistible flavours will work — and distribute them evenly between three small ramekins. Keep some of the pieces leftover for topping with.
3) Now spoon the cream cheese mixture evenly between the ramekins on top of the Vegan Carb Crusher base. Smooth with a knife or the back of a spoon to get an even layer.
4) Top each one with the leftover pieces of Vegan Carb Crusher and if you're feeling extra indulgent drizzle with dark chocolate sauce.
5) Enjoy immediately or keep in the fridge for 2-3 days to tuck into later!