Is Skipping Good For You?
First of all, forget whatever you think you know about skipping from the playground and kids' games. Replace that image with Muhammad Ali and the many other boxing greats, all of whom have made skipping a regular part of their training regimen (and all have the lean muscle to prove it works).
Alright, if it does bring back the playground and you have fun while you're at it, what's the harm?
The skipping rope is an essential tool in all gym-goers' kits for anyone looking to burn fat, improve endurance, strength, conditioning and balance while building muscle definition.
For anyone feeling limited by the treadmill and cross-trainer, or anyone looking to get their fitness gains outside of a gym membership with a limited budget, there's a good reason that skipping is the cornerstone of many pro athlete's workouts.
If you're new or a little rusty on the rope, the early days can be frustrating when you keep tripping, and your ability doesn't quite keep up with your speed and fitness goals. Of course, first, you should check that you're working with the right length of rope. If it's too long it will lapse when it hits the floor, slowing you down, and if it's too short, you'll keep whipping your ankles.
Practice makes perfect, and with each practice, you'll burn calories and strengthen your muscles – especially your core, quads and calf muscles.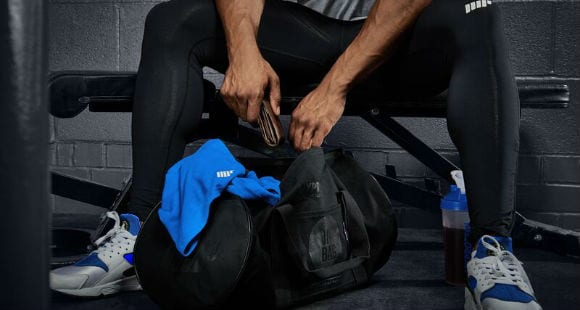 Master Your Skipping Technique
There are many styles and variables you can adapt to mix up your skipping workout. But as a general rule, keep your hands at waist height, pointed at a 10 and 2 o' clock angle. It's important that you work your wrists and not your shoulders. This is a different workout and one that isn't as sustainable for a longer endurance-based session or high-intensity interval training.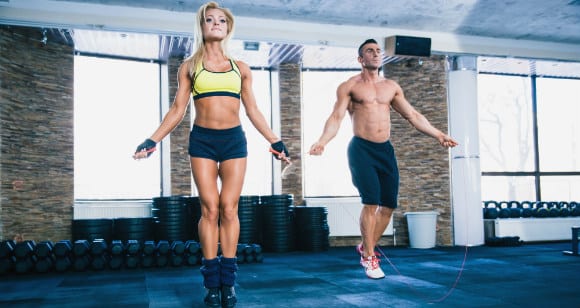 The Skipping Workout
This is a HIIT-based approach, meaning that you will work as hard and fast as you can to get your heart rate up. The benefits of this include major calorie burning, which keeps happening long after you've hit the showers.
The beauty of this workout? You don't need a gym membership or any major hi-tech equipment. All you need is a rope and less than 30 minutes, leaving you no excuses at all.
Warm up by doing 30 seconds of jumping rope, 30 seconds of air squats, then a 1-minute plank hold. Repeat four times.
1 minute – jumping and 30 seconds of push-ups.
1 minute – backward jumping and 30 seconds of tricep bench dips.
1 minute – side to side jumping (imagine your feet are bound together, and jump rope while hopping from side to side) and 30 seconds of lunges.
1 minute – skipping rope (one-foot lands as the other takes off) and 30 seconds of jumping squats.
1 minute – single leg jumping (30 seconds on one leg, then switch), and 30 seconds of mountain climbers.
1 minute – alternating high knee jumps (like the skipping rope move, but pull your knees up as high as you can), and 30 seconds of flutter kicks.
Take 1 minute of rest, then repeat the entire circuit. Cool down and stretch after two rounds.
All feeling a bit amateurish? For anyone feeling more ahead of the game, double-unders is a good way to pick up the pace and put your cardiovascular system to work. These involve explosive jumping and spinning the rope faster to pass it beneath your feet twice instead of the usual one. This works your muscles harder and pushes your cardiovascular system towards its upper limit.