This recipe from Niall Kirkland is just the thing for a quick summer lunch — it's the perfect combination of fresh veg, filling sweet potato chunks and crispy tofu. The soy and sriracha marinade is something pretty special too.
It's a great plant-based meal to add to your repertoire if you're looking for new vegan dishes to keep things fresh, or even if you just want to try something a little bit different amongst the endless chicken and rice prep.
Buddha bowls are a hearty and healthy way to get a generous helping of greens and grains into your diet. Bursting with colour, flavour and texture, they can be completely tailored to your own tastes — so feel free to switch out any of the extras if you prefer other veg.
Makes 3
https://youtu.be/8i4S0Zkux2Y
Ingredients
1 large sweet potato
2 tbsp. 100% Coconut Oil
350g tofu
2 tbsp. soy sauce
1 tbsp. sriracha
1 tsp. toasted sesame seed oil
1 tbsp. white wine vinegar
250g brown basmati rice
Handful of broccoli florets
Handful of kale
1/2 carrot
1/2 cucumber
1/2 bell pepper
20g sunflower seeds
Salt and pepper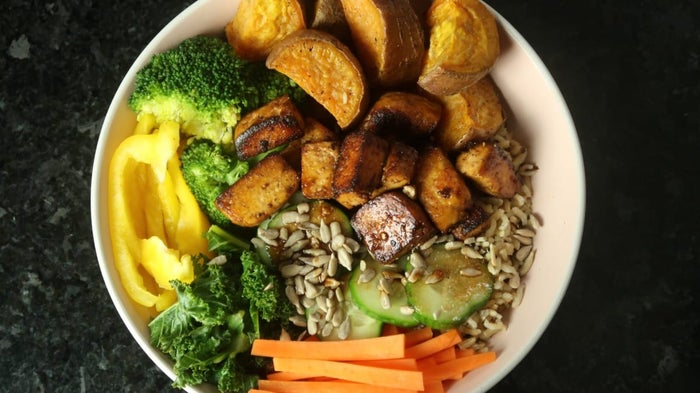 Method
Preheat your oven to 200°C.
Wash, dry and thickly slice your sweet potato, then chop the slices in half again to make smaller chunks.
Place the sweet potato onto a baking tray, add 1 tbsp. of melted coconut oil and season with salt and pepper. Bake for 30-40 minutes.
Next, chop your tofu into small cubes and transfer to a large bowl.
Add the sesame seed oil, sriracha, soy sauce, white wine vinegar and a pinch of pepper and mix into the tofu.
Heat a tbsp. of coconut oil in a wok and add the tofu. Fry for roughly ten minutes until it begins to crisp on the outside.
Meanwhile, steam your broccoli and kale.
Once the tofu and sweet potato is cooked, build your buddha bowl! Start with rice, then sweet potato, broccoli, kale, carrots, cucumber, pepper, tofu and then garnish with some sunflower seeds.
Enjoyed this vegan recipe? Check these out next:
Nutritional info per serving:
| | |
| --- | --- |
| Calories | 503 |
| Total Fat | 20g |
| Total Carbohydrates | 61g |
| Protein | 18g |
Lauren is an English Literature graduate originally from the South. She's always loved swimming, has discovered the power of weight training over the past few years, and has lots of room for improvement in her weekly hot yoga class.
On the weekends she's usually cooking or eating some kind of brunch, and she enjoys trying out new recipes with her housemates – especially since shaking off student habits, like mainly surviving off pasta. Above all, she's a firm believer in keeping a balance between the gym and gin.
Find out more about Lauren's experience here.