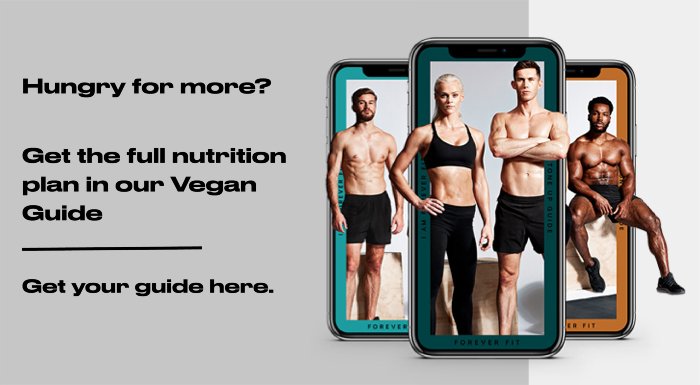 This will be your go-to weeknight vegan fajitas recipe.
Did you know Portobello mushrooms make the perfect swap-in for vegan fajitas? Knock this vegan dinner up in 15 minutes flat for a delicious and speedy weeknight vegan meal!
Check out the macros at the bottom, and don't forget to check out our other delicious 15-Minute Vegan Dinners.
Want to boost your protein? Try stirring in some kidney beans for an extra protein punch that's also packed with fibre, vitamin B1, magnesium and iron.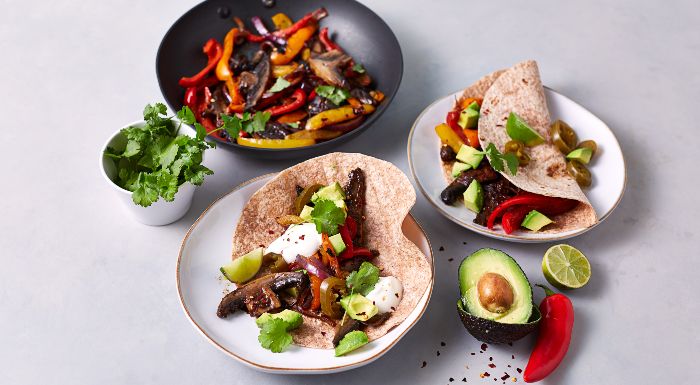 Ingredients

Serves: 2
1 tbsp. Coconut Oil
2 bell peppers (sliced)
1 white onion (sliced)
4 Portobello mushrooms (sliced)
Fajita seasoning spices: ½ tsp. paprika, 1 tsp. chilli powder, ½ tsp. garlic powder, ½ tsp. cumin
1 tbsp. soy sauce
Good handful pickled and sliced jalapeño peppers
6 small whole wheat tortillas
Optional toppings:
Guacamole (check out our favourite recipe here)
Tomato salsa
Method
1. Heat a large pan on a medium to high heat. Drop in the coconut oil, then once it has melted, add the sliced onions and bell peppers. Fry for 8-10 minutes until the vegetables begin to soften, then stir through the spices and fry for a further 2 minutes, stirring occasionally.
2. Add the Portobello mushrooms and soy sauce to the mixture and fry until browned – this should take around 4-6 minutes.
3. Once browned, warm the tortillas in the oven for 5-10 minutes or in the microwave on full power for 30 seconds. Fill the tortillas with your Portobello fajita mix, and top with jalapeño peppers, guacamole and salsa. Perfection.
Enjoy this recipe? Don't forget to check out the rest of our 15-Minute Vegan Dinner recipes, or why not try making Homemade Vegan Protein Bars!