---
Switch up your meal prep routine with this fresh & flavour-packed poke bowl.
---
Bored of the same recipes on rotation? Here's a great macro-friendly lunch option that's perfect to take with you to work and won't have you waiting on microwaves. This is @niallkirkland's take on a poke bowl, which is a traditional main dish of Native Hawaiian cuisine.  
It's ideal for a balanced meal that'll keep you fuelled throughout the day as it offers a healthy portion of carbs from the sticky rice, omega-3 & protein from the salmon, and plenty of crisp, fresh veggies for vitamins, minerals, and fibre. Oh, and that sriracha marinade adds a kick to keep your tastebuds happy too.  
Not a fan of raw fish? You could try with crispy tofu pieces instead. One of the best things about these poke bowls is that you can totally make them your own by mixing up the extras you include.  
Serves 4
---
Ingredients
3 tbsp. light mayonnaise
1 tbsp. sriracha
2 tbsp. soy sauce
2 tbsp. mirin (or any other rice wine vinegar)
1 tbsp. toasted sesame oil
1 tbsp. honey
300 g sashimi grade salmon
1 carrot
1 cucumber
2-3 spring onions
1 avocado (sliced)
1 cup ready-to-eat edamame beans
250 g sticky white sushi rice
1-2 shallots (finely sliced)
1 tbsp. coconut oil
To garnish: sesame seeds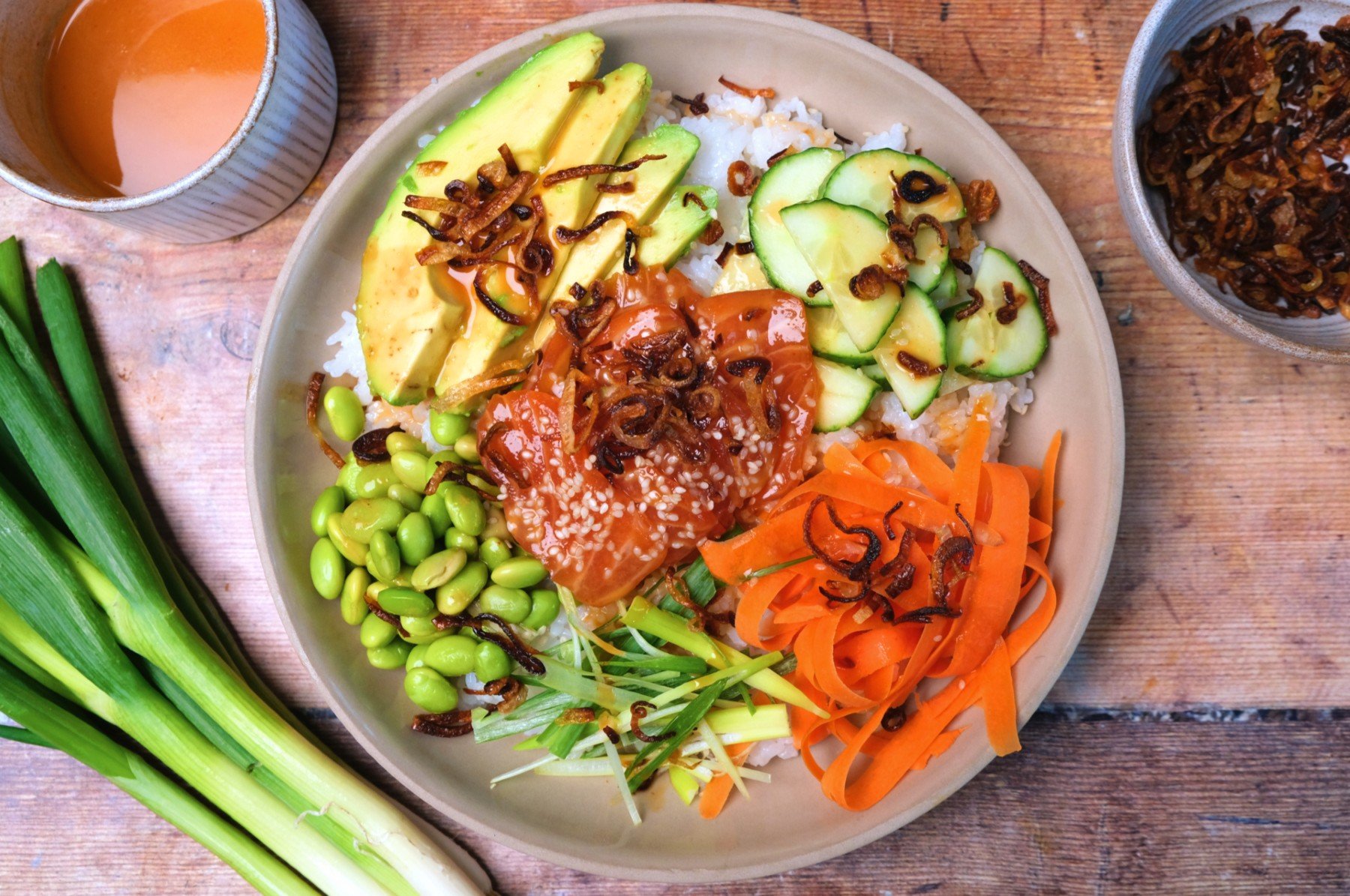 Method
First, mix together the light mayonnaise, sriracha, soy sauce, mirin, sesame oil, and honey to make a smooth marinade. 

Reserve ½ the marinade to use as a dressing later, then add sashimi salmon to remaining marinade. Mix salmon together with marinade, being careful not to damage it, then leave to marinate for at least one hour. 

Rinse sushi rice thoroughly until the water runs clear. Then, cook sushi rice according to packet instructions (usually cook for around 10 minutes and then steam for 10 minutes) and leave to cool before serving.

Chop your cucumber into quarters, thinly slice the spring onions lengthways, and julienne carrots using a peeler.  

Now heat the coconut oil in a non-stick pan and add sliced shallots. Gently sauté the shallots on low heat for approximately 7 minutes, until they turn brown and crispy. Then remove from pan and transfer to a piece of paper kitchen towel. 

Once, everything is ready, build your poke bowl, by layering rice first then all your toppings. Garnish with sesame seeds and enjoy immediately, or keep in airtight containers in the fridge for up to 3 days as meal prep.