Craving lasagne, but don't want to make a whole tray of the stuff? Try loaf tin lasagne! You'll get 4 easy portions for 4 days' worth of meal prep.
This loaf tin lasagne makes the ultimate high-protein meal prep for when you're craving your favourite comfort food.
Makes: 4 portions
Equipment needed: Loaf tin
Ingredients
1 tsp. Coconut Oil
1 white onion, coarsely chopped (or 1 tbsp. onion powder)
2 cloves garlic, finely chopped (or 1 tsp. garlic powder)
1 tbsp. dried oregano
350g turkey mince
600g chopped tomatoes or tomato passata
300g lasagne sheets
1 courgette
1 tsp. sea salt and black pepper
400g cottage cheese
3 egg whites
100g low-fat cheese (grated)
Method
First, make your turkey ragu. Add the coconut oil to a pan on a medium to high heat. Add the onion and sauté for 3-4 minutes, then add the garlic and sauté for a further 2 minutes (if you're using the powdered versions, add them after the next step).
Next, add the turkey mince and break it up a little using a spatula, then allow it to brown for 3-4 minutes, stirring occasionally. Stir in the oregano, ½ tsp. salt and pepper and the tomatoes and simmer on a low heat for 10 minutes.
While you're waiting, whisk cottage cheese and egg whites together in a bowl using a fork with the remaining salt and pepper. Set aside. Preheat the oven at 200°C or 180°C for fan-assisted.
Now prepare your courgette and lasagne sheets. Use a vegetable peeler to slice the courgette lengthways to get long slices. Wash the lasagne sheets under cold water in a colander.
 Once the turkey ragu is ready, it's time to make up the lasagne. Start with a layer of courgette sheets for easy removal once cooked. Then alternate between the ragu, cheese sauce, lasagne sheets, and courgette. Finish with a layer of lasagne, then cheese sauce, then sprinkle with low-fat cheese.
Bake for 15 minutes with foil on, then remove the foil, turn the heat up by 20°C and bake for a further 20 minutes. Once cooked, divide into four meal prep containers, serve with your favourite salad or vegetables and store in the fridge for up to three days.
---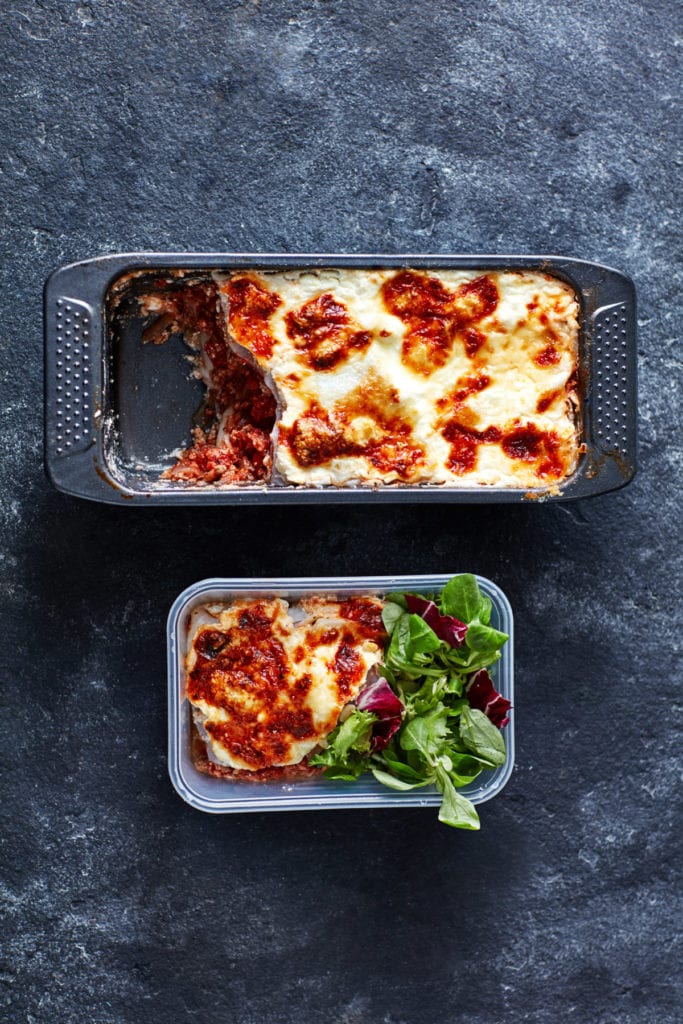 ---