By Christopher Tack |
Clinical Specialist Physiotherapist
Before deciding on when to take whey protein – it's beneficial to first find out why you should include them in your diet, how they work in your body to promote muscle growth and what sources of protein will benefit your body the most.
---
Obviously whilst the physical benefits of whey protein are clear, there are a variety of other options by which the average athlete/gym goer/sports person can obtain their daily allowance of protein (outside of the food they consume). Other common sources are casein, egg or soy protein for example.
Usually protein sourced from animal products (e.g. beef, pork, fish, poultry, egg or milk) is considered a more "complete" form of protein. A plant based source of protein (e.g. hemp or pea proteins) are beneficial, however are termed "incomplete" as they lack one or more of the essential amino acids (48). Animal proteins (such as whey) are complete as they provide amino acids in spades!
Thankfully for us the world uses a grading system by which we can rank protein sources and determine which is the best for us (by "the world" I mean the Food & Agriculture Organisation of the United Nations and the World Health Organisation).
This grading system is called the "Protein Digestibility Corrected Amino Acid Score" (PDCAAS) (64) and it is essential a percentage rating of the quality of a protein based upon the essential amino acids (EAA) the source provides, and our ability to digest it. Obviously a protein jam packed with amino acids which we couldn't biologically use would be no good to us at all! This is what we would call the amino acid bioavailability of the protein (13).
Interestingly, whey is not the only form of protein supplementation which has a high PDCAAS rating, as casein, soy and egg protein all meet a 100% (1.0) level of quality via this scoring system (32).
In order to truly evaluate the best form of protein supplementation we have to dig a bit deeper then.
---
What Protein Shake? Whey, Casein or Soy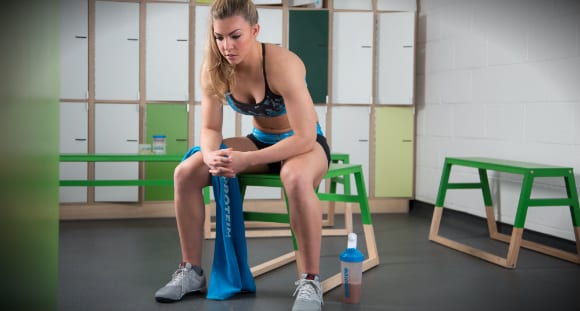 If we compare Whey, Casein and Soy, all of these protein forms meet a >1.0 PDCAA score. However, on average whey provides 63-66g of essential amino acids (per 100g), where as casein provides 45-49.3g, and soy provides 49-62g. Therefore, the essential amino acid package in whey protein is greater.
Nextly, we look at whether these EAAs are harnessed and used by the body efficiently. For this we examine the Net Protein Utilisation (NPU), which is measured by collecting the amount of dietary protein consumed and collecting the amount of nitrogen excreted in urine. The value obtained is between 0 and 1.0 and indicates a percentage amount of protein utilised.
Whey is found to have an NPU of 0.92 (92%) protein utilisation, whereas casein (76%) and soy (61%) lag behind (32). Thus showing that whey protein not only has a greater protein concentration through manufacturing and a greater amount of essential amino acids; but it also has better efficiency of the amino acids it provides.
---
Whey Protein Timing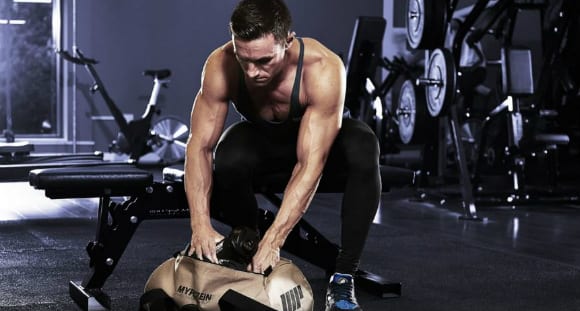 It can be difficult to know when exactly to to time your whey protein intake, but whey protein can be absorbed and used quite quickly by your body, so this should be taken into account.
Guidelines for protein consumption generally suggest that time of your intake is an important consideration to allow proper recovery, growth and maintenance of lean muscle (13).
This is because it is generally recognised that post workout we require more dietary protein to counteract intramuscular protein oxidation/ breakdown and stimulate resynthesis and repair (4,55,60,62,81).
Whey protein gives the perfect option to to make sure that muscle built outweighs muscle being broken down (9-10,24).
Also, the use of a protein supplement can be much more appealing post workout compared to the proposition of eating a big steak or two breasts of chicken.
For example, I train at 5:30am and do not eat breakfast until I arrive at work at almost 8am. Without a handy protein shake my replenishment and recovery would be delayed significantly post workout! Plus, who eats steak at the desk at 8am?
It is suggested that the perfect post workout supplement should provide 20-25g of protein, alongside 8-12g of essential amino acids to best stimulate muscle protein synthesis and ensure a positive nitrogen balance (5,8,51,59,74).
Additionally, this should be consumed within a 2-hour window post workout (3,6,22,26,38,46,77-78).
---
Whey Protein Amino Acid Availability
Amazingly, the benefits of whey protein do not even stop there as the unique amino acid availability of whey protein makes it even better suited for our post exercise requirements.
This is because studies have shown that consuming whey protein rapidly increases the amount of amino acids available in the body which are needed to build muscle (7,9).
Interestingly, whilst whey provides a rapid increase in amino acids, casein provides the opposite with a prolonged, slow release of amino acids over 7 hours (7). This is why protein consumption nutritional guidelines for athletes suggest that (outside of dietary protein) athletes should use BOTH whey and casein to optimise muscle protein synthesis – whey post workout and casein when resting/ sleeping (13).
---
Spotlight on Whey
Whey protein has various components which make up its protein mix.
The predominant protein molecules found in whey are ?-lactoglobulin (50-55%) and ?-lactalbumin (20-25%), the former of which has been found to be a major source of branch chained amino acids (BCAA) and composed largely of leucine (approximately 14.5%) (34,61). Leucine, you should remember, is a key facilitator of muscle protein synthesis.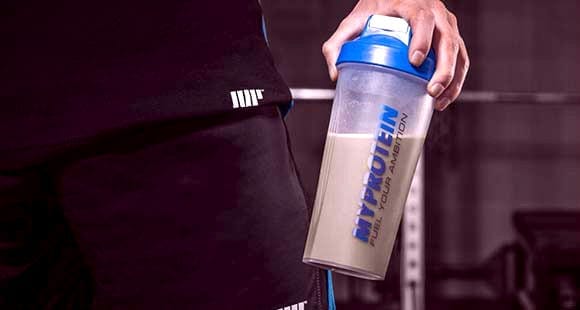 The rest is made up of various peptides and proteins including serum albumin (5-10%), glycomacropeptide (10-15%) and lactoferrin (1%). There is also a 10-15% amount of immunoglobulins which are immune system antibodies (23,28,41).
This molecular mixture leads whey protein to have high levels of essential amino acids which help to stimulate protein synthesis, repair and growth (8,28,66). This is alongside various other benefits due to the high concentrations of cysteine (a potent antioxidant), immunoglobulins and growth factors (IGF-1/ TGF-1) (48).
Absorption Rate
Besides the molecular makeup of whey, another key characteristic of this protein source is its absorption rate. Whey is well known to be rapidly digested and have high solubility, which assists its role in muscle protein synthesis stimulation (7,20).
This rapid absorption also aids to increase its amino acid availability, which makes it the go-to protein source for pre- or post-workout fuelling (7,20, 37).
---
Take Home Message
So, whey protein offers a convenient and high-quality source of protein which is ideal for quicker recovery from your workouts. Enjoy a shake within two hours after your workout to really reap the benefits and see real results.
Enjoy this article? Read more on whey protein: