Ever thought of ditching a trudge along the grey pavements for a scintillating route that requires peak physical and mental prowess? That's what David Belle discovered when he founded the sport of parkour as a teenager in Paris, France.
Parkour is so much more than terrifying YouTube videos and daredevil stunt artists that have led to many seeing the sport as controversial. However, with its own national governing body in the UK, and the intense practice and skill required to pull off awe-inspiring leaps of faith and feats of strength, the sport is growing in popularity all the time.
What is parkour?
The sport originally comes from France in the 1980s and was created by a group of 9 young men, including David Belle, who later coined the name "Parkour" for the sport. The term is derived from the French word "parcours" meaning route, or course. It's also known as freerunning — a term that came into use when the sport was introduced to the English-speaking world.
Parkour is generally a non-competitive sport that prides itself on moving freely over any environment — often urban — using only the abilities of the body. That means running, jumping, and climbing, as well as often acrobatic-type moves. Moving across such challenging terrain helps to develops skills such as strength and aerobic fitness, as well as balance, spatial awareness, agility, coordination, precision, control, and creative problem solving.
As a sport, it encourages self-development on all levels as you are forced to test your physical and mental limits, as well as develop an awareness and respect for the environments around you.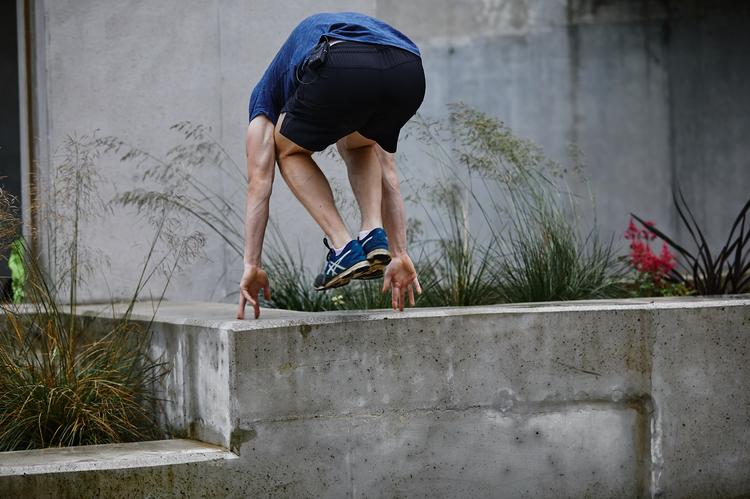 Parkour's popularity
Since its small beginnings in France, parkour has spread across the globe and is now popular in many cities across the world. You can often find training centres, and in the UK, it's now an official sport, with the National Governing Body, Parkour UK, offering qualifications that can lead to a career in the sport.
The creativity and gymnastic ability of parkour means it's also an awesome sport for photography and video media, meaning the sport has largely grown through its exciting and inspiring online presence. With the mental and physical agility involved, as well as the freedom parkour offers, it's no surprise that figures from a Sport England survey show that 96,900 adults in England had performed parkour at least twice in the past 28 days.1
Take home message
There's no doubt that parkour requires discipline, creativity, as well as a little bit of courage to take the leap. With the right training, and peak physical fitness, this is a pretty awesome community of true sporting artists to get involved with.
Want to see the action as it happens? Make sure to follow @myprotein to stay up to date.