These sweet potato chilli cheese fries make the perfect good-for-you lunch or dinner – just made to share or great for your meal prep box the next day.
This high-protein, lower-fat meal has the perfect balance of protein and complex carbohydrates to regenerate and restore after your workout (or on your off days), plus, using our Low-Fat Protein Cheese means you'll get a tasty, melt-in-the-mouth protein boost when you need it the most.
Click to jump straight to the nutritionals.
Serves: 3-4
Meal type: High-protein meal, low-fat meal
Prep time: 5 minutes
Cook time: 40 minutes
Total time:  45 minutes
Ingredients
4 large sweet potatoes
½ tsp. sea salt and black pepper
2 tsp. Coconut Oil
500g extra-lean beef mince
1 beef stock cube
1 onion (finely chopped)
400g chopped tomatoes
1 tbsp. chilli powder
1 tbsp. cumin
1 tbsp. smoked paprika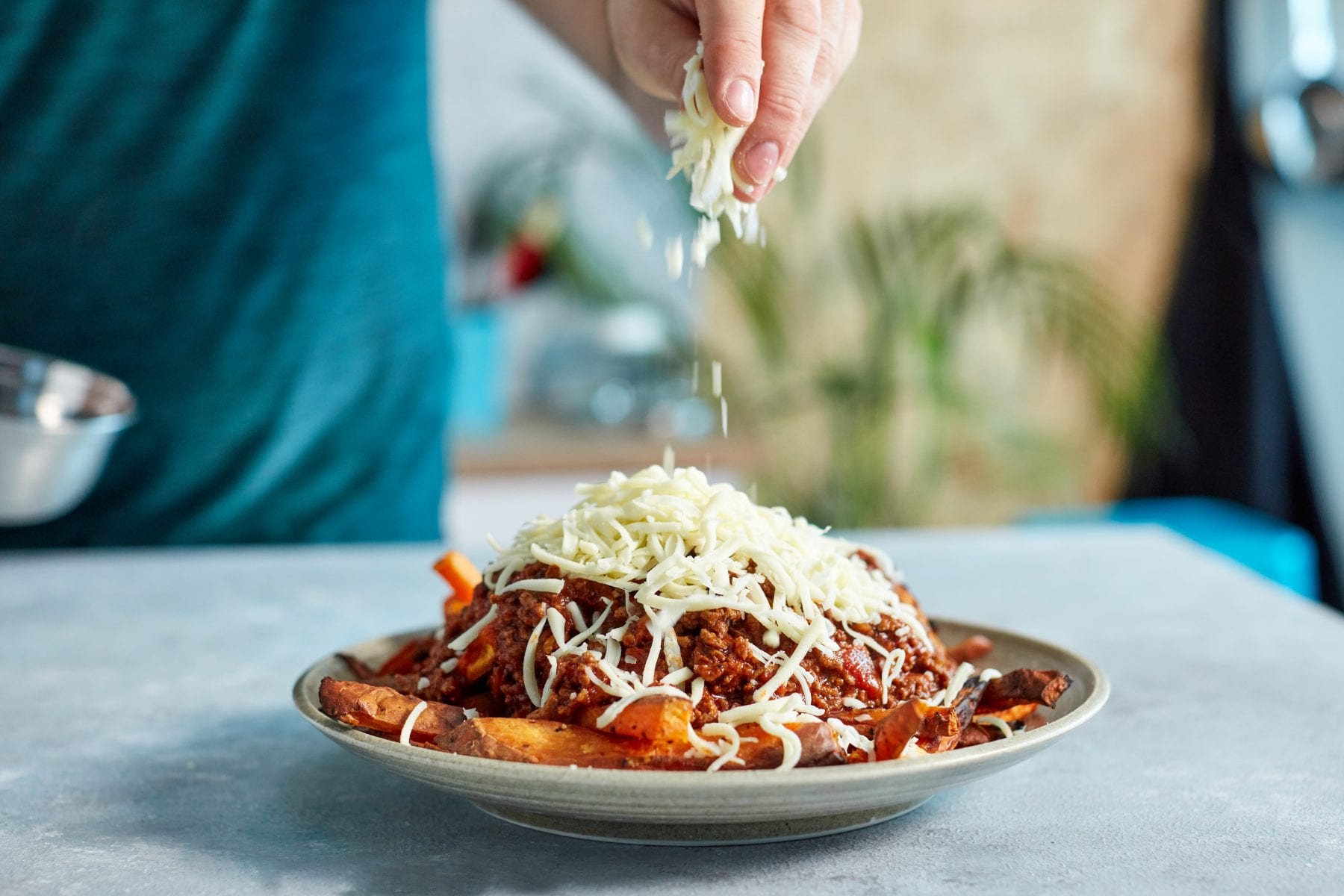 Method
First, cut the sweet potatoes into fries and place on a baking tray. Sprinkle over a pinch of salt and pepper and a teaspoon of coconut oil. Mix well and place in a preheated oven at 190°C for 30 minutes, or until golden, crispy and cooked through.
While the fries are in the oven, in a large pot over a medium heat, add the coconut oil along with the chopped onion. Gently cook for 5 minutes until the onion is translucent. Once at this stage add the beef mince and break up with a wooden spoon into small pieces. Cook until lightly browned for 5-10 minutes, stirring occasionally.
Once browned and cooked through, add the chilli powder, cumin and smoked paprika. Stir together and cook for 2 minutes continuously stirring. Add the tin of chopped tomatoes, top the empty tin up half way with water and add to the pot, add the beef stock cube, stir all together then place a lid over and cook on a low to medium heat for 30 minutes.
To serve, place the sweet potato fries on a plate, cover generously with the chilli and finish with lots of grated Low-Fat Protein Cheese. Dig in!