It's hard to deny that anything worth having comes at a cost – literally. Whether it's a gym membership, studio pass, online subscription, decent workout clothing or sports supplements to help you meet your goals, many of us will hand over our hard-earned cash in the quest for a healthy bod.
But how much are Brits actually spending on fitness, and how is the rising cost of living affecting our spends?
We surveyed over 2,000 UK adults on their health and fitness spending habits to see just what our priorities are when it comes to hitting our personal bests. Here's what we found…
The average person spends £207.64 per month on health & fitness
In total the average Brit spends £207.64 a month on their health and fitness routine – amounting to £201,826.08 in an average lifetime*.
The highest spend goes on healthy groceries, averaging about £31.49 per month. This is followed by workout clothing, on which Brits spend an average of £15.93 per month; protein powders and sports supplements (£14.76 per month); vitamins and superfoods (£14.74 per month) and sports holidays (£14.65 per month).
Excluding healthy groceries, Brits still spend an average of £176.15 per month on their fitness habits – up 42.1% on the £124 they spent five years ago.
Where are Brits Spending the Most Money to Stay Fit?
Naturally, healthy groceries and fresh produce are purchased by the majority of health-conscious Brits. But here's what else we're purchasing at least once per month in order to meet our fitness goals:
Healthy groceries – 60.2% (average spend: £31.49)
Vitamin supplements & superfoods – 34.6% (average spend: £14.74)
Gym membership – 26.4% (average spend: £14.05)
Fitness classes – 24% (average spend: £12.88)
Meal planning or diet tracking app – 23.7% (average spend: £13.02)
Online fitness subscription/app – 22.9% (average spend: £12.48)
Workout clothing – 22.6% (average spend: £15.93)
Fitness equipment – 21.9% (average spend: 13.22)
Studio pass/membership – 21.3% (average spend: £12.24)
Healthy meal subscription box – 21.1% (average spend: £13.43)
Protein powders & sports supplements – 20.6% (average spend: £14.76)
Personal trainer – 20.6% (average spend: £12.75)
Sport & activity holidays – 20.6% (average spend: £14.65)
Dietician or nutritionist service (online or off) – 18.1% (average spend: £12)
Vitamin supplements and superfoods are the most purchased items after healthy groceries, with over a third of Brits buying them once a month or more. These are followed by gym memberships (26%), fitness classes (24%) and meal planning or diet tracking apps (24%).
Which UK Cities are Spending the Most on their Health and Fitness?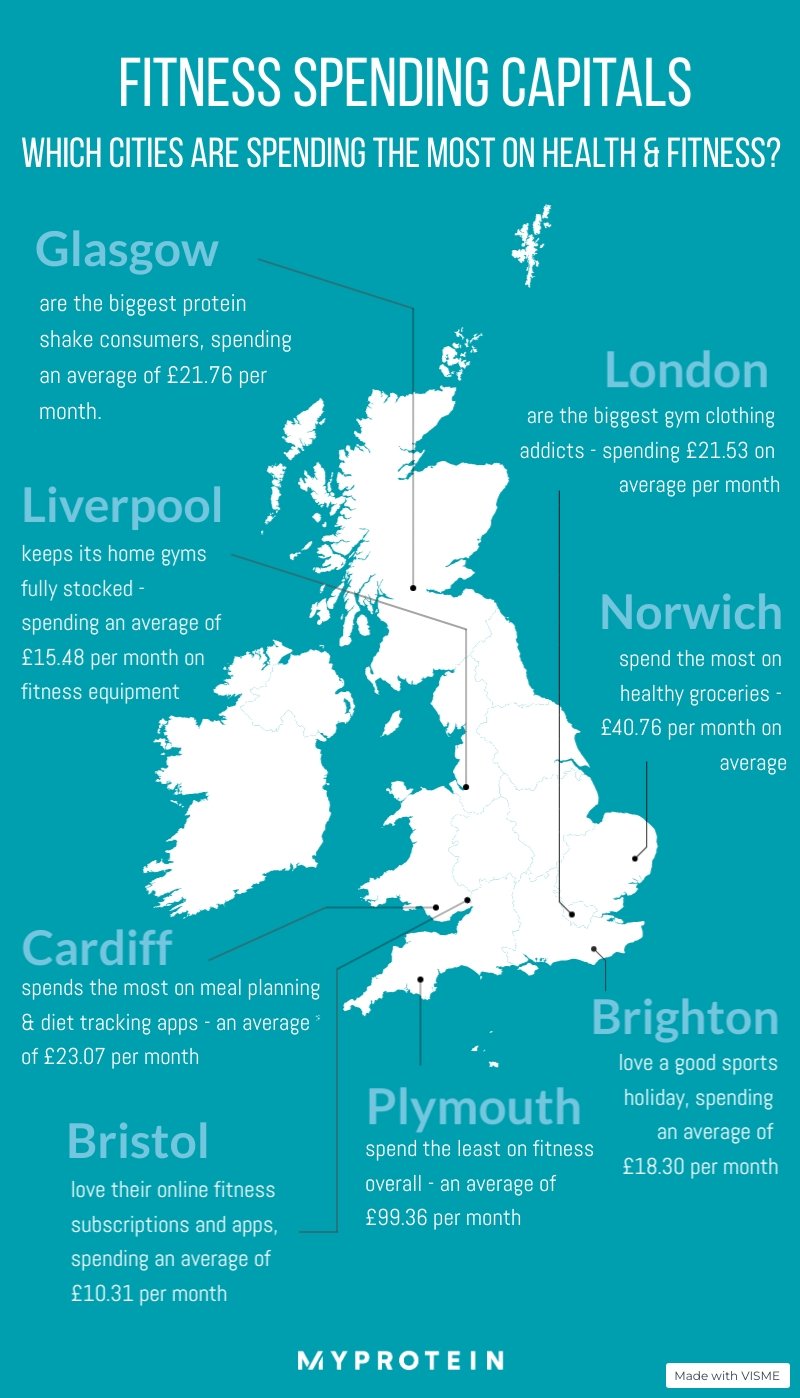 We looked at the regional data to see which UK cities are spending the most on their health and fitness. Here are the top 10:
London – average spend £276.91 per month
Cardiff – average spend £245.54 per month
Manchester – average spend £236.57 per month
Birmingham – average spend £235.40 per month
Glasgow – average spend £218.40 per month
Leeds – average spend £212.29 per month
Norwich – average spend £208.65 per month
Liverpool – average spend £197.37 per month
Nottingham – average spend £173.83 per month
Belfast – average spend £167.05 per month
Plymouth seemed to spend the least on their health and fitness, with an average monthly spend of £99.36 per person. They were followed closely by Sheffield, who spend an average of £117.52 per person, and Edinburgh, who spend an average of £120.67 per person. However, this doesn't mean these cities aren't necessarily as interested in fitness; on the contrary, it could mean that they have more free health and fitness initiatives on offer, or that the cost of gym memberships, fitness classes, personal trainers and/or fitness equipment is cheaper.
From a regional perspective, Greater London was the region spending the most on health and fitness (average of £331.97 per month), followed by the East of England (£268.33 per month), Wales (£235.02 per month) and the North West (£226.35 per month).
The South West spends the least on their health and fitness (average of £114.40 per month), followed by Northern Ireland (£151.09 per month), South East (£153.55 per month) and East Midlands (£172.47 per month).
What Influences Our Fitness Spending Habits?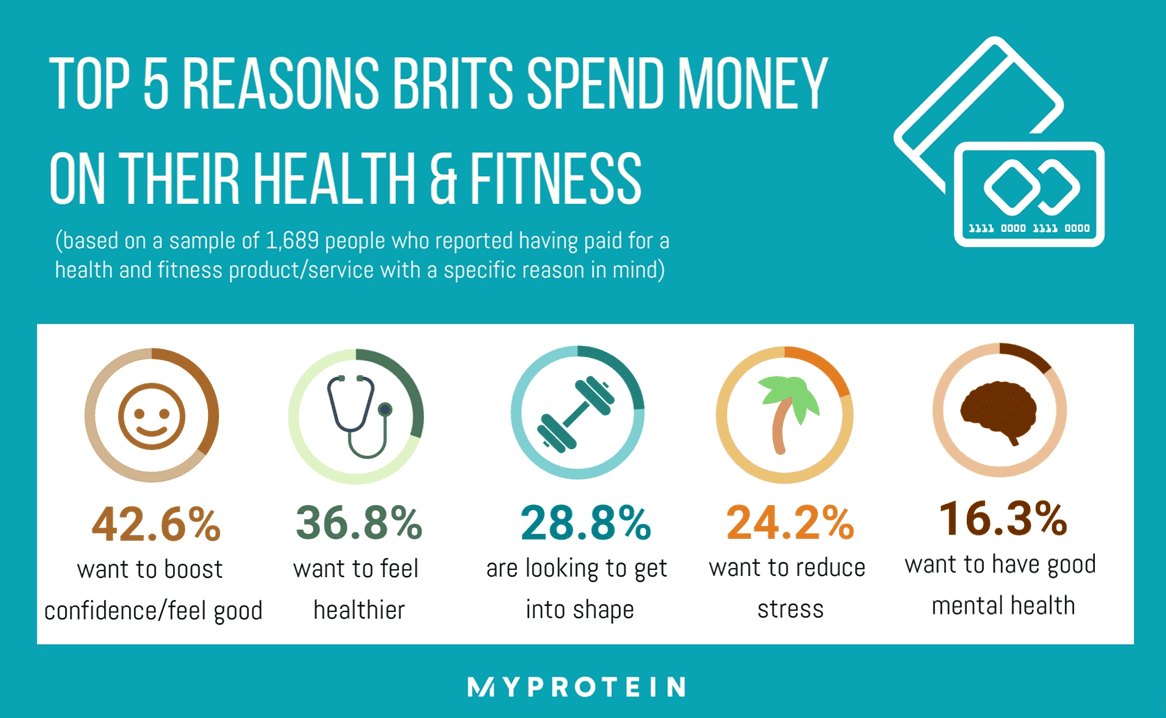 36% of those surveyed said they were equally likely to spend money on their mental health as they were on physical health. This suggests that the benefits of having strong mental health alongside physical are not lost on the public and that many are working this into their general well-being goals.
Among the 1,689 participants who admitted to paying for a health and fitness service with a specific goal in mind, their top reasons were to feel good or boost confidence (42.6%), to feel healthier (36.8%), to get into shape or improve their physique (28.8%), reduce stress (24.2%) and have good mental health (16.3%).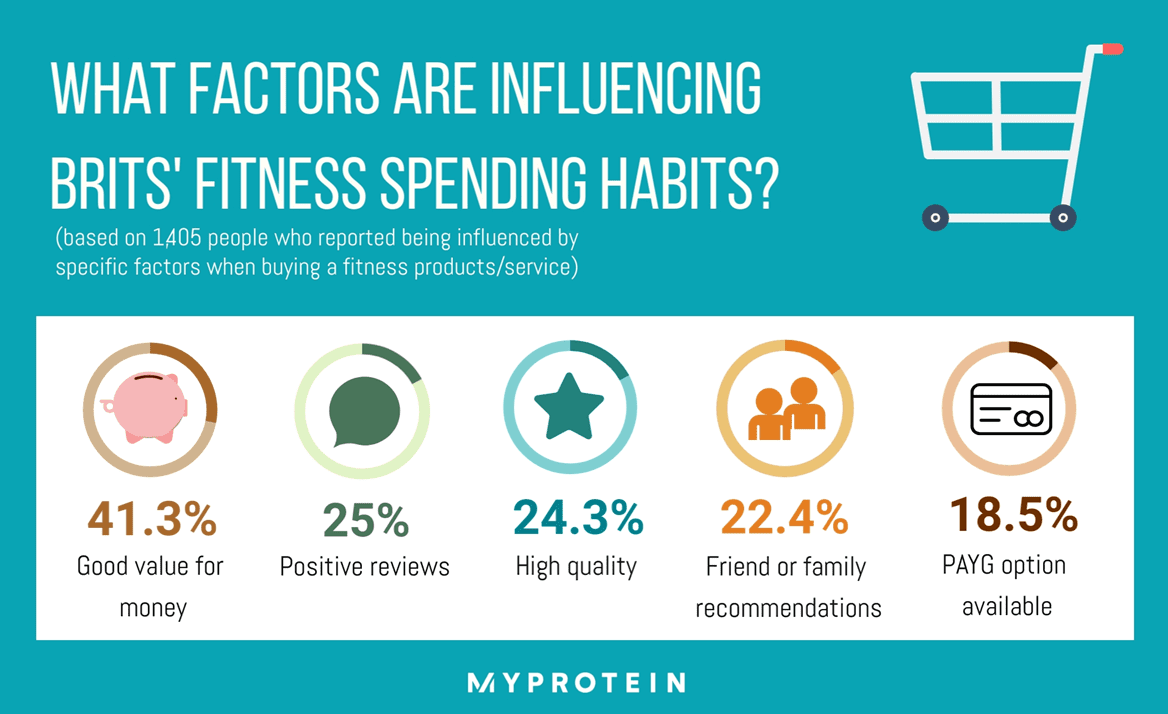 When it comes to choosing which products and services to splurge on, 1,405 participants admitted to being influenced by various factors. The most common factor among them is whether something looks good value for money (41.3%), as well as if it has positive reviews (25%). Other influencing factors are if a product seems good quality (24.3%), recommendations from family or friends (22.4%), and whether there is a Pay-As-You-Go option available (18.5%).
The fact that two out of the five top factors revolve around cost and pay method implies that money and affordability are very large considerations when choosing new fitness products. If something seems good value for money it means Brits are better able to justify the outgoing cost, while pay-as-you-go options give people an easy, affordable way to manage their budget.
Influencer recommendations are the least likely to sway our purchases, with only 9% saying they allow these to guide their health and fitness buying choices. Friends and family recommendations seem to be much more persuasive, with just over a fifth (22%) taking these into account.
Short membership contracts were also not a major concern for this group of respondents, with just 13% using this to shape their buying choices.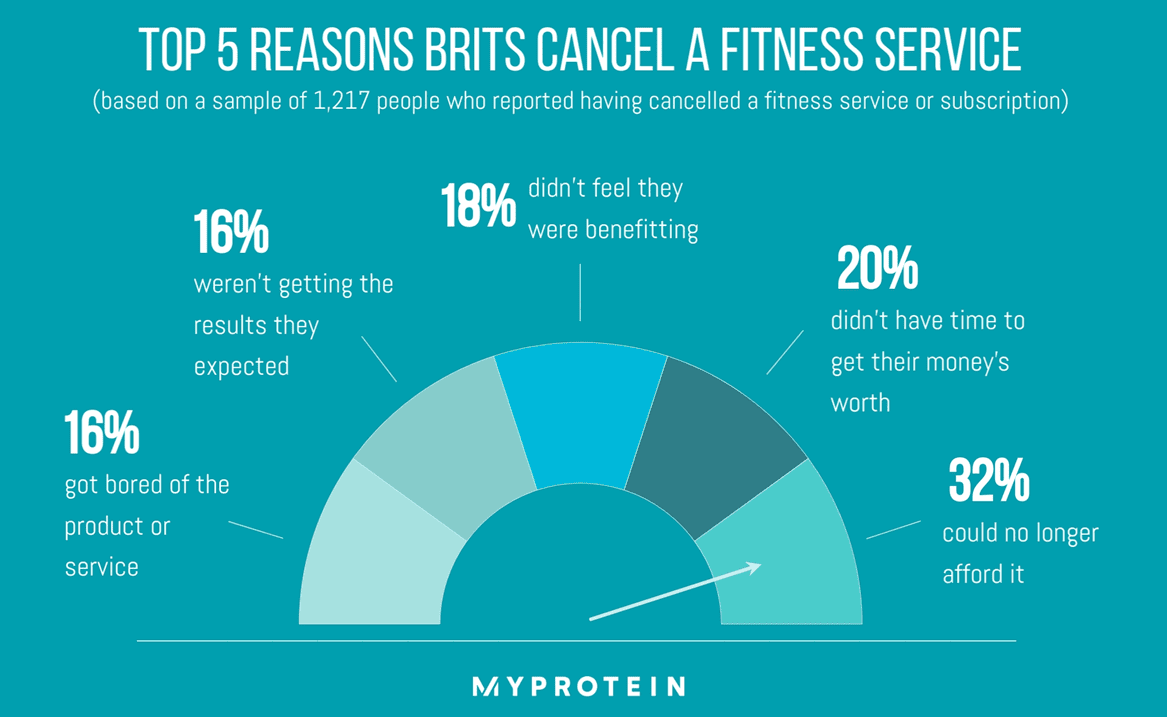 Among the 1,217 Brits who reported having cancelled a fitness product or service, the most common reason was no longer being able to afford it (32%), followed by not having enough time to get their money's worth (20%). This is followed by not feeling any benefits (18%), not getting the results they expected (16%) or getting bored with the product or service (16%).
How is the cost of living affecting our fitness spending?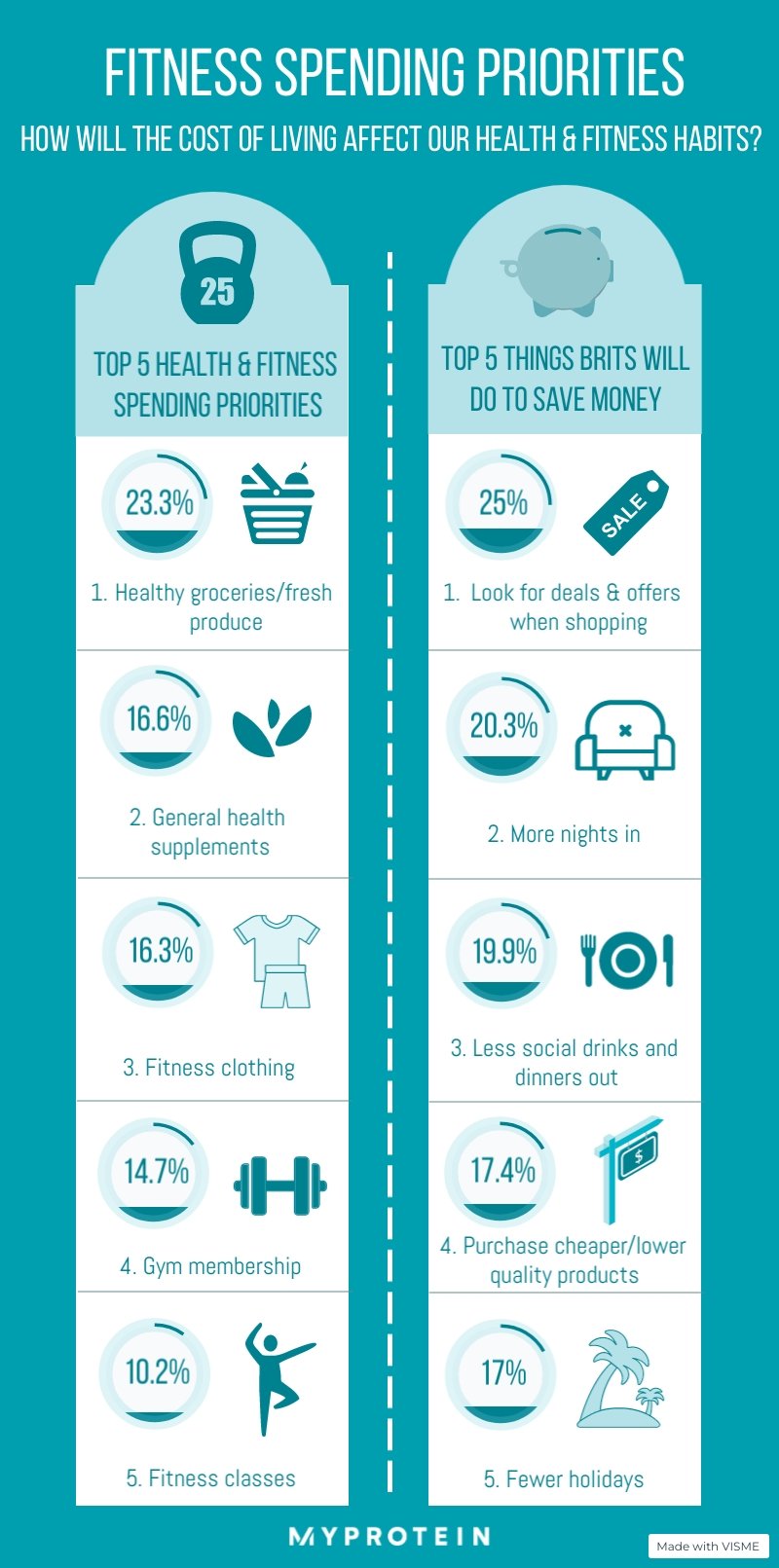 Over a fifth of Brits (22.4%) said that in the face of rising living costs, they will prioritise general health and wellness over gym and fitness products.
When it comes to the health and fitness products Brits will prioritise, 23.3% said that healthy groceries will continue to be their main spending area, followed by general health supplements (16.6%). 16.3% said they will prioritise fitness clothing and 14.7% will be holding firmly to their gym memberships, while 10.2% will be sticking with their fitness classes.
Other key spending areas as Brits tighten their belts will be fitness equipment (9.7%) and online fitness subscriptions/apps (7.6%), suggesting home workouts may once again become the norm in order to cut costs.
Expenses that may be the first to be cut include personal trainers, with only 6.3% of Brits saying they will prioritise this outlay. This is followed by studio passes (6.4%) and sport and fitness holidays (6.7%).
We also asked which luxuries or essentials Brits would give up in order to continue paying for their favourite health and fitness products. We found that: 
40% said they'd have more nights in and fewer social drinks and dinners out. This increases to 45% for 16-34-year-olds, while over 55s were the least likely give up their nights out (34%)

A quarter (25%) said they will save money by looking for deals and offers while shopping, with 25-34-year-olds being the most likely (28%)

17% said they'd buy products that are cheaper and lower quality, while another 17% said they'd have fewer holidays

14% said they'd consider giving up streaming subscriptions such as Netflix, with 25-34-year-olds being the most likely to give it up (21%) followed by 16-24-year-olds (17%).

11% said they'd give up taxis in place of the bus or train, rising to nearly a fifth (18%) for 16-25-year-olds

Almost a quarter (24%) say they'd make none of these changes.
Working from home to save on travel costs was the least popular saving money option, with only 8% saying they'd consider this.
Take Home Message
Even in the face of the rising cost of living, it's clear that UK adults still have a passion for maintaining their health and fitness. Whether it's their faithful gym membership, favourite workout class or a new set of workout wear for a boost of confidence, Brits know the things that keep them feeling good and are willing to do what it takes to keep their positive habits.
Methodology
We surveyed 2,045 UK adults on their spending habits regarding health, wellness and fitness products and services. Questions were multiple choice, with some questions providing the option to select more than one relevant answer and add additional qualitative data if needed.
Results were split by gender, age, city of residence and professional sector.
*Average lifetime spend calculated on the average life expectancy of 81 years (79 for men, 82.9 for women).