When you get home after a long day, cooking is understandably the last thing on your mind. You're tired and hungry but whacking some spaghetti on is simply too much. What you're missing though is tasty, reliable recipes that get you excited about cooking dinner, even when you're feeling a little zombie-like.
These recipes will see you through a full week of dinners. From classic curries to indulgent-tasting creamy pasta, and featuring some of my favourites from the brand-new Iceland x Myprotein range. And of course, all of these make great meal prepped lunches.
So, broaden your horizons, and get excited about cooking again with these recipes...
1. Creamy Cajun Chicken Pasta
This Creamy Cajun Chicken Pasta is an absolute staple for weeknight dinners. Ready in just four steps, packed with 38g of protein and just 516 calories, this velvety creamy pasta wins on all fronts.
Whether you want to make a big batch at the weekend to meal prep, or just keep it in your back pocket for when you need a quick and reliable recipe, this is a brilliant option.
2. Easy Chicken Biryani
This flavourful Chicken Biryani is a brilliant recipe to have nailed down. While yes, you have to have a well-stocked spice cupboard, the result is worth it. A huge 76g of protein in just 560 calories, and six simple steps, I'm confident this will become on of your mid-week favourites.
3. Creamy Peanut Butter Noodles
These Creamy Peanut Butter Noodles are delicious and incredibly versatile. They're totally veggie, but if you fancy adding in a protein, whether that be tofu or chicken, simply fry them off and add in at step two.
Without additional protein, this recipe already delivers 17g of protein (thanks peanut butter) and is 468 calories.
4. Katsu Chicken with Rice
What's better than Katsu Curry? Katsu curry ready in six minutes. You can't get an easier weeknight dinner than with our new Myprotein x Iceland range.
The flavourful Katsu Chicken & Rice delivers 28g of protein and takes just six minutes in the microwave. So whack it in, get your drinks ready and get excited for dinner.
5. Beef Pasta Bolognese
Another favourite from the Myprotein x Iceland range is the Beef Pasta Bolognese. A classic recipe ready in just 7 minutes and delivering 39g of protein – perfect for those nights where you have no energy to cook, but still have macros to hit.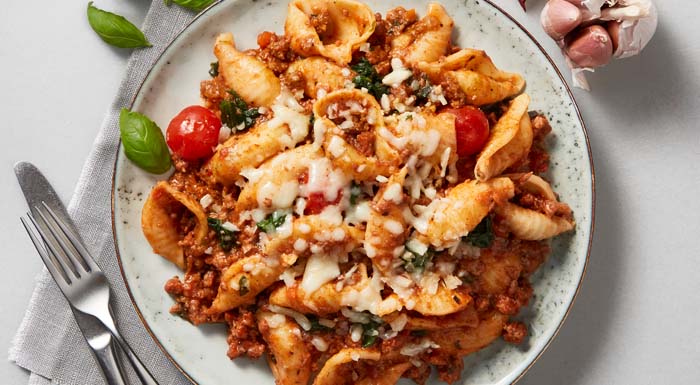 6. Easy Pesto Chicken & Veg
Another take on the usual chicken, rice and veg is this Easy Pesto Chicken & Veg.
Ready in just four steps and delivering 52g of protein, this recipe is simple and macro-friendly. Made with quinoa for extra fibre and loads of Mediterranean veg, this makes a wonderful mid-week dinner, and a great meal-prep option.
7. Piri Piri Chicken & Rice
C'mon, Piri Piri Chicken is a must-have weeknight dinner. Transform your usual "gym bro" chicken and rice and add a bit of excitement. 59g of protein, under 550 calories, and ready in 11 minutes – what more can I say? Whack it in, go get changed into your gym kit, and enjoy a tasty pre-workout dinner.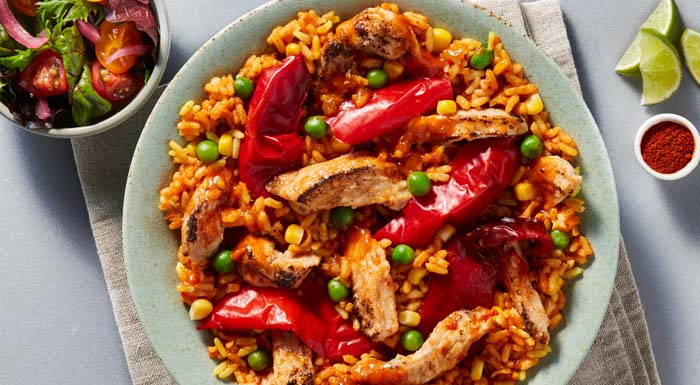 Take Home Message
Make life easier for yourself and nail down a few easy recipes to keep you going throughout the week. Whether it's simple microwave meals or just a few simple recipes you can rely on, having these in your arsenal is definitely going to make your week (and getting your macros in) much simpler.
Want more recipe inspo?
TRY THESE NEXT:
Our articles should be used for informational and educational purposes only and are not intended to be taken as medical advice. If you're concerned, consult a health professional before taking dietary supplements or introducing any major changes to your diet.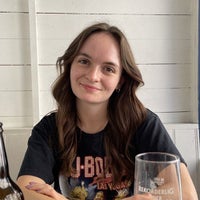 Originally from London, Monica graduated from the University of Leeds with a degree in Philosophy. After discovering a love for the gym whilst studying, Monica was drawn to weight training which helped her hugely through stressful times as a student. From writing for a popular student site, Monica developed her skills as an author, writing trending feature pieces regularly. She is thrilled to be able to combine her love for writing with her passion for the gym. In her spare time Monica loves to cook, try out new restaurants with friends and explore new walking trails.