Try something different this Easter with DIY chocolate eggs and the easiest no-bake flapjack soldiers you've ever laid your eyes on.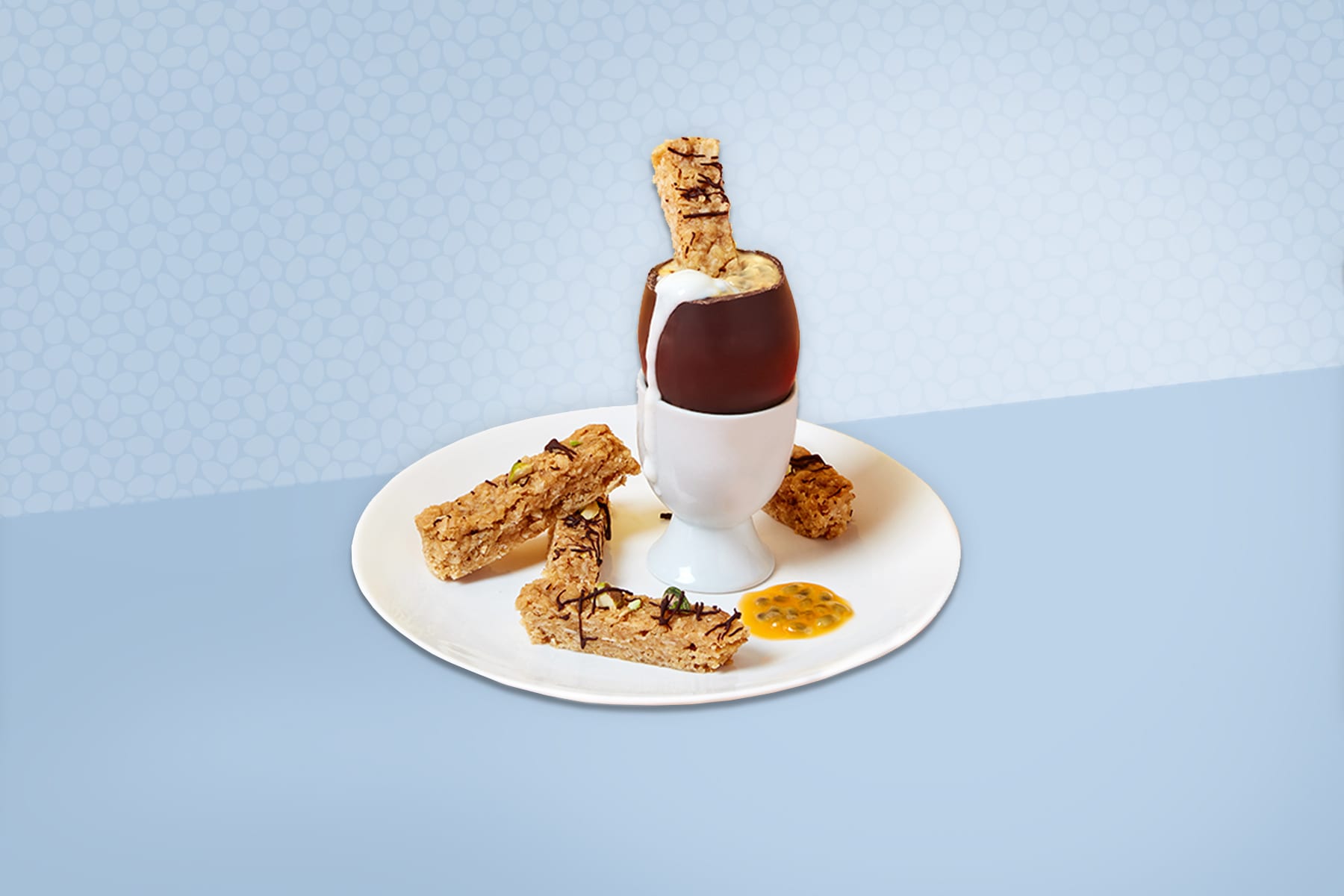 Equipment needed: Small egg mould
Ingredients
For the eggs:
Alternative: You can also use our Protein Chocolate Easter Egg
For the filling:
100g Greek yoghurt
25g flavoured whey or casein powder
2 passion fruits
1 tbsp. honey or Sugar-Free Syrup
For the flapjacks:
200g Rolled Oats
100g Coconut Oil (melted)
4 tbsp. honey (use sugar-free syrup to reduce sugar content)
50g nuts of choice (roughly chopped)
Method
For the no-bake flapjacks:
1. Place coconut oil and honey into a microwave-safe jug or large bowl and microwave on full power for approximately 1 minute, until melted.
2. Stir in oats until completely covered.
3. Microwave for a further 2 minutes, then remove and stir through the nuts.
4. Press tightly into a tray lined with cling film and refrigerate for at least 2 hours, then cut into slices.
For the eggs:
1. Place an inch of water into a sauce pan and boil, then place a heat-safe bowl over the top of the pan, ensuring the bottom of the bowl is not touching the water.
2. Place the chocolate into the bowl, and then stir until melted.
3. Pour the melted chocolate into egg moulds and cover, pouring any excess chocolate out.
4. Refrigerate for 10 minutes, then repeat to make the eggs a little thicker, so they don't crack.
5. Once set, ease away from mould and place one half onto a hot tray or plate to melt the edge a little, then stick the halves together and set in the fridge for a further 10 minutes.
6. Next, cut the tops of the eggs off so you can put the filling inside.
For the filling:
1. Combine yoghurt and protein in one bowl and passionfruit and syrup in another bowl, then layer into the egg.