This heatwave calls for outdoor cooking, so get that BBQ fired up for this deliciously easy chicken burger recipe from Niall Kirkland (@niallkirkland).
The key ingredient? Our Sugar-Free Sauce, of course. We've used BBQ here, but with a whole range of incredible flavours including Peri Peri, Sweet Chilli and classic Tomato Ketchup, there's something to suit everyone. They're the perfect replacement for supermarket sauces, which can often come loaded with a sneaky amount of sugar — making our low-fat, sugar-free alternatives a real meal-prep must-have.
These chicken burgers are ideal for a quick weekday dinner if you want to make the most of the weather after work, and they're also a guaranteed crowd-pleaser if you're entertaining at the weekend.
Get those coals out!
Makes 3
Ingredients
3 chicken breasts
1 tbsp. extra virgin olive oil
1 tbsp. balsamic vinegar
1 tbsp. soy sauce
1 tbsp. Worcestershire sauce
3 garlic cloves (crushed)
Squeeze of lemon juice
1 tbsp. honey
3 burger buns
3 cheese slices
Red onion (sliced)
Tomato (sliced)
Salad leaves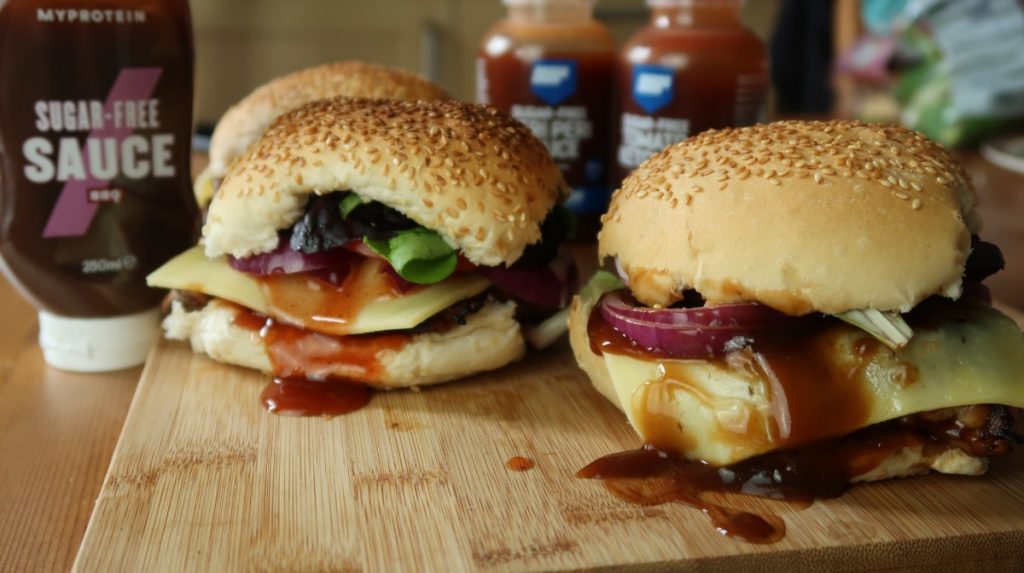 Method
Firstly, prepare your BBQ so it is ready for cooking — it usually takes around 20-30 minutes after you light the coals.
Meanwhile, place your chicken breasts on a flat surface, cover them with some parchment paper, and flatten each one with a rolling pin or mallet.
Next transfer the chicken to a bowl and add olive oil, balsamic vinegar, soy sauce, Worcestershire sauce, crushed garlic, lemon juice and mix it into the chicken breast. You can leave the chicken to marinade if you wish or just go to straight to cooking.
Place each chicken breast on the BBQ and leave to cook for 5-6 minutes before turning. Flip over again after 5 minutes has passed, if your coals are hot enough your chicken should only take 15 minutes to cook through, but check the middle to if its pink still.
Now build your burgers! Squirt a generous amount of Sugar-Free Sauce onto the bun, then add your chicken breast, a slice of cheese, followed by more sauce, then red onion, tomato and salad.