Get bored of the same meal prep halfway through the week? This two-way salmon meal prep recipe means you can switch up the flavours without altering the nutritionals too much. Salmon is a great source of high-quality protein with plenty of vitamins and minerals, including potassium, selenium, vitamin B12, and plenty of omega-3.
Switching out your usual chicken for some salmon will shake up your lunch box while still being a lean and nutrient-dense option. It's also incredibly versatile for a tasty meal — enjoy it fried, baked, or poached for delicious flavours and textures perfect for anything from a creamy pasta dish to a refreshing salad.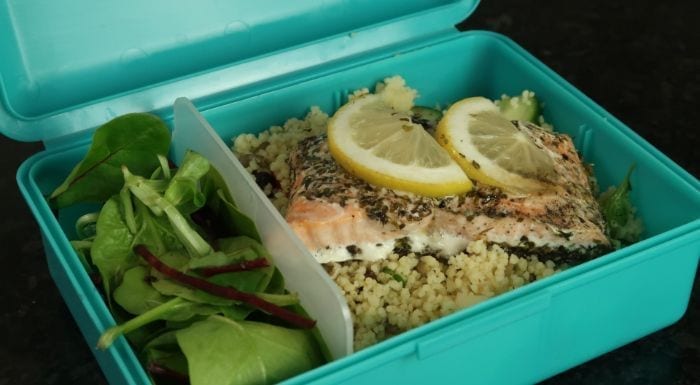 For this delicious salmon meal prep, you can make 4 days' worth of nutritious meals in two different ways. Start with the delicious couscous and halloumi salad before switching it up with seared soy marinated salmon or zingy baked lemon salmon. Both salmon dishes are a super simple way to mix up your meal prep.
Ingredients
Seared Soy Salmon:
2 tbsp. soy sauce
1 clove crushed garlic
1 tbsp. honey
1 tsp. toasted sesame seed oil
Baked Lemon Salmon:
Salt and pepper
1 tsp. olive oil
4 lemon slices
1 tbsp. of oregano
Couscous salad:
250g couscous, mixed with 330ml of boiled water.
Salt and pepper
1 tbsp. oregano
50g raisins
Half a cucumber – diced
Handful of cherry tomatoes – diced
Half a red pepper – thinly sliced
60g light halloumi – diced
20g sunflower seeds
1 handful chopped parsley
Juice of half a lemon
1 tbsp. toasted sesame seeds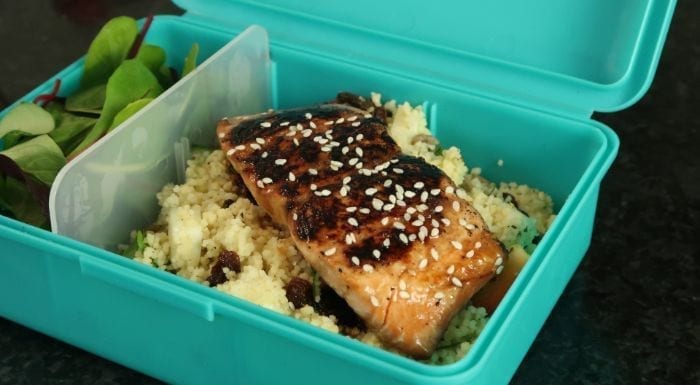 Method
1. Firstly, prepare the couscous salad by adding all of the ingredients to a bowl and mixing together well. Set the couscous salad to one side.
2. Next, preheat your oven to 180°C/350°F and prepare your salmon fillets.
3. For the first two fillets, add soy sauce, garlic, honey, and sesame seed oil to a bowl and mix together.
4. Then, add the two salmon fillets to the bowl and coat the salmon in the marinade.
5. You can leave the salmon to marinade at this point, but if you don't have time, proceed to heating a non-stick frying pan on a medium-low heat.
6. Add the salmon fillets to the pan and sear for 3-4 mins before flipping the fillet over.
7. Sear for another three mins and flip back over.
8. Add the remaining sauce to the pan and baste the fillets with the sauce and leave to fry for another 3 mins before removing from pan.
9. For the other two salmon fillets, place them on a lined baking tray and season the fillets with salt and pepper and a drizzle of olive oil.
10. Rub the oil into the fillets and then sprinkle over oregano and place lemon slices on top of the fillets.
11. Wrap the baking paper around the salmon until it's sealed and bake in the oven for 15 mins.