---
These rich, ruby chocolate rocky road pieces are something special. 
---
Niall Kirkland is back with another mouth-watering recipe that's perfect for satisfying your sweet-tooth cravings without totally derailing your training progress. He's taken out the milk chocolate and butter that you'd usually find in a traditional rocky road recipe and used dark chocolate and a little coconut oil instead to help those macros.  
The real jewel in the crown has to be the chunks of our limited-edition ruby chocolate flavoured Layered Bar though. Deliciously sweet and indulgent-tasting, with a distinct pink colour and an impressive 20g of protein per bar, we're all obsessed with this new release. Give them a go and we're sure you will be too.  
Be warned, a batch of these will not last long, trust us.  
Makes 16
Ingredients
200 g plain digestive biscuits
250 g 70% dark chocolate
2 tbsp. coconut oil
40 g raisins
40 g mini marshmallows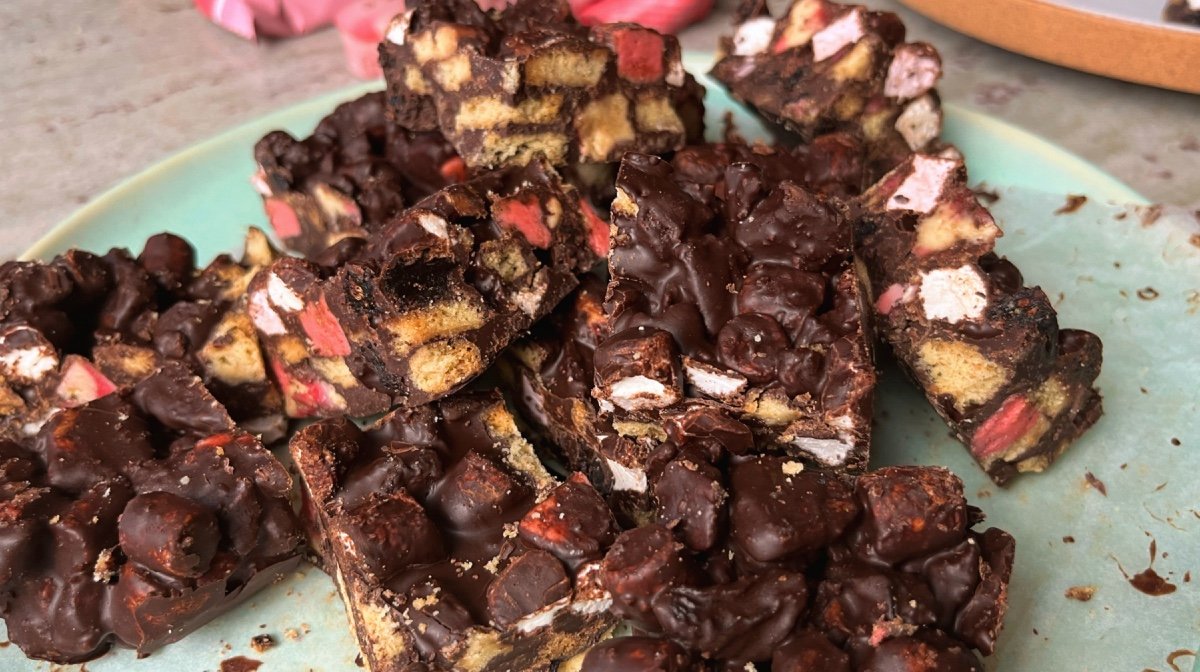 Method
First, place the digestive biscuits in a zip-lock freezer bag or something similar and bash with a rolling pin. Some biscuits should be crushed to roughly the size of a 50p coin and some crumbled to dust.  

Then, chop your ruby choc Layered Bars into bite-sized pieces. 

Next, add the dark chocolate and coconut oil to a heatproof bowl over a pan of boiling water and stir until completely melted and smooth.  

Add the crushed biscuits, Layered Bar pieces, raisins, and mini marshmallows to a large bowl, then add the melted chocolate mixture. Stir everything together until combined, then transfer to a lined 8"x8" baking tray and flatten with the back of your spoon. Chill in the fridge or freezer until set (2-3 hours).  

Slice up and enjoy immediately or store in the fridge for up to 3 days. These are perfect to have on hand to satisfy chocolate cravings at any time of the day! 
Nutritional Facts
Amount per serving
| | |
| --- | --- |
| Calories | 197 |
| Total Fat | 12.3g |
| Total Carbohydrates | 14g |
| Protein | 5.3g |
Try these easy bakes next: