This one-pot cheesy chicken bake will have you coming back for seconds. And maybe thirds.
---
Serving up another simple meal prep idea, Niall Kirkland ticks every box with this deliciously rich chicken, tomato, and basil bake. Sprinkled with a generous helping of light mozzarella and cheddar, it's an incredible, oozing dish that we just can't get enough of.
It's great for a warming weeknight dinner and will keep for a couple of days after, so you have lunches sorted. Pair with basmati rice and your favourite green veg for a nutritious and satisfying meal that'll keep you full the whole day through.
Serves 4
Ingredients
1 tbsp. 100% Coconut Oil
500g skinless chicken thigh
Salt & pepper to taste
1 tsp. chilli flakes
1 onion (finely chopped)
3 garlic cloves (crushed)
1 red chilli (finely chopped)
400g passata
1 tbsp. oregano
1 tbsp. red wine vinegar
A bunch of fresh basil
300ml chicken stock
100g light mozzarella (grated)
100g light cheddar (grated)
Serving suggestions:
Basmati rice
Salad or your favourite veggies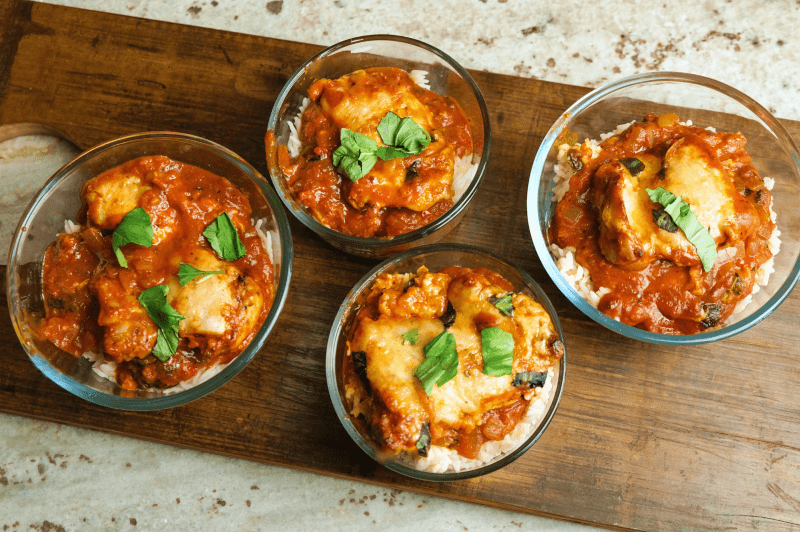 Method
Preheat oven to 180°C/350°F.
Heat coconut oil in a pan on a medium heat and add the chicken thighs. Season generously and add chilli flakes. Fry until crispy on the outside, then flip and fry for a couple more minutes. Remove and set aside.
Now, add the onion and fry on a medium heat until soft. Add the garlic and chilli and fry for 1-2 minutes.
Then add the passata, stir well, bring to a simmer and add the oregano, red wine vinegar, and basil. Stir again and leave to simmer for 10 minutes.
Add your chicken stock and the chicken thighs to the pan. Top the chicken thighs with mozzarella and cheddar, then place your pan in the oven to bake for 20-25 minutes.
Serve with cooked basmati rice and a side salad or your favourite green veg.