Stuffed with a deliciously creamy filling and covered in sticky BBQ sauce, these chicken breasts are a flavour sensation you need to try — whether you're after a super-satisfying evening meal, or want a weekday lunch to look forward to.
Featuring our Sugar-Free Sauce, there's no need to hold back when it comes to smothering your meal with tangy flavour, as it's completely free from sugar and low in fat too.
Serves 3
Ingredients
90g light cream cheese
½ red pepper (diced)
Handful spinach (chopped)
1 tsp. chilli flakes
1 tsp. garlic granules
30g grated cheddar
3 chicken breasts
Serving suggestions:
Mashed potato
Steamed kale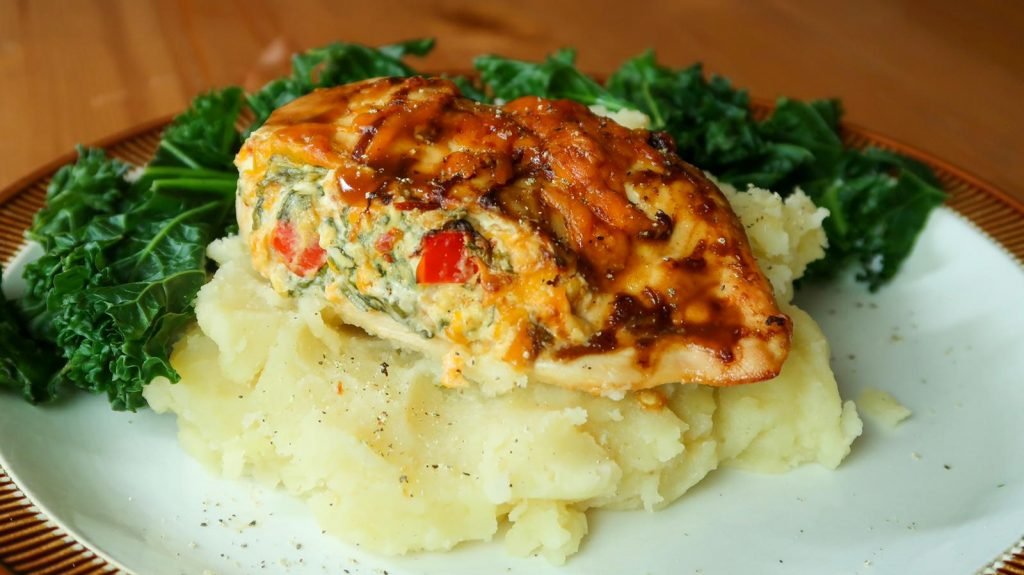 Method
First, preheat your oven to 200°C/400°F.
Then, add the light cream cheese, red pepper, spinach, chilli flakes, garlic granules and grated cheese to a bowl and mix together.
Now, using a sharp knife, slice three small pockets into each of your chicken breasts and stuff them with your cream cheese filling.
Then, squirt a generous amount of BBQ Sugar-Free Sauce onto your chicken breast, rub it in so your chicken is coated with the sauce, then add another squirt on top.
Sprinkle a little more cheddar cheese on top of each chicken breast and transfer them onto a baking tray.
Bake your BBQ-stuffed chicken breasts for 20-25 minutes before removing and allowing to cool.
Serve with 300g of mashed potato (per serving) and some steamed kale.