Vegan Falafel Recipe | 15-Minute Vegan Dinners
Make the most delicious vegan falafel recipe in 15 minutes' flat! Whizz your falafel ingredients up in the blender, then shape and fry, and you'll be off to kebab heaven in no time.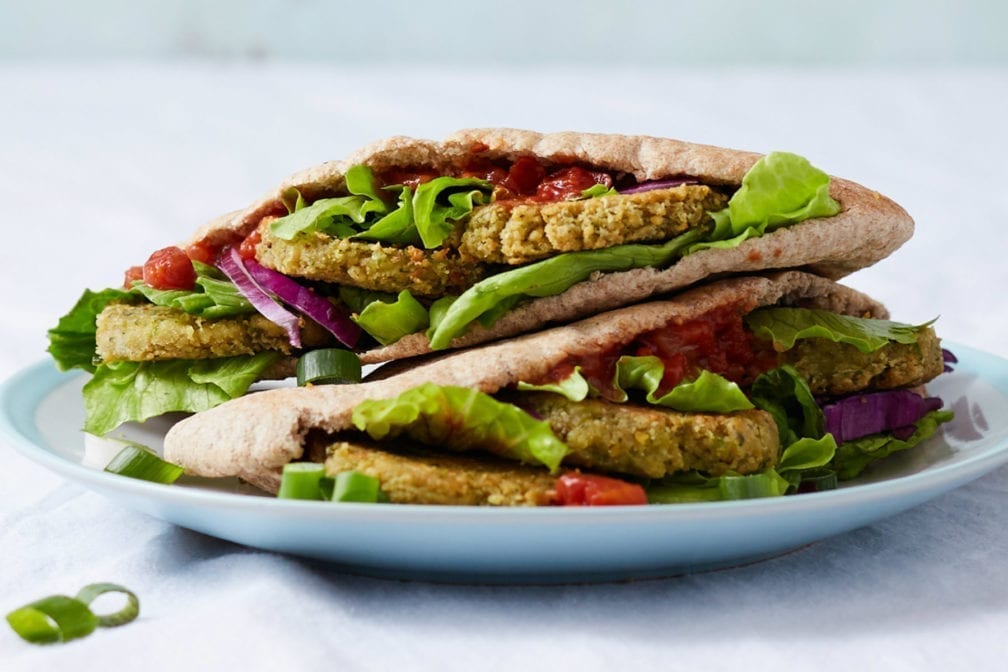 Chickpeas make a great source of protein, dietary fibre, vitamins and minerals, and they add a fantastic flavour and texture to your cooking. For more chickpea recipes, try our 15-Minute Cauli-Tikka Masala recipe!
Don't forget to check out more fitness recipes and vegan recipes.
Makes: 3 kebabs
Ingredients
400g canned chickpeas (drained)
3 stems spring onion
½ white onion
3 cloves garlic
Handful coriander (leaves and stems)
30g Instant Oats (Unflavoured) or plain flour
1/2 tsp. salt
1 tsp. cumin
1 tsp. Coconut Oil
3 whole wheat pitta breads
Optional toppings:
½ red onion (sliced into rings)
½ iceberg lettuce (shredded)
¼ red cabbage (shredded)
Sweet chilli sauce
Plain dairy-free yoghurt
Method
1. First, add chickpeas, spring onion, white onion, garlic, coriander, instant oats, salt and cumin into a blender and process until coarsely chopped.
2. Roll the mixture into small balls and lightly press down into disks.
3. Next, warm a frying pan on a medium heat and add the coconut oil. Once melted, fry the falafel disks on each side for approximately 5 minutes, until golden brown.
4. Last, it's time to assemble the kebab. Toast the pittas and open them up, then add your falafel, red onion, lettuce, and cabbage. Smother with sweet chilli sauce and plain yoghurt and devour. Now.