You may have had a glass of milk before bed as a kid to build strong bones, but did you ever think that a night-time drink may also be useful for better gym gains? Here, we take a look at the evidence surrounding protein shakes before bed and provide some practical guidelines to avoid any potential pitfalls.
Jump to: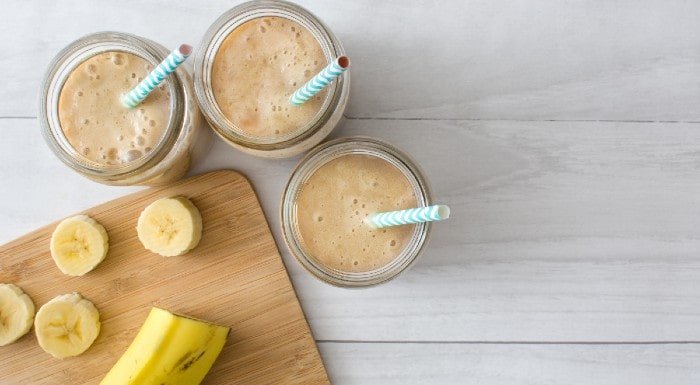 Benefits of Protein Before Bed
1. Weight Loss
Protein is the main nutrient that stimulates the growth of new muscle tissue and also helps to protect your hard-earned muscle mass during weight loss.(10) However, the power of protein doesn't stop there, as research shows that protein intake before you hit the hay can boost metabolism (the process of converting food into energy) and help keep hunger pangs at bay. 
Protein intake also keeps us feeling full and may help to reduce those late-night, high calorie cravings that can be damaging to your weight loss success.(2) 
2. Muscle Growth
While many people train in the evening and consume protein in the post-workout period, how many of us consider protein shakes before bed? This is especially important given that the stimulation of muscle growth is typically low when you sleep and so you may be at risk of muscle protein breakdown throughout the night. (3, 15)
Luckily, researchers have shown that your gut is still able to function normally throughout the night whilst you sleep, which means you can still properly digest and absorb any protein consumed before bed.(5) 
This gives you a clear opportunity to stimulate muscle growth as you sleep by slurping down protein shakes before bed. So how much do you need? Researchers have shown that 40g casein protein before bed stimulates muscle protein synthesis (the process of building muscle mass) by around 20%.(12) 
3. Sleep
Sleep is generally recognised as an important recovery tool and a constant lack of sleep may result in changes to performance, immunity and protein absorption.(6) Although much more research in this area is required, we currently know that consuming a high-protein diet may improve overall sleep quality.(7) 
Furthermore, its intake prior to sleep may increase the availability of the amino acid L-tryptophan. When consumed with carbohydrates, tryptophan uptake into the brain is increased and may improve the time taken to fall asleep as well as overall sleep quality.(6)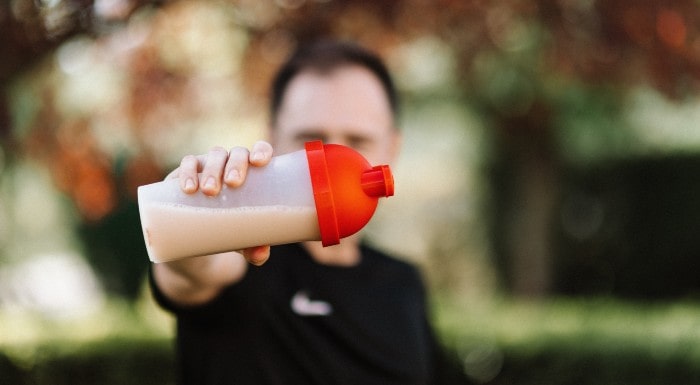 Which protein to consume before bed
The majority of available research to date supports the use of casein protein, although the differences between casein, whey, and soy are very small. The theory behind the use of casein protein is that it provides a more sustained release of amino acids and so maintains amino acid availability throughout the night.(4)
Despite this, more research is needed to provide clear guidelines on the best form of protein to take before bed. For now, we should keep in mind that the majority of studies listed above commonly use doses between 40-50g protein. It may be that the dosage is a more important consideration than the type of protein being consumed. 
Myprotein's
 recommended bedtime protein shakes
Overnight Recovery Blend
Protein per serving: 45g 
Overnight Recovery Blend is a slow-release protein blend, which contains 5 different proteins; whey, micellar casein, milk isolate and egg white protein. There's evidence to suggest combining whey and casein can have the best effect on muscle protein synthesis as the whey will help to spike levels up quickly whilst the casein will help prolong it. 16 
This makes protein blends in general a good option before bed. A further advantage to overnight recovery blend is the added zinc and magnesium which have both been shown to a potential to enhance recovery from exercise and improve sleep quality. 17,18