Sweet Potato Protein Balls
Need a quick sweet snack? An energy boost before the gym? Or have you just got some extra sweet potato? Why not try these Sweet potato protein balls!
Ingredients
This recipe is super easy to make, here's what you'll need:
5 scoops of vanilla stevia impact whey protein powder
125g of sweet potato
100g of oats
50g of cooked quinoa
25g of pumpkin and sunflower seeds
Method:
Step One
Cook 50g of quinoa and allow to dry.
Mash 125g of sweet potato or blend in a food processor.
Step Two
Stir the quinoa, oats, protein powder and seeds into your mashed sweet potato rod or a thick dough.
Step Three
If the mixture is too dry try adding a spoonful of milk. If too runny add more protein powder and oats.
Place the mixture in the fridge for ten minutes.
Step Four
Using your hands roll the mixture into bite size balls.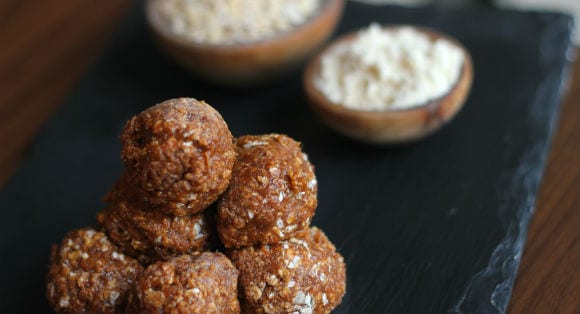 Store in the fridge and enjoy whenever you wish!
For more recipes Click here.
Macronutrients
Per Bar:
Calories: 120.9Kcals
Protein: 12.7g
Fat: 2.9g
Carbohydrates: 12.4g
Sugar: 1.9g