These chimichurri steak flatbreads have Friday night written all over them.
---
Chimichurri is a fresh, uncooked sauce that's a speciality in Argentinian and Uruguayan cuisine. Made with finely chopped parsley and coriander, minced garlic, chilli, oregano, olive oil, and wine vinegar, it's used in cooking but also as a delicious condiment for grilled meat — the perfect partner for a sizzling steak.
In this simple recipe from Niall Kirkland, you can enjoy a little taste of South America from your own kitchen. These flavour-packed flatbreads are ideal for a delicious dinner with friends and family.
 Serves 4
Ingredients
For the chimichurri:
A small bunch of coriander (very finely chopped)
A small bunch of parsley (very finely chopped)
1 green chilli (deseeded and finely chopped)
3 tbsp. extra virgin olive oil
2 tbsp. white wine vinegar
A pinch of salt
2-3 tbsp. onion (finely chopped)
2 garlic cloves (finely chopped)
For the rest:
2 peppers (chopped)
1 red onion (chopped)
2 tbsp. 100% Coconut Oil
1 tbsp. oregano
200g sirloin steak
4 flatbreads
Mixed salad to serve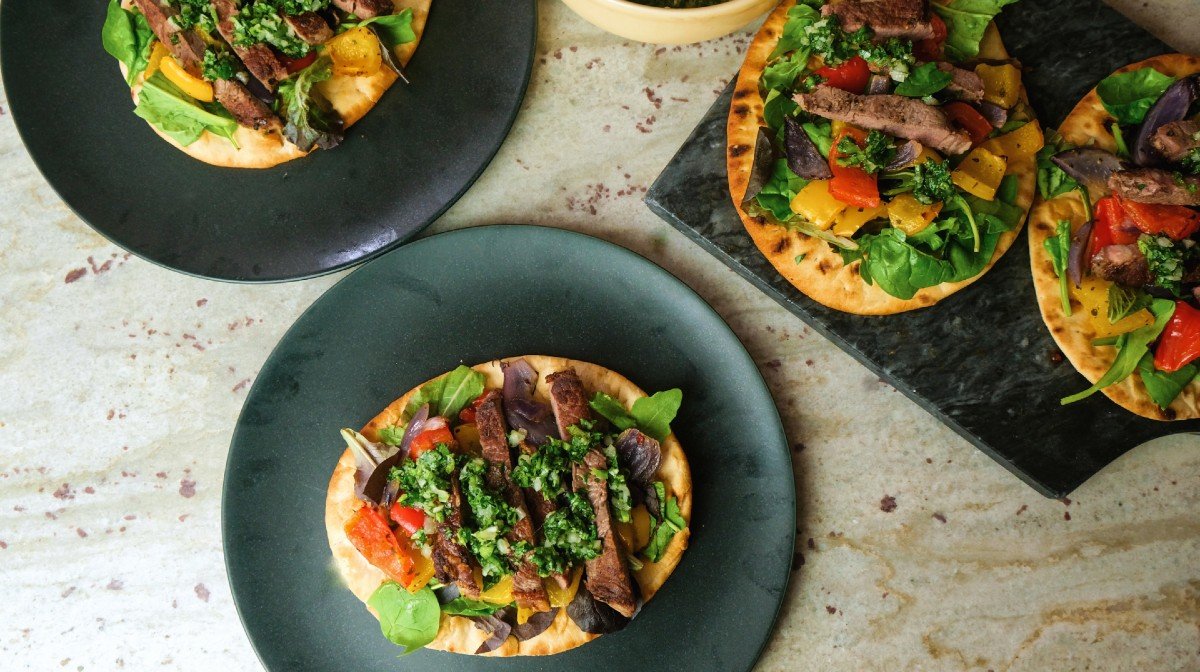 Method
Preheat the oven to 180°C/350°F.
Add the pepper and red onion to a baking tray, drizzle with a tablespoon of coconut oil, season with salt, pepper, and oregano and bake for 20 minutes.
Next, add all of the chimichurri ingredients to a small bowl and mix together well. Set aside.
Heat a tablespoon coconut oil in a cast iron pan. Wait until the oil is smoking and then add your steak. Leave to fry for 3-4 minutes before flipping and cooking for another 3-4 minutes.
Remove and leave your steak to rest for a few minutes before thinly slicing. While you're waiting, heat your flatbreads for a minute or so in the oven.
Now build your flatbreads — add mixed salad, then the roast veg and steak slices, and top with chimichurri sauce. Enjoy!