Meal prep made delicious with Sugar-Free Peri Peri and Sugar-Free BBQ Sauce.
Click to jump straight to the nutritionals.
Makes: 8 portions
Prep time: 20 minutes
Cook time: 30 minutes
Ingredients
3 free-range chicken breasts
1 tsp. Coconut Oil
450g skirt steak
½ tsp. salt and pepper
3 mixed peppers (sliced into long strips)
2 red onions (sliced into long strips)
12 wholemeal wraps
500g cooked brown rice
100ml Sugar-Free BBQ Sauce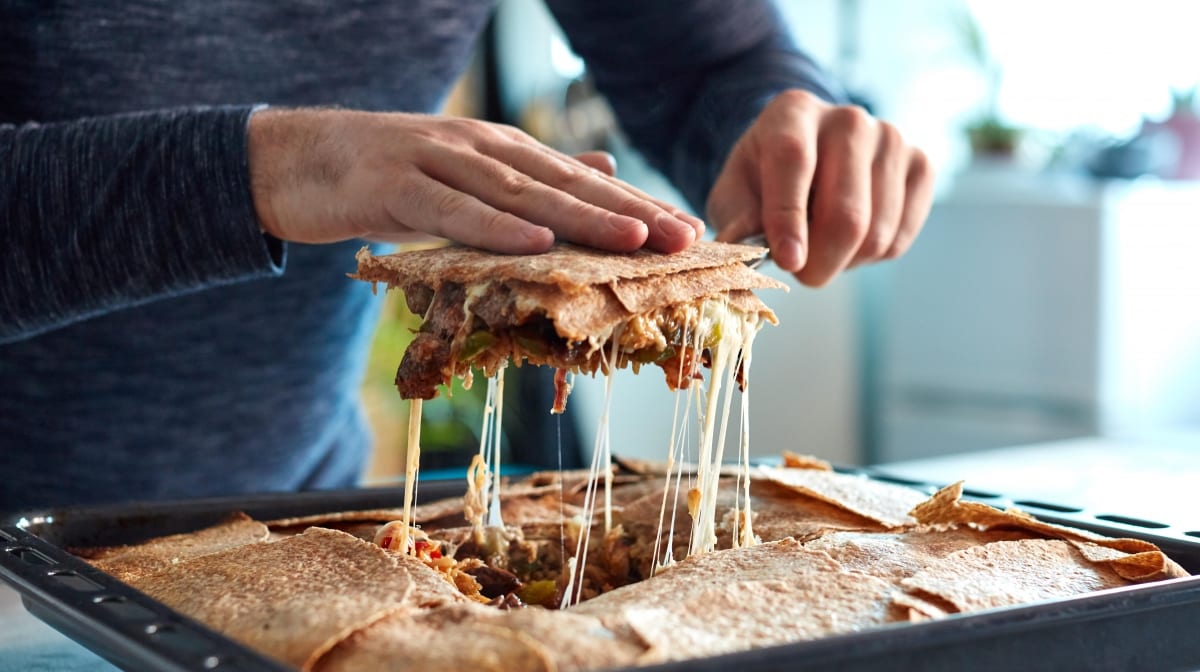 Method
Cooking the chicken:
1. Marinate the chicken breasts in half of the Sugar-Free Peri Peri Sauce for around 30 minutes. Once marinated, add a large frying pan to a medium-high heat. Add a little coconut oil and melt. Add the chicken breasts, turning occasionally for 10-12 minutes, or until cooked through. Place on a chopping board to cool, then shred using two forks.
Cooking the steak:
2. Season the steak to your liking and place in the hot pan. Cook the steak to your preference – we recommend medium for skirt steak (3 ½ minutes each side). Once cooked, take out the pan and place on a chopping board to rest.
Cooking the vegetables:
3. Add the sliced red onions and mixed peppers to the pan with a little salt and pepper and cook until softened and caramelised – around 10 minutes.
Building the quesadilla:
4. Place the wraps evenly over the surface of the sheet pan, leaving enough to overlap the edges by quite a bit and no gaps in between. Save 2-3 wraps for the top of the quesadilla.
5. Start by adding the cooked rice and spreading evenly. Spread over the peppers and onions, then add the shredded chicken to one half of the quesadilla and the steak to the other side. Smother the chicken with more Sugar-Free Peri Peri and the steak with Sugar-Free BBQ Sauce. Now coat the lot with plenty of Low-Fat Protein Cheese.
6. Top with the remaining wraps, folding the overlapped edges up and around so that the filling is completely covered by wraps. Weigh the whole thing down with a heavy pan.
7. Place in a preheated over 180°C for 15-20 minutes.
8. To serve, cut into 8 even pieces and wrap in tin foil tightly. Meal prep – done. Freeze for up to 2 months.