Sometimes you just don't have the time or the energy to stand in front of the cooker for an hour, occasionally stirring and patiently waiting for your dinner to be ready. 
But instead of reaching for the takeaway menu next time you feel like that, get a few quick and easy recipes under your belt, that you can always rely on.  
These recipes are just that, all giving you a hit of protein, whether it be at breakfast, lunch or dinner, and all being quick and easy to make. Oh, and these are all vegetarian or vegan in the spirit of world vegan month. So, get cooking and more importantly, get eating. 
Yep, that's right, a curry that can be ready in 15 minutes. 
This curry is insanely macro-friendly as well, packing a punch with a lot of veg like Cauliflower, and getting your protein in with 25g per serving, this recipe is ideal when your low on time.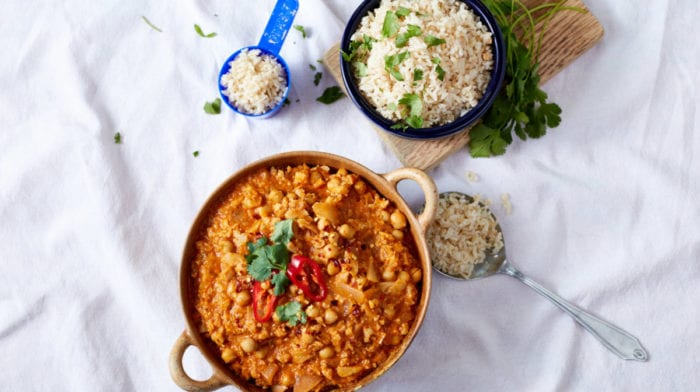 This punchy protein-packed curry is sure to impress.
Meet your new favourite winter warmer. This firey vegan chilli heroes the kidney bean, which is rich in vitamin B1, iron, potassium and full of protein as well as flavour. 
With 21g of protein and just 7g of fat, this recipe is a no-brainer for weeknights when your in a pinch. 
We couldn't give you these 15-minute meals without including a breakfast recipe. 
These sweet potato rostis are golden and crispy on the outside, and soft in the middle, drenched in golden egg yolk.  
And 21g of protein per serving means you'll have already packed in the protein by breakfast time; it is the most important meal of the day after-all.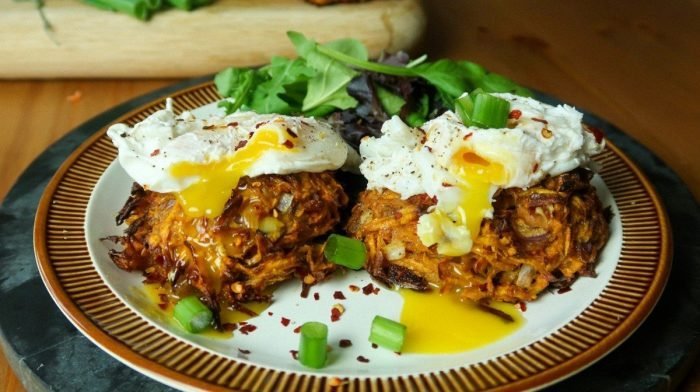 These are just what your eggs have been missing.
These aren't just any jacket potatoes; these are deliciously loaded jacket potatoes. That means way more bang for your buck, with 22g of protein. 
We don't think anyone should miss out on melty, cheesey goodness. That's why this recipe includes a golden halo of vegan cheese. Perfect. 
Calling all mushroom fans. Say goodbye to chicken fajitas, and hello to your new favourite. 
These mushroom fajitas give you all the nutritional benefits of mushrooms like B vitamins, potassium and antioxidants, whilst also giving you that meaty texture.  
These fajitas give you 12g of protein, but if you wanted to up the protein on them, simply add kidney beans or black beans. 
And why not treat yourself to a dessert on the go — the new Vegan Double Dough Brownie:
Take Home Message
Macro-friendly, high protein meals don't have to take hours to prepare. And they don't have to include meat either. 
Get really good at just a few of these recipes, and you'll always have a micro-nutrient, protein heavy meal to fall back on.
Enjoyed these recipes?
READ THESE NEXT:
---
---
---