By Ru Anderson | BSc (HONS)
Performance Nutritionist, Author, Speaker,
Competitive Athlete & Owner of Exceed Nutrition
---
M&S Re-make of Super Wholefood Nutty Salad
with Cannellini Bean Dip and Soy-Ginger Dressing
Serves 6
Ingredients
For the salad:
– 150g quinoa
– 30g almonds
– 100g green beans, cut in 2-3cm pieces
– 100g broccoli, divided into little florets
– 50g carrots, shredded
– 100g soybeans
– 30g pumpkin seeds
– 30g pistachio nuts
– 2 tbsp poppy seeds
– 30g peanuts
– 2 handfuls coriander, chopped
– salt & pepper, to taste
– rocket leaves, to serve
---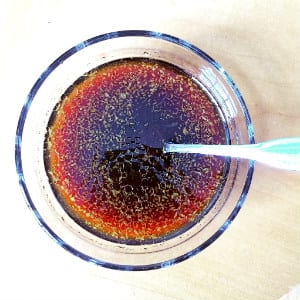 For the dressing:

– 1/3 cup soy sauce
– 3 tbsp lime juice
– 2 tbsp rice vinegar
– 1 tsp ginger, grated
– 2 tbsp sesame oil
(or olive oil)
---
For the dip:

– 1 can cannellini beans, drained
– 2 tbsp olive oil
– 2 tbsp tahini
– juice of 1 lemon
– 1 garlic clove, crushed
– salt & pepper, to taste
---
Method
1) Cook quinoa according to instructions on packaging.
2) While quinoa is cooking, prepare the veg. Steam or cook the broccoli and green beans for a few minutes until tender. Do not overcook. When ready set aside in a large bowl along with the quinoa.
3) For the dip, add all the ingredients in a food processor and blend until smooth. Add tbsp of water if needed until desired consistency is achieved. Season with salt and pepper.
4) For the dressing, simply mix all the ingredients together.
5) Add the rest of the salad ingredients in the large bowl (except for the rocket), and mix well with the green veggies and quinoa.
6) Season with salt and pepper and leave to stand for 10-15 min until the almonds soften.
7) To serve portion the salad and drizzle with the dressing. Serve it alongside the dip and a side of rocket.
… Enjoy!
---
Macros
Dressing:
54kcal, 1g protein, 0g carbs, 5g fats
Dip:
173 kcal, 4g protein, 7g carbs, 10g fats
Salad:
269 kcal, 12g protein, 28g carbs, 13g fats
Serving of salad, dip and dressing
496 kcals, 15g protein, 35g carbs, 28g fats