---
This delicious meal prep recipe will make going back to work a little bit easier. 
---
Can't look at another piece of turkey or cheese board? We feel you. It can be a shock to the system when you first try to return to normal mealtimes and cutting back on the Christmas chocolate, but the key is finding flavour-filled dishes like this one from Niall Kirkland.  
This griddled harissa chicken is spicy and succulent — the perfect pairing for aromatic Moroccan-style couscous and some fresh, crisp veg to accompany. Ideal post-holiday fuel to help you get back on track.  
Serves 4 
Ingredients
500 g boneless, skinless chicken thighs
1 tbsp. extra virgin olive oil
2 tbsp. harissa paste
½ lemon (juiced)
1 onion (finely chopped)
3 garlic cloves (crushed)
2 tbsp. coconut oil
1 tsp. cumin
1 tsp. smoked paprika
350 g couscous
1 vegetable stock cube
1 litre boiled water
1 bunch fresh parsley (finely chopped)
1 tsp. chilli flakes
40 g pine nuts
50 g raisins
Serving suggestions: cherry tomatoes, rocket, red pepper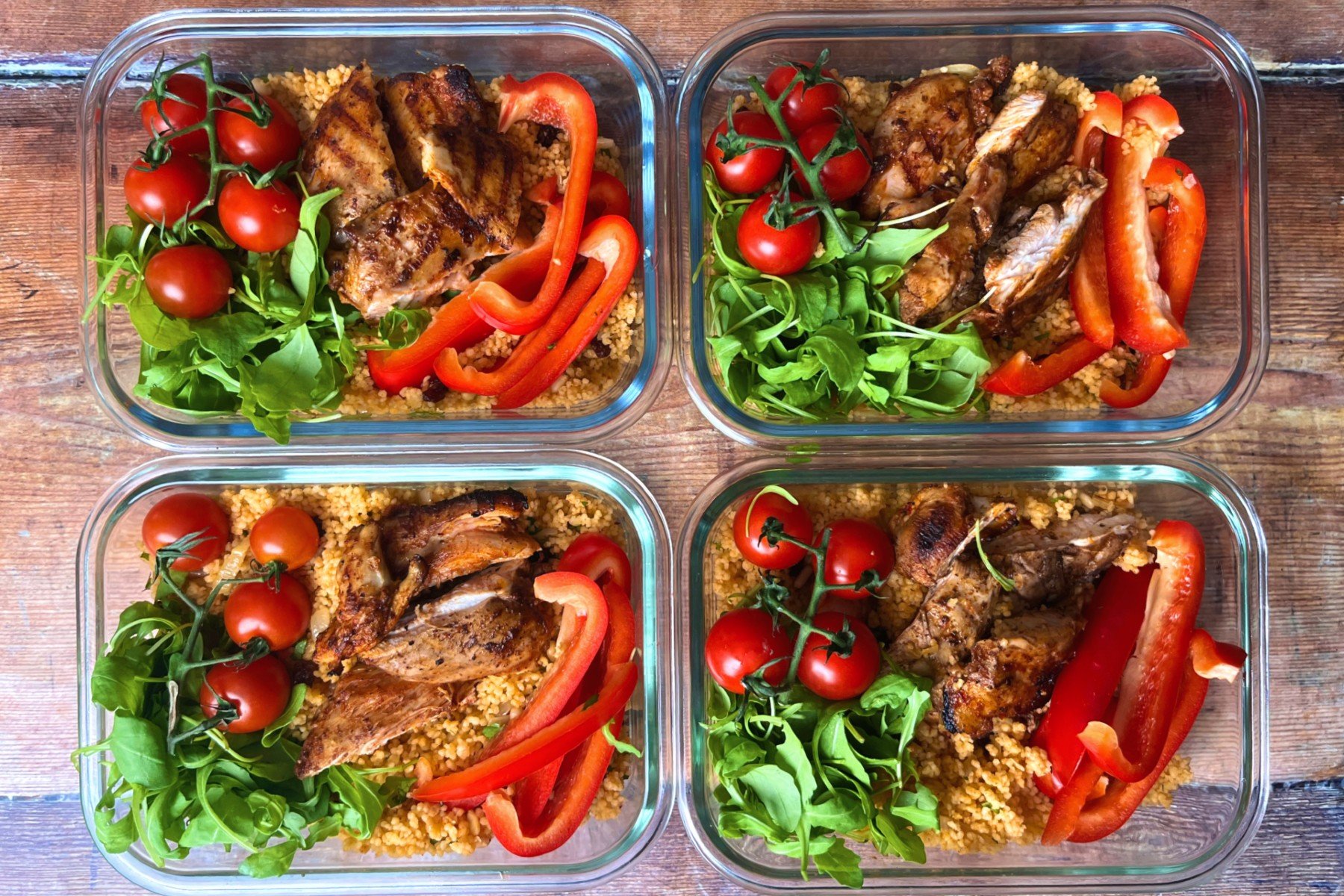 Method
First, add the olive oil, harissa paste, salt, pepper, and lemon juice to your chicken thighs and massage the paste into them. Once coated, set aside and leave to marinade. 

Meanwhile, chop the onion and garlic, then heat a tablespoon of coconut oil in a non-stick pan. Add the onion and cook for 5 minutes until soft.  

Add the garlic to pan and cook for 2 minutes before adding the cumin and smoked paprika. Stir spices into onion and garlic, then stir in the dry couscous.  

Mix your veg stock and boiling water together, then add to the pan. Stir everything until combined and leave couscous to soak up liquid. 

Meanwhile, heat the remaining tablespoon of coconut oil in a cast iron pan or griddle on high heat. Add the harissa chicken thighs and cook for 4-5 minutes on each side, before removing from pan and setting aside. 

Once couscous has soaked up veg stock and doubled in size, transfer to large bowl and add the raisins, pine nuts, parsley, juice of ½ a lemon, salt, pepper, and chilli flakes.  

Add a bed of couscous to each of your meal prep containers and top with the sliced harissa chicken. Finish with whatever extra veggies you prefer — Niall's gone for some crisp red pepper, cherry tomatoes, and peppery rocket.