It's been a long day and you're just desperate for some comfort food to carry you through. This barbecue chicken potato base pizza is sure to cure every craving, improve your mood, and provide you with the most delicious dinner imaginable.
Layers of crispy potato, juicy barbecue chicken, and gooey cheese make it the ultimate combination to have on the end of your fork. The sweet onion and pepper are the perfect added crunch that this dish needs.
While there's definitely leaner meals out there, this also packs 41g of protein from lean chicken, our low-calorie Sugar-Free BBQ Sauce, and all the low-fat cheese to make it a much cleaner indulgence than it could be. It's also super simple to assemble, and even easier to dig into…
Serves 2
Ingredients
2 medium sized potatoes – sliced thinly
2 tbsp. olive oil
2 chicken breasts
Oregano
200g passata
1 small red onion – chopped
1 bell pepper – chopped
50g low-fat cheddar – grated
50g low-fat mozzarella – grated
4 pepperoni slices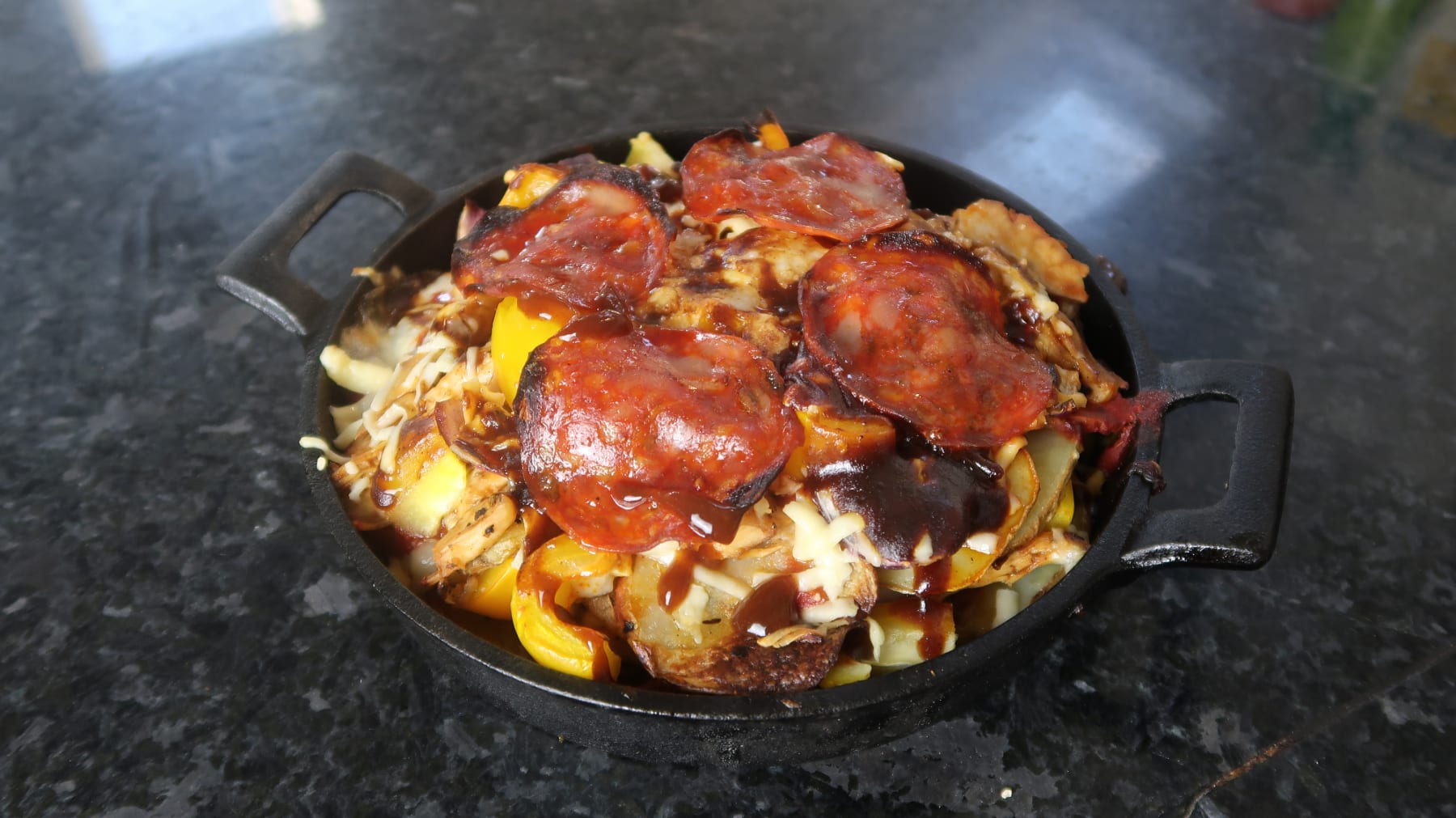 Method
1. Preheat your oven to 200°C/400°F.
2. Firstly, wash, dry, and cut the potatoes into thin slices.
3. Transfer your potato slices to a large bowl and add your olive oil, salt and pepper.
4. Mix this in to the potato slices before spreading the slices over one or two dishes without covering or overlapping them.
5. Place in the oven and bake for 25 mins, flipping the slices halfway through.
6. Heat olive oil in a frying pan and add the chicken breast.
7. Season with a little salt, pepper and oregano and fry for 5-6 mins on each side.
8. Make sure the chicken breast is cooked through before removing from the pan.
9. Shred the chicken using two forks and mix in a generous amount of Sugar-Free BBQ Sauce to the chicken.
11. Now it's time to build your pizza. Start by placing your baked potato slices into your skillet, then add tomato passata, BBQ-chicken, red onion, pepper, cheese and BBQ-sauce.
12. Repeat this process and top with some more BBQ sauce and pepperoni slices.
13. Bake your pizza in the oven for 15 mins, then dig in.