If you're looking for a completely delicious and surprisingly easy recipe to wow your friends and family with — this is the one. Not only is it a super-cheesy crowd pleaser, but we think it's a great back up for when the weather doesn't play ball with your BBQ plans.
We have Niall Kirkland to thank for this kitchen delight, if you want to see more of what he's bringing to the table then check out his insta @niallkirkland.
Serves 5
Ingredients
For the potato nachos:
700g sliced potato
2 tbsp. 100% Coconut Oil
1 tbsp. garlic granules
1 tbsp. smoked paprika
Pinch of chilli powder
Salt and pepper to season
For the toppings:
600g Bavette steak (flank steak)
Fajita seasoning
2 tsp. 100% Coconut Oil (for frying)
1 red onion (diced)
1 red pepper (diced)
2 tomatoes (diced)
100g kidney beans
60g grated cheddar
60g grated mozzarella
Handful jalapeños
1 tbsp. coriander (chopped)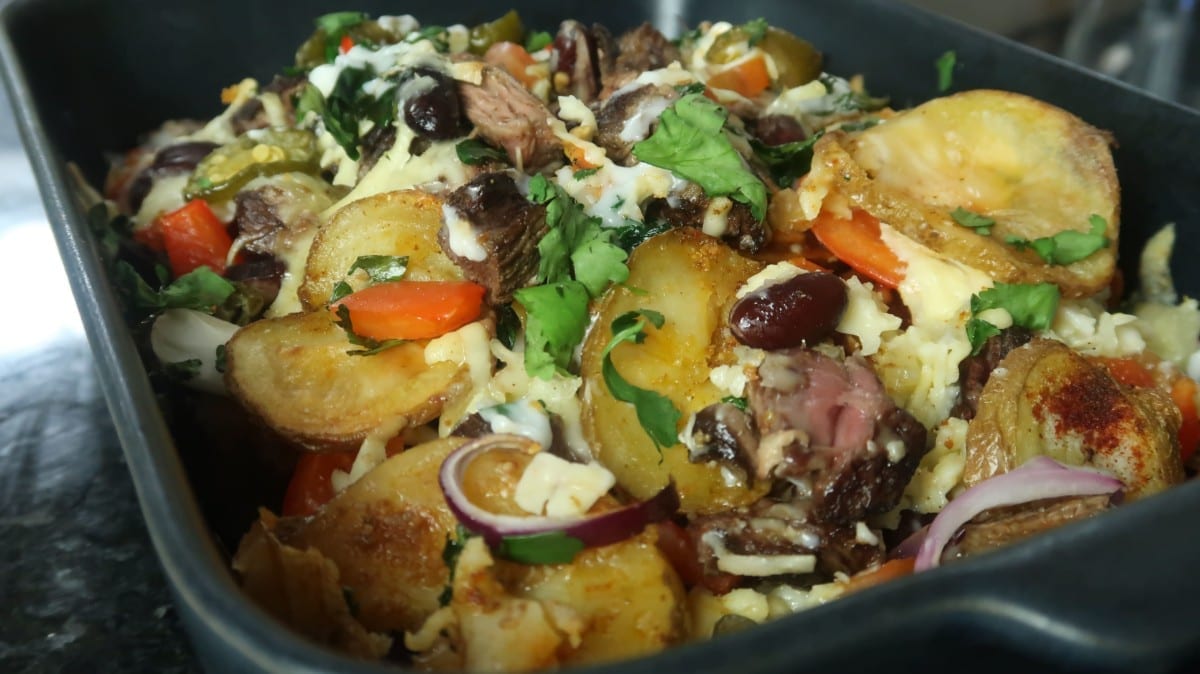 Method
1. Firstly, preheat your oven to 200°C.
2. Then, slice your potatoes into roughly 1-2cm thick slices and transfer to a baking tray (I used two trays).
3. Pour melted coconut oil over the slices and then season with garlic granules, smoked paprika, chilli powder and salt and pepper.
4. Repeat this for the second tray and bake your potato nachos for 25-30 mins.
5. Next, allow your steaks to come to room temperature, before rubbing in your fajita seasoning.
6. Heat a cast iron skillet to a high heat and add a teaspoon of coconut oil to the pan.
7. Once the oil has melted, place your steak on the pan and fry for 2-3 mins, then flip it.
8. Fry for another 2-3 mins before removing. Repeat this for the second steak and then allow your cooked steaks to rest for a few minutes before slicing up.
9. Now, build your nacho bake! Potato nachos first, then steak, onions and pepper, followed by tomatoes, kidney beans and then repeat for the second layer.
10. Top it all with cheddar, mozzarella, jalapeños, and coriander.
11. Put your nacho trays in the oven and bake for 15-20 mins.
12. Invite your friends round to share this amazing recipe with!