Stepanie Masterson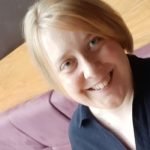 Steph is a language graduate from Cheshire. As a student, she spent a lot of time writing, as well as playing cricket and Unihockey. She still loves playing Unihockey and competing across the UK and abroad, but has recently also taken up running.
When she's not on the pitch or clocking up the miles, she enjoys gaming and catching up on the latest Marvel movies. On the weekend, you'll usually find her kitted out in her goalie gear or exploring the local area on foot.
Find out more about Stephanie's professional experience here.
Can a good workout really make you feel better?