---
We switched out the mayo and made a super-healthy, flavoursome satay sauce to mix in with fresh coleslaw and it was an absolute winner. The satay slaw is ultra-easy to make in batches so it's great for meal prep, and it also makes the perfect accompaniment at a barbecue.
---
Ingredients
---
For the chicken:
? 4 chicken thighs (skin on)
? 1 lemon
? 1 clove garlic (finely chopped)
? 1 red chilli (finely chopped)
? Pinch salt and pepper
For the satay sauce:
? 2 tsp. Myprotein Coconpure coconut oil
? ½ white onion (finely chopped)
? 2 tsp. garlic paste (or 2 cloves finely chopped)
? 1 tbsp. brown sugar
? 150ml coconut milk (tinned)
? 150ml water
? ½ tsp. chilli flakes
? 1 tsp. soy sauce
? 2 tbsp. Myprotein Peanut Butter
For the slaw:
? 2 carrots (chopped into thin slices)
? ¼ red cabbage (chopped into thin slices)
? ¼ white cabbage (chopped into thin slices)
Extras:
? 4 wholemeal buns (go bunless to cut carbs)
---
Method
---
For the chicken thighs:
#1 Preheat the oven to 220°C or 200°C and place the thighs into a roasting tray skin-side up
#2 Squeeze over a little lemon juice and sprinkle the chilli, salt and pepper over, then bake for 30 mins until the skin is nice and crispy
Tip: To cook these guys on the barbeque, get it nice and hot and whack the chicken thighs on skin-side down for 10-15 minutes and leave them well alone (the crispier the better here). Turn and cook for a further 5-10 minutes and you're good to go.
For the satay slaw:
#1 Whilst waiting for the chicken to cook, heat the coconut oil into a pan on a medium heat, then add the onions and fry for 2-3 minutes, stirring occasionally, and add the garlic paste and fry for a further 2 minutes
#2 Next, add the remaining satay ingredients, stir well and fry until thickened, about 5 minutes, stirring occasionally
#3 Remove from the heat and allow to cool a little before stirring through your slaw ingredients
Serve the sumptuous satay slaw over crispy chicken thighs in a toasted wholemeal bun for a delicious meal you don't have to feel guilty about this summer.
---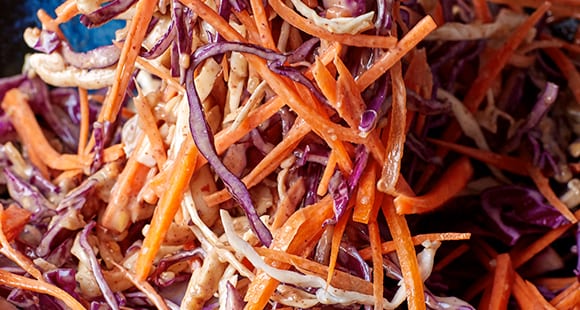 ---
MACROS PER BURGER
Calories: 390          Protein: 22g          Fat: 18g          Carbs: 38g            

---