---
Created by Charlotte Helena
---
Try this delicious classic combo and revive your childhood love for fish fingers.
This healthy twist is the perfect family favourite.
Simple, tasty and healthy, tuck in!
---
Ingredients
---
Ingredients
1 Large Sweet Potato
2 tsp Coconut Oil
1 Pink/Sea Salt & Pepper
1 Garlic Granules
4 tbsp Oats
240 g Cod
4 tbsp Egg Whites
1 pinch Paprika
---
Method
---
#1 Preheat your oven to 180c.
#2 Cut your sweet potato into thin chips and place onto a baking tray. Massage with the coconut oil and toss with a pinch of salt, pepper and garlic.
#3 Bake these in the oven for 30-40 minutes until slightly crisp.To make the coating for the fish fingers, add the oats into a food processor or blender and blitz for a few seconds to create an oat flour.
#4 Add these into a mixing bowl and season with a good pinch of salt, pepper and paprika.
#5 Slice the cod into portions and coat in the egg white mixture and then cover in the oat 'breadcrumbs'.
#6  Place these onto a baking sheet and cook in the oven for around 25 minutes or until the fish is cooked through and the oat layer is nice and golden.
#7 Once both your chips and fish fingers are cooked, serve with some salad and/or green veggies and enjoy!
---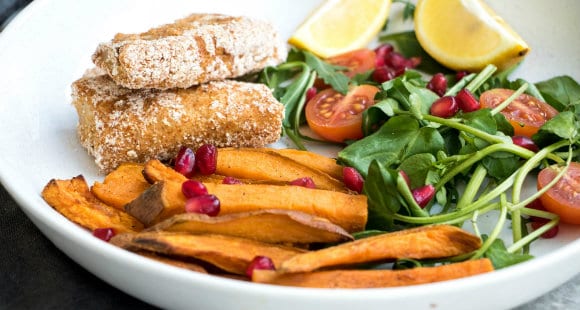 ---
MACROS FOR FISH FINGERS & CHIPS
Nutritional Facts
Amount per serving
| | |
| --- | --- |
| Calories | 305 |
| Total Fat | 6g |
| Total Carbohydrates | 34g |
| Protein | 29g |
---