It's time to try something a little more adventurous than sunny-side up with this simple, savoury egg basket recipe – they taste amazing straight from the oven, but work just as well as a lunch-box filler.
Servings: 1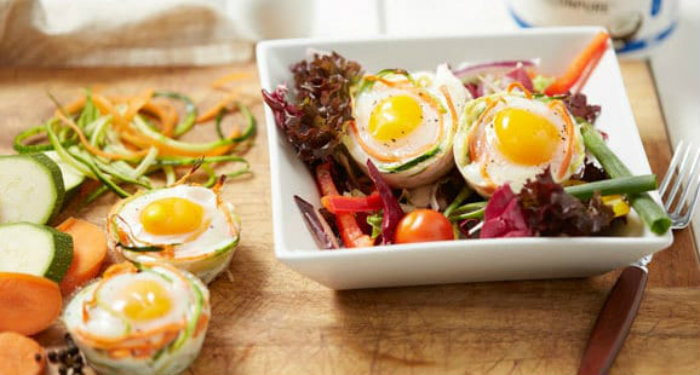 Ingredients
½ tsp Coconut Oil
2 medium eggs
1/2 courgette
1/2 carrot
Salt
Pepper
Method
1. Preheat the oven to 160°C.
2. In a silicone muffin tray, place ¼ of a teaspoon of coconut oil into two of the moulds, rubbing it round the bases and sides.
3. Shred the carrot and courgette using a spiriliser or cheese grater.
4. Place the shredded veggies in the base and around the sides of both oiled moulds.
5. Carefully crack an egg into the centre of each muffin base.
6. Sprinkle with salt and pepper to taste, and place in the oven until the eggs are cooked – this is usually around 7-10 minutes depending on how you like them. Then enjoy!