This hearty, filling and tasty Thai chicken noodle salad is the perfect low-carb recipe to keep you full when you're watching your calorie and carbohydrate intake.
Our Zero Noodles contain only 7 calories and 0.1g of carbohydrates per 100g. Wondering how it's done? They're made from konjac flour, a natural water-soluble fibre from konjac root that's scientifically proven to contribute to weight loss. Simply rinse then cook for one minute in the microwave or two to three minutes in the pan for a quick, satisfying carb-swap that'll keep you full.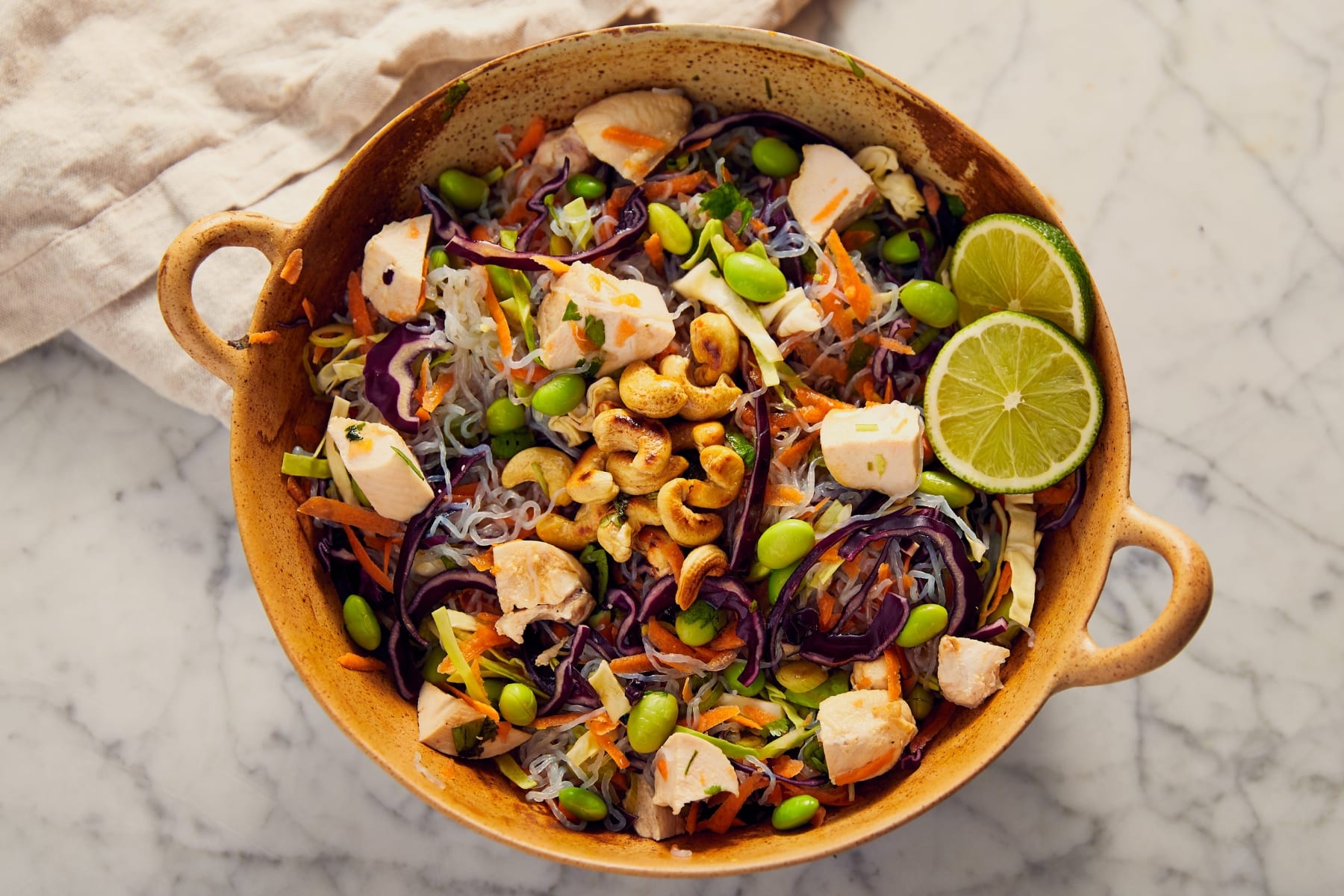 Servings

4
Prep Time

10 minutes
Cook Time

20 minutes
Ingredients
2 chicken breasts
2 tsp. Coconut Oil
1/2 shredded green cabbage
1/2 shredded purple cabbage
50 g grated carrots
1/2 bunch coriander (leaves and stalks)
1/2 bunch spring onions
150 g pre-cooked edamame beans
75 g cashew nuts
400 g Zero Noodles (low-carb noodles)
1 tbsp. soy sauce (dressing ingredient)
1 tbsp. white wine vinegar (dressing ingredient)
2 tsp. sesame oil (dressing ingredient)
50 ml olive oil (dressing ingredient)
1 tsp. salt (dressing ingredient)
1 tsp. pepper (dressing ingredient)
Method
First, put a non-stick pan onto a medium to high heat. Add a teaspoon of coconut oil and allow the pan to heat up.

Butterfly your chicken breasts by putting them onto a chopping board and placing your hand flat on top of one breast. Use a large, sharp knife to slice into one side of the chicken breast, stopping just before the knife cuts through the breast, then open it out like a butterfly. Repeat for the other chicken breast.

Sear the chicken on each side for 3-4 minutes, or until cooked through. Once cooked, remove and put aside until you're ready to use them.

Keep the pan on the heat and add the cashew nuts. Stir the nuts frequently until they turn golden brown and toasted, around 7-8 minutes. Set aside once toasted.

Whilst waiting, prepare your vegetables. Shred the cabbages by cutting off the bottom of the stem and removing the outermost leaves. Slice them into quarters and cut into thin strips. Peel and grate the carrots, chop the spring onions into 1cm slices (removing the ends) and dice the coriander leaves and stalks into small pieces, being careful not to squash it.

Now prepare the noodles. Drain the water from bag and rinse the noodles under cold water. Heat the noodles in a pan for 2-3 minutes or in a microwave for 1 minute.

Next, shake all the dressing ingredients in a jar until well combined.

Now toss all salad ingredients, including the noodles in a large bowl. Cover with dressing and serve.