Big fan of an extravagant breakfast, but want to keep your nutrition on track? Bursting with blueberries, creamy peanut butter, and sweet syrup, your taste buds will be singing with excitement when this protein French toast plops onto your plate.
Made with our Impact Whey Protein, you can be sure that you'll be meeting your macros after digging in to this delightful breakfast. There's also 3 eggs worth of protein, as well as a little bit more from peanut butter and a smattering of healthy fats. Does a more balanced breakfast exist? We think not.
The best bit is, you don't have to spend ages slaving over a hot stove to produce the perfect breakfast combination. Soak, fry, flip, and serve to make delicious protein French toast you can have on-the-go, or at a more leisurely pace, depending on your schedule.
Now, what's French toast without a spice sensation in your mouth? We've mixed in a little nutmeg and cinnamon for a protein French toast to die for. Check out the recipe below…
Skip straight to the nutritionals here.
Ingredients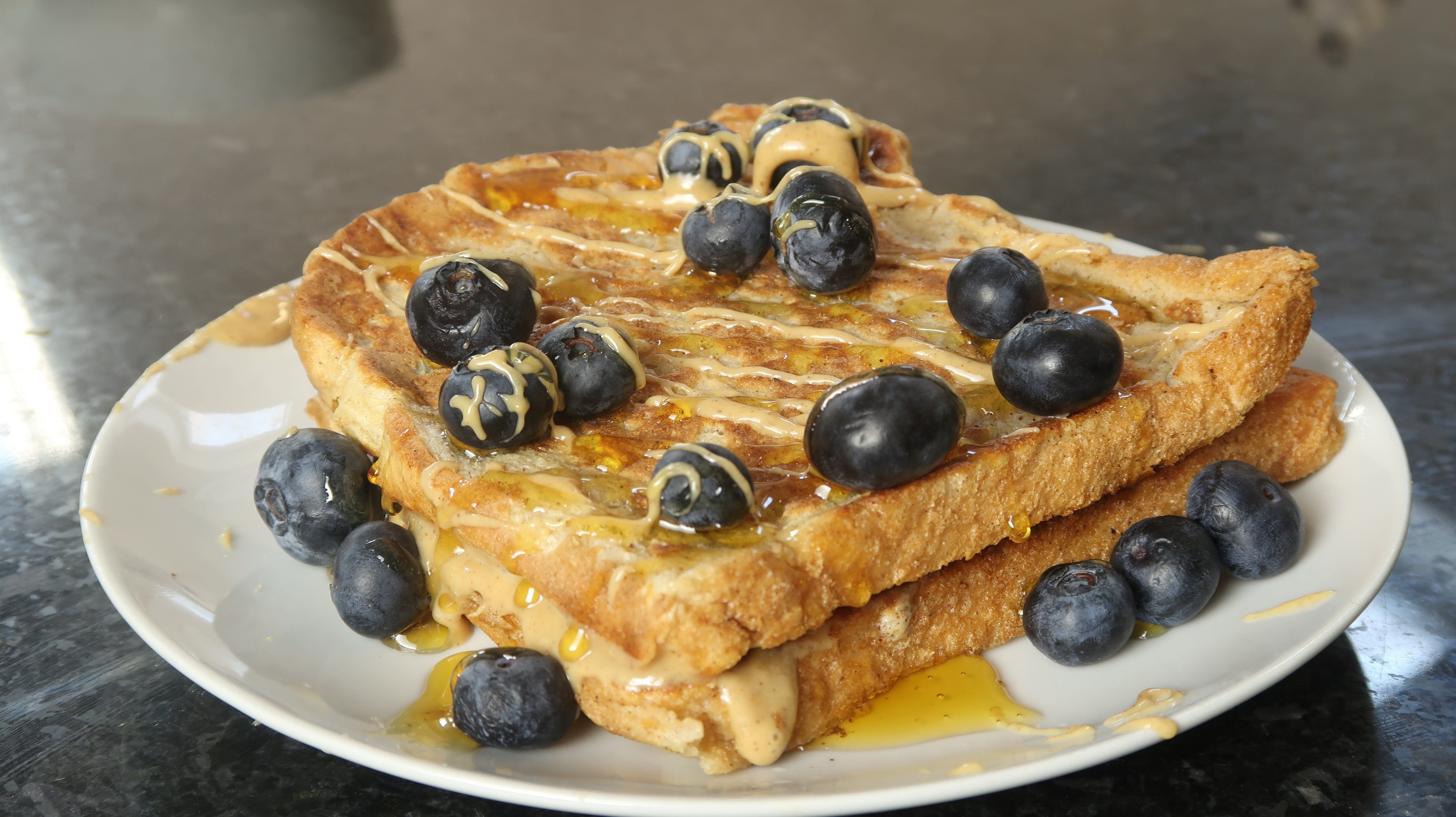 Method
1. In a large bowl, whisk together 3 eggs.
2. Then, add the Impact Whey Protein, nutmeg, cinnamon, salt and milk to the bowl and whisk together until you have a smooth batter.
3. Next, soak each slice of bread in the batter, and heat the coconut oil in a frying pan or griddle.
4. Place the soaked bread in the pan and fry it for 3-4 mins before flipping and frying the other side until both sides are golden-brown.
5. Once cooked, transfer one slice to a plate and spread the peanut butter over the French toast and sprinkle with blueberries.
6. Place the other slice of French toast on top and decorate with maple syrup, more blueberries and some peanut butter for a truly decadent breakfast.