Desserts derailing your diet? Bored of the same old breakfast? Lucky for you, we've got a recipe to shake things up a bit. Not only does it look and taste like a summer sensation, but it also boasts amazing nutritionals.
This little pot is brimming with omega-3, and we're not just talking about the chia seeds — it's time for our brand new supplement to step into the spotlight.
Liquid Omega is a tasty new way to make sure you're getting all the omega-3 you need for healthy brain and cardiovascular function, as well as vision. Don't be put off by childhood nightmares of hard-to-swallow fishy tablets — thanks to unique nano-encapsulation technology, all you'll get from this colourful cream is a delicious Lime or Peach and Mango flavour, with no aftertaste.
Plus, the convenient liquid form means you can also forget choking down capsules — get your daily dose just by drizzling over desserts and brightening up your breakfast! Now there's really no excuse for going without this essential fatty acid.
With the seeds, nuts, fruit, and Liquid Omega all in this one pudding, you can be sure that you're getting your fill of goodness as you finish your final mouthful.
Click to jump straight to the nutritionals.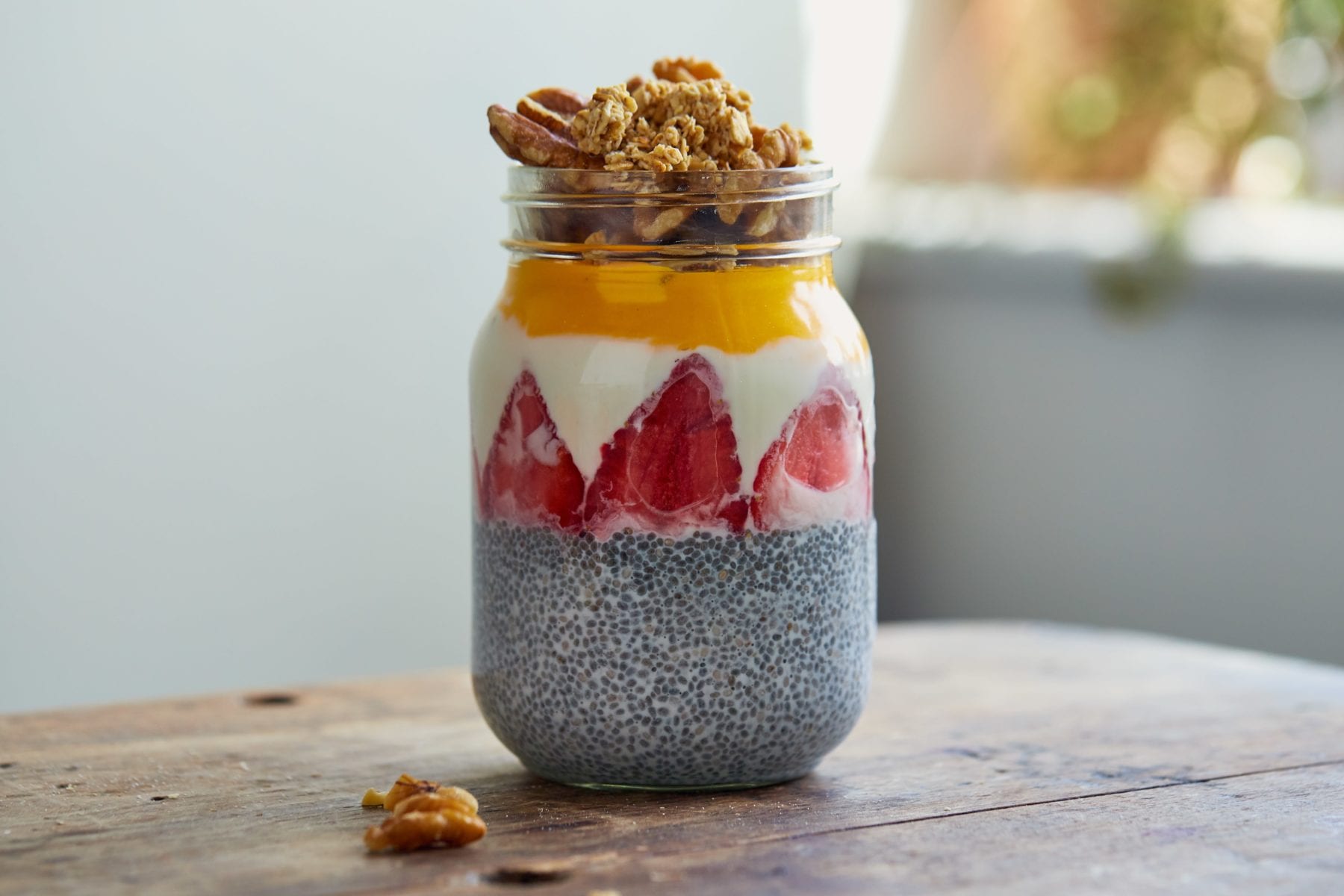 Makes: 1
Ingredients
2 tbsp. chia seeds
6 tbsp. milk of your choice
Handful strawberries, hulled and thinly sliced lengthways
4-6 tbsp. low-fat Greek yoghurt or other plain yoghurt
Liquid Omega in Peach Mango
Toppings
A handful of walnuts
A handful of granola
Extra strawberries and other fruit
Method
Make up the chia pudding by combining the milk and chia seeds together in a bowl and allowing to stand for 10-15 minutes.
Spoon in half of the chia pudding mixture to a glass.
Very thinly slice the strawberries lengthways so that the entire fruit shape remains intact.
Stick the sliced strawberries to the sides of a small glass or jar.
Spoon the remaining chia pudding into the glass.
Next, add the Greek yoghurt and drizzle on the Liquid Omega in Peach Mango.
Finally, sprinkle with granola, nuts, and extra strawberries — or any other fruit you fancy.