Liam Swithenbank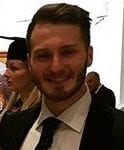 Liam Swithenbank is our expert supplier quality assurance technologist. He holds a Bachelor of Science degree in Sport and Exercise Science and a Master of Science degree in Nutrition, and his expertise now lie in specialist ingredients for sports nutrition products.
Liam's academic research has involved investigating the effects of sodium bicarbonate on power output in elite rugby players, and also the effects of beetroot juice on VO2 max on a cohort of well-trained runners. For his postgraduate thesis, Liam investigated the effects of protein intake on lean tissue mass.
Liam's experience spans from working in compliance and labelling to developing new products, for a number of large companies in the UK. Liam is a big believer in balance, and believes moderation is key to sustain a healthy and active lifestyle.
Find out more about Liam's experience here.
During his spare time Liam enjoys rock climbing, cycling and good food. Liam is a massive foodie and enjoys creating and developing new and exciting recipes in his home kitchen.