---
Knee Support
---
For weight lifters, bodybuilders, powerlifters and everyone in between, while you're busy focussing on pumping up your muscles you might not be aware of the wear and tear regularly inflicted on your sensitive joints.
On leg day, if you haven't already suffered the warning signs of a wounded knee you may start to once you lift weights from 80 percent of your one rep maximum.
This is where support comes into absorb the stress of the weight your knees would bear without. Knee safety is key and allows you to focus on your quads and hamstrings. You can lower your weights and alter your range of motion if your muscles can't handle the volumes you're attempting, but a false move without support could leave you with knee troubles that might keep you from training for longer than you'd like.
---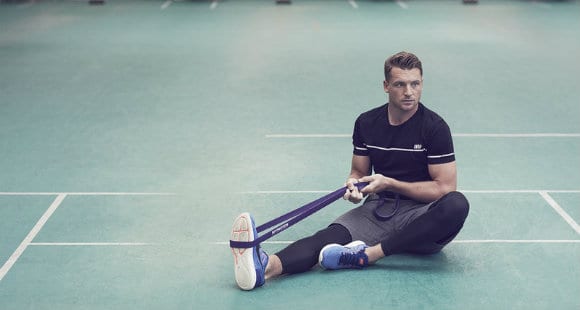 ---
Knee Sleeves or Straps?
It's said by many pro lifters that knee support, either straps or sleeves, can help you to achieve a 5-10 percent increase in how much you can lift. Let's start with the lesser-used knee sleeves, which consist of neoprene material that you slide over your knee. These are better geared for knee protection. There is room for both knee sleeves and straps in your gym bag, but sleeves are not what you need for lifting heavy weights. They offer compression, which can reduce pain and swelling during and after a workout and so are a good idea for post-workout recovery. They are also effective padding when it's required, for example, for martial arts.
Knee wraps are the support of choice among competitive lifters. They wrap around your knee like bandages and are made of an elastic material that allows movement. They are highly effective in two ways: protecting your knee cap and actually assisting your lifts.
Because of the elasticity in the wraps, they will build elastic energy as you press against them, for example, when squatting down or at the bottom of your dead lift or leg press. This energy is then release, giving a kind of extra spring on your way back up. This will help with heavier weights, but also with faster squats, meaning that the support will be in place when you're going too fast to be concerned.
---
---
The Benefits of Knee Support
There's good reason for concern, though, as the tendons pulling your kneecap when your legs work can be fickle. It's these tendons you need to keep in mind. Straps reduce the stress on these tendons and help keep the kneecap in place. The disadvantage here is that if they're worn too tightly they may create friction between the kneecap and the cartilage that can mean long term issues.
Straps will improve blood flow and keep your knees warm, as well as ample compression for recovery after you're done.
---
Will They Make Your Knees Stronger?
No, that's not how they work. Straps are about supporting the muscles you're trying to develop. Whereas you may pick some up to help you increase the amount of weight you lift, you should think of them first as a protective aid.
What should you look for when buying them? Avoid like the plague bulky straps that are over-elasticised as tightness from elasticity does not offer you the real support that you need. Myprotein Knee Wraps provide the ideal support you need when performing squats, leg presses and deadlifts.
---