Try these barbecue chickpeas for a quick, healthy snack. Barbecue chickpeas are super-simple to make and with a third of the fat and calorie content than dry roasted peanuts.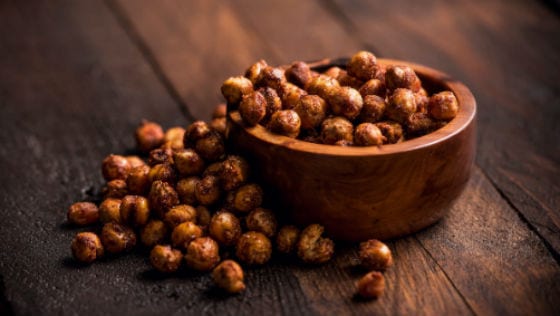 Ingredients
1 can chickpeas
Pinch sea salt and black pepper
1 tbsp. barbecue spice or smoked paprika
1 tbsp. maple syrup
Method
1) After draining the can of chickpeas, pour them onto a baking paper-lined tray and sprinkle with salt and pepper.
2) Place in the oven on 150°C for 40 minutes.
3) Remove the tray from the oven and lightly drizzle the chickpeas with honey and sprinkle with the spice.
4) Roll the chickpeas around the tray to allow the maple syrup to pick up all the spices.
5) Add more salt and pepper and place back in the oven on 170°C for 10-15 minutes until they are hard to touch.
Allow to cool and store in an air tight container for up to 5-7 days – great to grab when you're feeling peckish.
Macros (50g serving)
Calories – 100
Fat – 2g
Protein – 5g
Sugar – 8g