Hummus is a delicious dip that is versatile and nutritious. Making your own hummus is a great way to ensure that you are getting the maximum health benefits whenever you are snacking. Plus, if allows you to experiment with some of these fantastic ingredients to send your hummus to the next level.
The basics: 1 can of chickpeas, 2-3 cloves roasted garlic, 1tbsp tahini, juice of 1/2 a lemon and olive oil drizzled in lightly until the hummus is slightly loosened but still thick enough to use as a dip.
Slow Roasted Carrot
Carrots are an excellent source of fibre. This will make your hummus instantly satiating and help aid your digestion. They're also packed with beta-carotene which helps to boost your immune system. By slow roasting the carrot, you'll bring out their natural sweetness as well as make them the perfect consistency to blend in your hummus mixture. Just one small one should be enough for the amount listed above.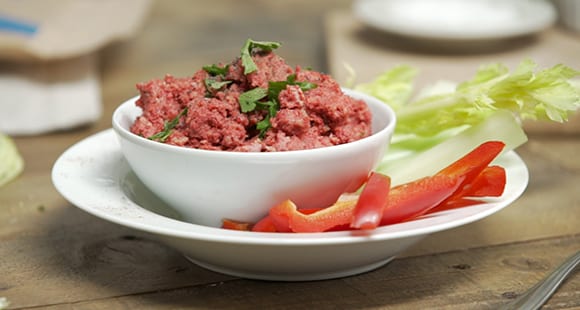 Sun Dried Tomato
This tangy ingredient will really make your hummus flavourful. Tomatoes are packed with antioxidants to help your body flush out toxins. Remember to lightly pat the tomatoes with a kitchen towel to remove excess oil or add the tomatoes before adding your olive oil. Uncooked olive oil is great for your health, but an excess in your hummus will make the texture unappealing. 3 sun-dried tomatoes should pack a punch with the recipe listed.
Spinach
Spinach is packed with vitamins and minerals that will really boost your nutrient intake. It is a great source of vitamins K, C and calcium. Steam a handful of spinach to soften it up before you whisk it in your hummus.
Chilli
Adding a spicy kick to your hummus is good for your health as well as your taste buds. Chilli helps to boost your metabolism, encouraging the body to burn up more fat. It is also very low in calories considering the great flavour it can produce. You can blitz one medium chilli raw into this mixture – leaving the seeds out if you want a milder level of spice.
Pine nuts
You can blend two tbsp of these soft nuts into your mixture like you would with pesto (and you can add basil leaves too, to create that flavour), or scatter them whole and stir them in to distribute them evenly. Adding pine nuts will add extra texture to your hummus. It will also boost the protein content of your snacks, making you feel fuller for longer.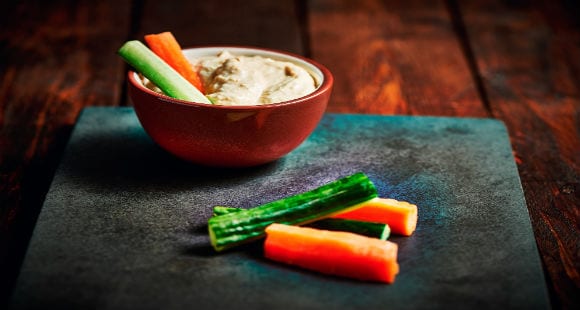 Turmeric
This earthy spice will give your hummus a rich yellow hue. It will help to boost your immune system and to help your body detox. It will also enrich the hummus with antioxidant properties. Simply sprinkle one heaped tablespoon into your mixture to reap the benefits.
Cheat Sheet: an easy way to add extra flavour and health benefits to your hummus is to make it using infused oils. Lemon, chilli, garlic or basil infused oils are readily available and add fantastic tastes to your dips. Check the label to ensure that you are using olive oil with minimal preservatives to ensure maximum health benefits.