Protein just got better — introducing THE Whey+. Upgrade your growth and recovery with our advanced, unique, phased-release protein blend for optimised ingredient delivery.
THE Whey+ combines the purest whey isolate with GroPlex™ — a dynamic blend of fast- and slow-digesting protein — igniting muscle growth, and our unique beadlets optimise recovery with a phased BCAA, leucine and glutamine boost.
Plus, THE Whey+ provides all the absorption benefits of both micellar casein and whey, all in one advanced formula.
Here's why you need to upgrade your protein shake to THE Whey+…
GroPlex
We've included GroPlex™, our dynamic blend of fast-digesting hydrolysed whey protein and slow-digesting micellar casein.
Hydrolysed whey protein has had its amino acids broken into shorter chains – fuelling muscles with a rapid source of protein when they need it the most.
Combined with micellar casein – the slow-digesting protein – GroPlex™ delivers a phased release of high-quality protein to keep supplying your muscles with everything they need, long after your workout.
Plus, a recent study has shown that GroPlex™ is able to double insulin levels in the blood versus a placebo.1 If you didn't know already, insulin is an important hormone that increases amino acid uptake into muscles – meaning improved protein synthesis, more growth, and better recovery.
PhaseTech™ BCAAs
THE Whey+ provides a massive 6g of BCAAs per serving, combined with our unique PhaseTech™ beadlets for a phased release — so the benefits last long after you stop lifting.
Three of the nine essential amino acids are referred to as branched-chain amino acids, including leucine, isoleucine, and valine. Scientific research has shown that BCAAs, particularly leucine, increase the rate at which new muscle proteins are formed, as well as decreasing the rate of protein breakdown.2 In simple terms, they play an essential role in building and repairing muscle.
PhaseTech™ Glutamine
We've also included glutamine in our PhaseTech™ nutrient-delivery system – an amino acid known for its role in protein synthesis.3 A popular amino acid supplement amongst athletes and gym-goers, glutamine is used during muscle contraction and muscle-protein synthesis, so without it, muscle growth can be hindered.
Whey Protein Isolate
We've blended our PhaseTech™ nutrient-delivery system and GroPlex™ with the purest whey protein isolate, which has been expertly filtered to remove most of the fat and carbohydrates that are naturally present in other forms of whey protein — making it a massive 90% protein.
Who is it for?
If you're putting in all the hard work in to achieving your fitness and sporting goals, then why wouldn't you want to see the best results? This advanced protein formula is for anyone that wants to break through barriers and get superior results from their training.
When to Take?
The phased release of protein and amino acids makes THE Whey+ ideal directly after a workout and for longer periods without eating, like first thing in the morning, between meals or before bed.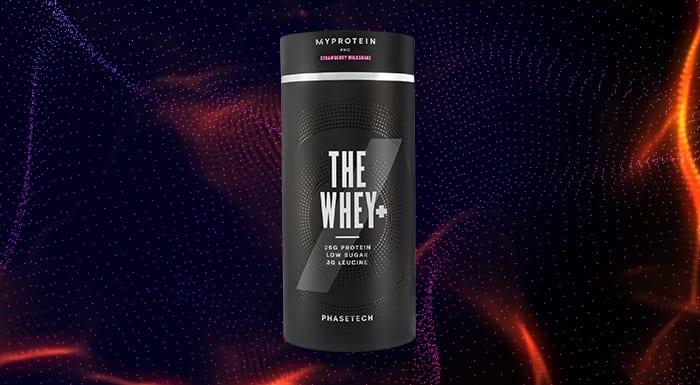 Take Home Message
Superior blends get superior results. Release your power with PhaseTech™ — the next generation of sports nutrition.