We've all heard of protein powders, but why would someone choose a plant-based option over whey protein? Plant-based, vegan protein powders have come a long way from their chalky roots — there are now so many different options when it comes to selecting a protein powder, we're spoilt for choice. Read on to learn which one may be the best fit for you.
Why take protein powder?
Protein is a key nutrient for overall health, but it's even more important for people who hit the gym regularly, as protein helps with healing, growth, and repair of our muscles.1 While there are many food sources of protein, protein powder is an efficient way to boost your daily protein intake to meet your fitness and body composition goals.
While whey and casein protein powders are the most popular options, many people prefer plant-based protein powders instead of products produced from milk and other animal sources. Whether you have a dairy allergy or intolerance or avoid animal products for another reason, there are plenty of high-quality plant-based protein powders.
Nutritionist matches you with the protein of your dreams.
Benefits of plant-based protein powders
Plant-based proteins are made from vegan-suitable sources, meaning there are no animals involved in the process. As well as having a lower environmental impact, plant-based diets offer a wide variety of nutrients that can support gut health and reduce the risk of chronic conditions.2
What is a complete protein source?
Proteins are made up of amino acids. The amino acid sequence of each protein is unique, but some proteins contain more amino acids than others. A protein that contains all the amino acids that our bodies need to function is considered a "complete" protein. Many animal proteins contain all of these amino acids, making them complete proteins.
While some plant proteins like pea or rice protein on their own are not complete (they do not contain all the amino acids), you can often choose a protein powder that contains a blend of plant-based proteins containing all the amino acids. Soy protein is a complete plant-based protein, making soy protein powder an easy way to get all amino acids your muscles need.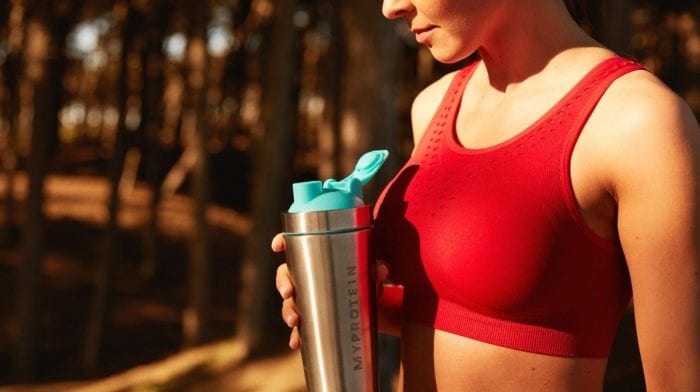 Not sure where to start with protein supplements? Don't worry, we'll show you the whey.
Vegan protein blend is made from pea and fava bean isolates, which have complementary amino acid profiles, making it a complete protein source. Vegan Protein Blend contains no artificial colours or flavours, and it's also low in sugar.
Vegan Protein Blend may have a slightly different texture to a typical whey protein, but it mixes well into smoothies with other ingredients. It contains 21g of protein (including 5g of BCAAs) and 110 calories per serving, making it a great option if muscle growth is your goal.