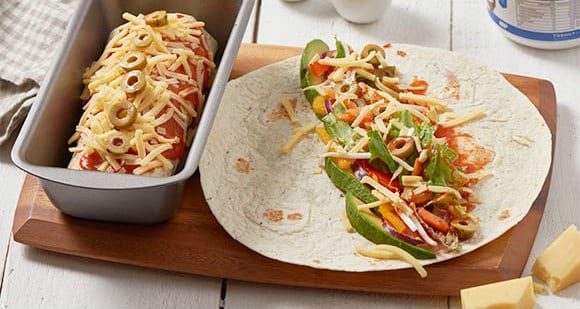 Eaten hot or cold – our vegan burrito is an ideal on-the-go breakfast or lunch.
Ingredients For Our Vegan Burrito
Makes: 2
1 tsp. Coconut Oil
100g cooked brown rice
100g tinned black beans
4 tbsp. refried beans
2 tbsp. tomato puree
1 green pepper (cut into long, thin slices)
Pinch salt and black pepper
1/2 tsp. paprika
25g guacamole
Handful pickled jalapeños
2 wholemeal tortillas
Handful vegan cheese (optional)
Method
1. Place a large pan onto a medium to high heat. Drop in a teaspoon of coconut oil, then add the cooked rice, black beans, refried beans, tomato puree, sliced pepper, salt, pepper and paprika and fry for 4-6 minutes until warm through.
2. Next, spoon the mixture into the centre of 2 tortillas. Sprinkle over your vegan cheese (if using), guacamole and jalapeños. Fold the bottom end up towards the middle of the tortilla, then fold the left and right sides inwards, leaving the top exposed.
Eat straight away or roll tightly in foil and refrigerate for up to 3 days, or freeze for up to 3 months. Allow to defrost thoroughly when ready to eat and heat in the microwave or oven until piping hot (do not microwave with foil on). Enjoy!