We're don't even know where to begin with this breakfast recipe.
---
As if French toast wasn't delicious enough, Niall Kirkland has taken things to a whole new level by turning it into a giant croissant bake.
This is the kind of extra that your weekend brunch deserves — plus, it's boosted with a few scoops of our Impact Whey Protein to help you hit those all-important protein intake goals.
Serves 8
Ingredients
6 eggs
3 scoops Impact Whey Protein (Vanilla)
300ml milk
1 tsp. cinnamon
¼ tsp. salt
½ tsp. nutmeg
½ tsp. baking powder
8 croissants
Strawberries (sliced)
Blueberries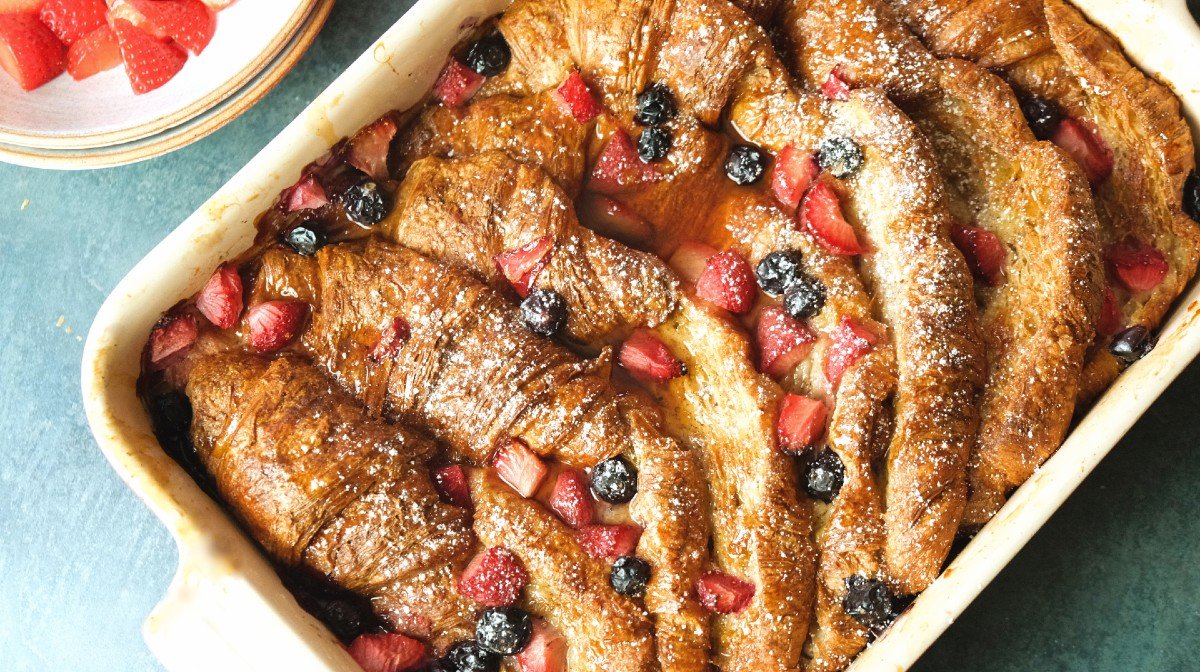 Method
Preheat the oven to 175°C/ 350°F.
In a large bowl, mix together the eggs, vanilla protein and milk. Then, add cinnamon, salt, nutmeg, and baking powder and stir until fully combined.
Slice your croissants in half, dip each piece in the protein mixture, then stack in a large baking dish in a criss-cross way so the pieces overlap.
Pour the remaining liquid mixture over the croissants in the tray, top with chopped strawberries and blueberries, then cover and leave to soak for 15 minutes.
Remove cover and bake for 30 minutes, until the edges are golden and crispy but the croissants are still soft inside.
Remove from oven and serve immediately with plenty of our Sugar-Free Syrup.